Hello! I'm Michelle and I love tea, pandas, travelling, and miniatures tea sets. Welcome to my slice of the internet – One More Steep.
My history with tea goes back to my early childhood. I've been drinking tea for as long as I can remember! When I was young, my tea drinking experiences consisted of a lot of Hong Kong style milk tea at home and traditional Chinese tea when I went out with my family for dim sum – there were many cups of shou mei and pu'erh consumed! I dived into the deep end of the expansive world of tea in late 2014 and haven't looked back since. I drink tea on a daily basis and I love trying new teas whenever I can. Since I accumulated so much tea to the point it's almost embarrassing, I decided to start sharing my thoughts on tea on the internet – which is when One More Steep was created in August 2015.
Unless otherwise stated, the tea, tea experiences, and accessories that I review were purchased by me.
If I was provided with an item for review, I will disclose it and give it an honest review.

Popular & Favourite Posts
I have written a lot of posts since I started One More Steep! Some of my more popular posts that get a lot of love include my recipe for Earl Grey Shortbread Cookies, my how-to on making Lattes at Home (Without the Fancy Equipment), and for those stumped on what water temperature to use, my post on Steeping Times for Different Teas.
My personal favourite posts include my article on Cold Steeping vs. Sun Steeping, a DIY post on making your own Tea Sugar Scrubs, and How to Make Shaped Sugar Cubes – which are so easy to customize for whatever event you're making them for.

About Michelle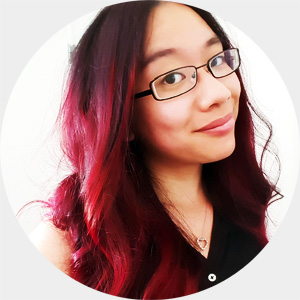 Hello, tea friends! I'm a self-described tea lover, Squishmallow collector, and fully recovered Candy Crush Saga addict.
When I'm not steeping it real, I can be found with my nose in a book, working on renovations of the BC box house that I purchased with my husband, and playing tourist in my own city. My tea shopping excursions tend to lean towards trying out new-to-me straight teas and blends as I branch out from the staples of Earl Grey and orange pekoe. To help support my tea habit and wanderlust, I work as a registered nurse at a hospital in British Columbia, Canada.
While it may be seem sacrilegious to some, I will doctor up my tea with evaporated milk and sugar if the tea calls for it. This brings me back to my childhood filled with Hong Kong-style milk tea (which I traditionally make with orange pekoe, evaporated milk, and a bit of white sugar or honey, if I have it on hand).