Subscription Box by BRUU
3 x 14g teas (42g)
£10 + Shipping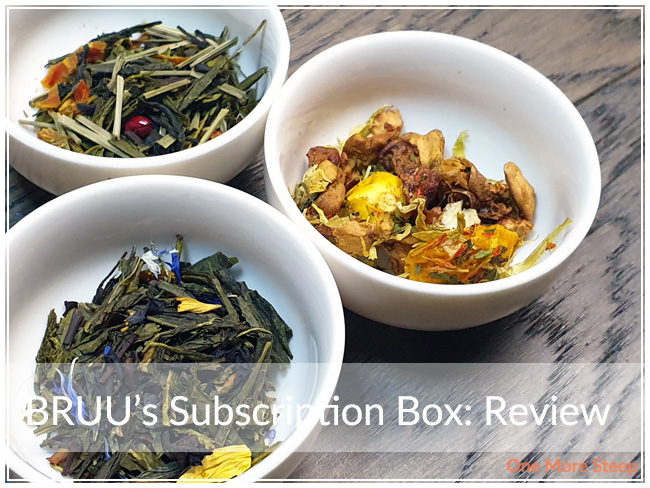 BRUU has provided me with their Subscription Box for the purposes of writing an honest review.
First Impressions
BRUU is a UK-based subscription box that offers a monthly shipment of three teas, a "discover" tea, and a surprise "gift" with each box. So this is what the box looks like – cardstock (could be recycled!), colourful tea-themed illustrations, and just looks like a fun package.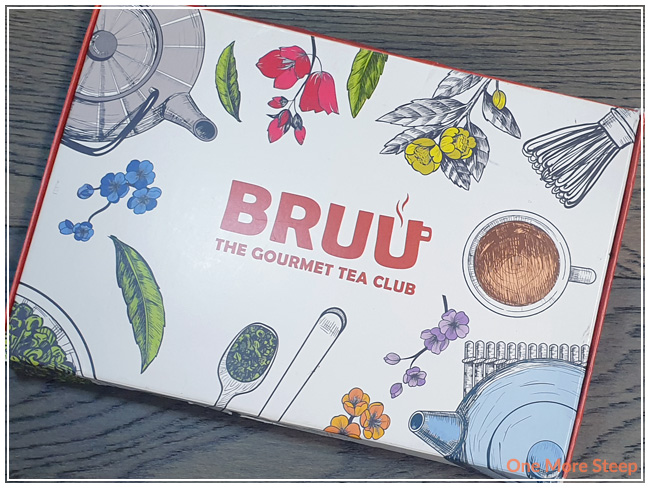 There were some cards on the inside – a highlight of Munnar, an Upper Surianalle Tea Estate and a small sample pouch of a tea from Munnar (in the Discover… bag). The free gift in this box that I received was a Double Choc protein bar from Tribe, along with some information about the company that included a coupon code. I do like chocolate, so this was a welcome surprise.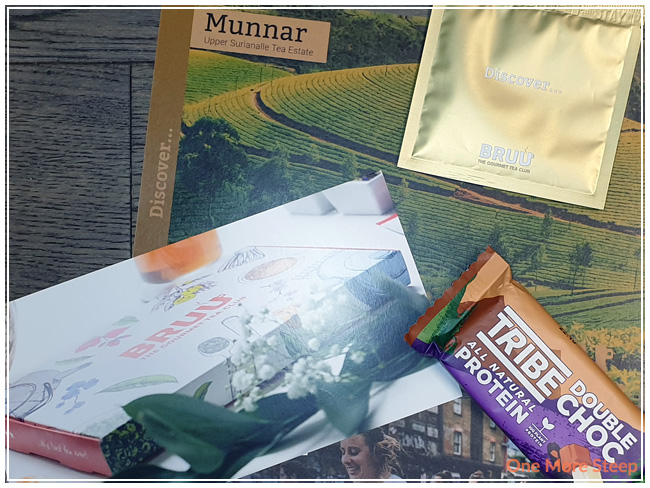 The teas themselves came in 14g pouches that are resealable, with tasting cards for each tea, and small golden clothespins – super cute presentation if you ask me! BRUU describes each box as being "tailored to your preferences", which I think is pretty neat!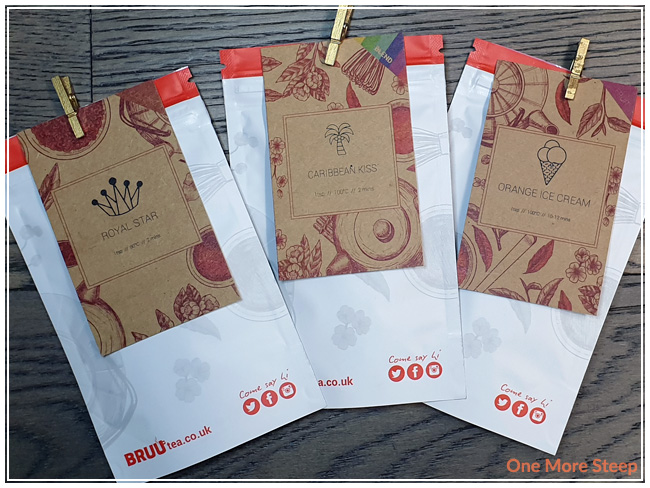 In the box I received was Royal Star (oolong & sencha blend), Caribbean Kiss (black tea & green tea blend), and Orange Ice Cream (fruit-based tisane).
Royal Star has a really bright and fruity aroma to it. It smells like candy. Royal Star consists of sencha, oolong, sunflower petals, cornflower petals, and currants.
Caribbean Kiss has some really strong citrus notes to it. It consists of green tea, black tea, lemongrass, carrot peel, pink peppercorns, pomelo slices, and flavouring.
Orange Ice Cream's aroma matches the name the best. Orange Ice Cream has a great orange aroma that reminds me a lot of an orange creamsicle. Orange Ice Cream consists of apple pieces, sour apple pieces, freeze-dried whole cape gooseberries, spearmit, flavour, marigold blossoms, safflower petals. I'm just weirdly surprised at the lack of orange in the ingredient list!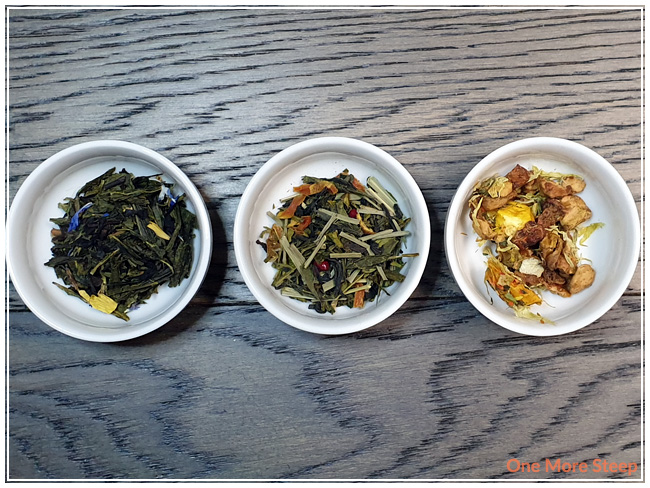 From left to right: Royal Star, Caribbean Kiss, Orange Ice Cream.
Preparation
BRUU recommends steeping Royal Star in 80°C (176°F) for 2 minutes, Caribbean Kiss in 100°C (212°F) for 2 minutes and Orange Ice Cream in 100°C (212°F) for 10-12 minutes. I followed the steeping instructions almost perfectly – I used 79°C (175°F) water for Royal Star, and I had steeped Orange Ice Cream for 10 minutes.
First Taste
Royal Star smells a lot like the dry leaf – fruity and sweet! Surprisingly, it didn't taste that way to me. Royal Star steeps to a dark orange-brown colour. It wasn't as sweet as I was expecting (or hoping!) it would be since the dry leaf and steeped tea has a great fruity candy aroma to it and I had some great expectations. It does have a fruity flavour to it, with a touch of sweetness. There's a mild astringency present mostly at the tail end of each sip, which isn't too off-putting.
Caribbean Kiss steeps to a golden orange colour. There's a strong citrus aroma, with peppercorn in the background. There's a definitely sharp peppercorn flavour to this tea, with some creamy orange notes to it. It's got a bit of a bite to it, thanks to the peppercorn. Having this one iced would probably be ideal to help tame those spice notes.
Orange Ice Cream steeps to a bright yellow – like sunshine. It smells just like the dry leaf, resembling an orange creamsicle. The flavour tastes like what I expected it to – orange, cream, vanilla notes.  It's got a nice level of sweetness to it, and I think it would be excellent over ice.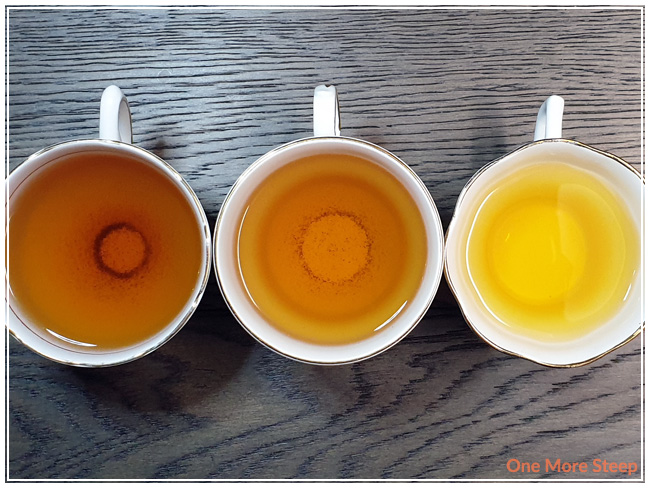 From left to right: Royal Star, Caribbean Kiss, Orange Ice Cream.
A Second Cup?
I attempted resteeps of Royal Star and Caribbean Kiss, but found that the flavour wasn't quite what I was hoping for. I think this has a lot to do with the ingredients that were just tapped out on flavour after the initial steeps.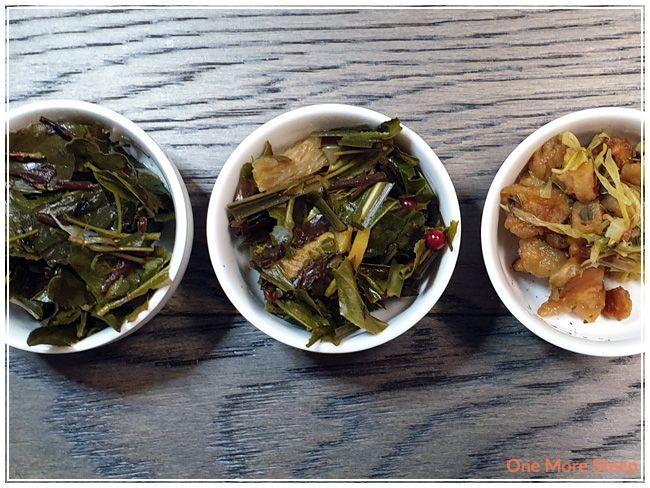 From left to right: Royal Star, Caribbean Kiss, Orange Ice Cream.
My Overall Impression

I liked BRUU's Subscription Box. I really like subscription boxes in general because I think it's a great way to get exposure to teas that I might not otherwise try. The packaging is fun with the tea-themed illustrations, and I think the tasting cards and gold clothespins are just charming. The tea themselves aren't really blends that I would have personally chosen for myself. I think at first glance, I was most excited for Royal Star as it was a sencha and oolong blend, and I ended up liking Orange Ice Cream the best because it basically tasted like dessert (and what's not to love about that?). The protein bar will end up in my bag for a night shift snack for sure, and it's always really fun to try new-to-me teas.
I'd definitely be curious about getting another box from BRUU because it'd just be fun to get to explore more of the teas that they have in their catalogue. The nice thing about the BRUU Subscription Box is that it isn't overly expensive. It's priced at £10 for a box (and if you prepay for more months, the price per month does go down), which could make for a nice little gift to yourself on a monthly basis.
Curious about the cup rating system? Click here to learn more.