Coconut Cream Pie Chai by Dessert by Deb
Black Tea / Flavoured
$6.00 for 25g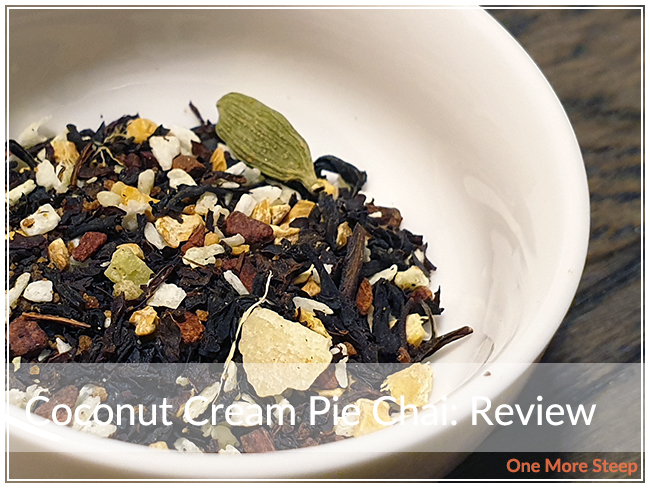 First Impressions
Coconut Cream Pie Chai was one of those teas that when I first read the name of the tea out loud, I was impressed that I hadn't mixed up the words. The name is on the longer side, but it really invokes an idea in my head of what it sound smell and taste like. I'm almost not a regular consume of coconut cream pie, so I'm not entirely too familiar with how it sound taste (fair warning!). But this black tea blend came to me as part of my Dessert by Deb subscription box, and I'm always of fan of trying new teas, so here we are.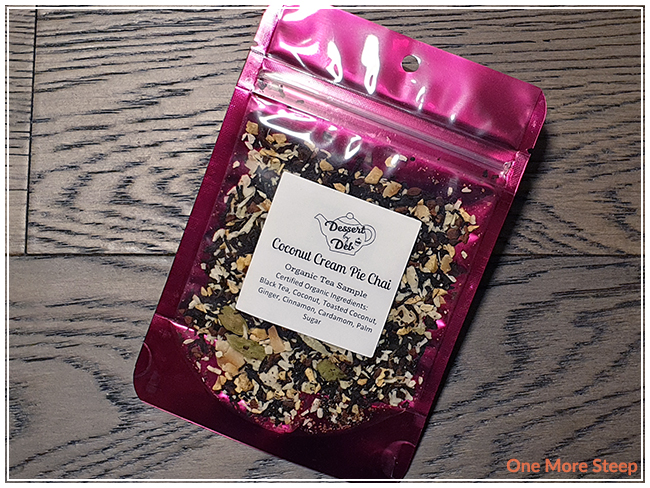 Coconut Cream Pie Chai comes in a bright fuchsia metallic pouch that's resealable – always a nice little bonus – with a clear front so you can see the tea blend inside. It has a nice mix of ingredients and consists of organic: black tea, coconut, toasted coconut, ginger, cinnamon, cardamom and palm sugar. Coconut Cream Pie Chai primarily smells of toasted coconut to me, with hints of ginger throughout. I'm almost looking for some vanilla notes to really invoke the idea of a baked good.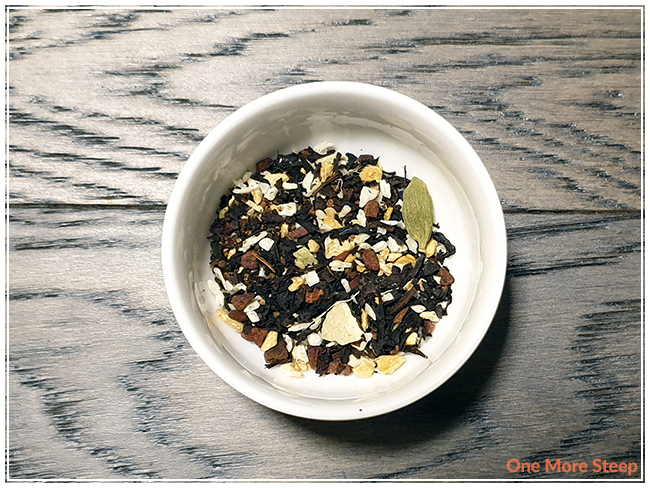 Preparation
While there's no steeping instructions on the packaging, it didn't take me long to find them on the Dessert by Deb's website product page for Coconut Cream Pie Chai. Dessert by Deb recommends steeping Coconut Cream Pie Chai in 212°F (100°C) water for 4 to 6 minutes. I opted to do an initial steep of 5 minutes.
First Taste
Coconut Cream Pie Chai steeps to a brownish-orange colour, with an oil slick that floats on the top. This comes from all the coconut found in the ingredients, as it naturally contains oils. The aroma of Coconut Cream Pie Chai lends towards being coconut, but the flavour isn't as coconut forward as I was expecting. I get a lot of the ginger and cinnamon coupled with hints of the cardamom, and the warming quality of those spices, while the coconut is definitely forward in the fragrance of the steeped tea, it's not very coconut heavy in the actual taste itself.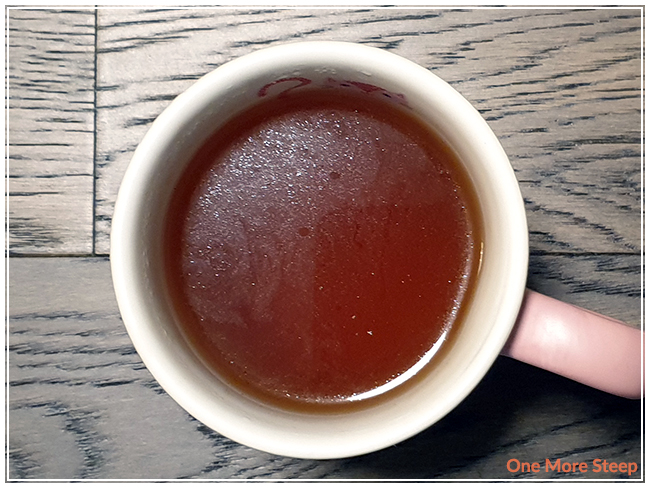 A Second Cup?
I attempted to resteep Coconut Cream Pie Chai, but found in lacking flavour compared to the initial steep. I would recommend Coconut Cream Pie Chai for just the one steep.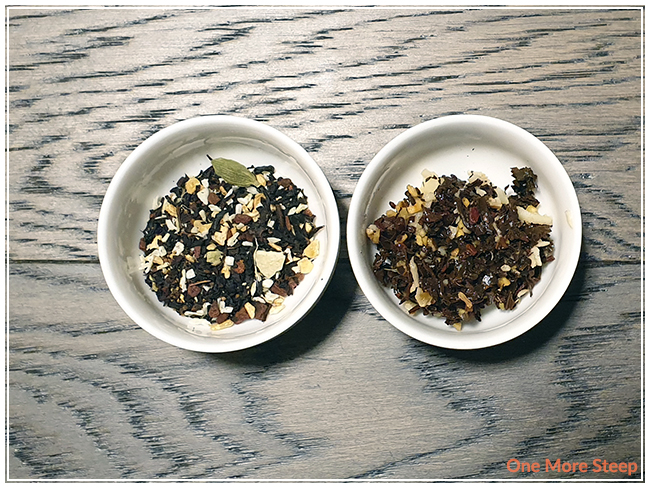 My Overall Impression

I thought that Dessert by Deb's Coconut Cream Pie Chai was just okay. I think this blend had a lot of potential, but my expectations and reality just weren't matching up. I think for those looking for a less spicy version of a chai will enjoy this blend because it does have the ginger, cinnamon, and cardamom flavours, especially in the initial steep. You do get the great warming quality of the spices, but I was hoping for more coconut-forward flavour, when compared to how the blend smells when dry and when steeped. Turning it into a tea latte would likely go a long way to making it taste more creamy and dessert-like, especially if you have some coconut milk on hand.
Curious about the cup rating system? Click here to learn more.