Lavender Coconut Macaron by Dessert by Deb
Green Tea / Flavoured
$16.00 for 75g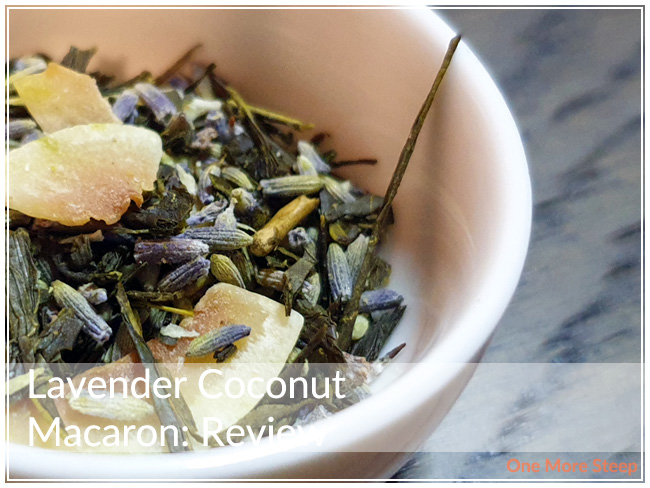 Lavender Coconut Macaron is an exclusive blend for Dessert by Deb subscription subscribers and is available for purchase by subscribers only at this time.
First Impressions
Lavender Coconut Macaron came in a sealed, resealable pink pouch with a very familiar colourful label on the front. This is Tea Society Club exclusive, which is a great little perk of being a subscriber to the Dessert by Deb subscription box (which basically means I get a present to myself from myself every two months with some cool tea blends).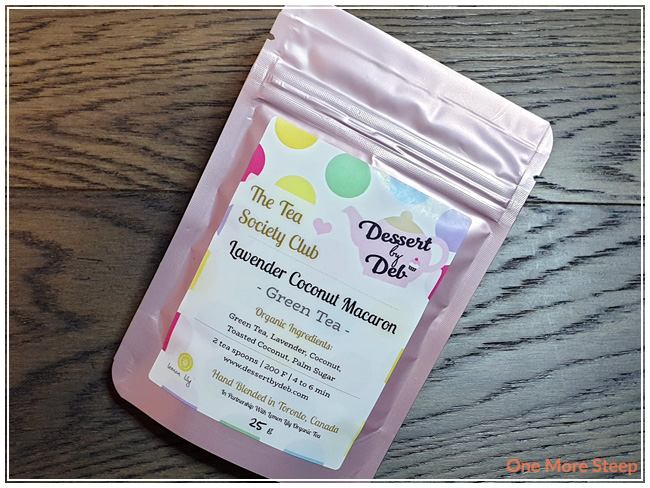 Lavender Coconut Macaron consists of all organic: green tea, lavender, coconut, toasted coconut, and palm sugar. The aroma is really strongly lavender with a hint of toasted coconut in the background. Lavender is such a strong and forward ingredient, and I really like it – it's one of my favourite starring blend ingredients. This is definitely a floral-forward green tea blend so if you're not a fan of floral or lavender in particular, it's probably not the blend for you. For me, I love lavender, so I'm pretty happy with the delicate aromas, the feminine and delicate feel to the blend with the lavender heavy mix.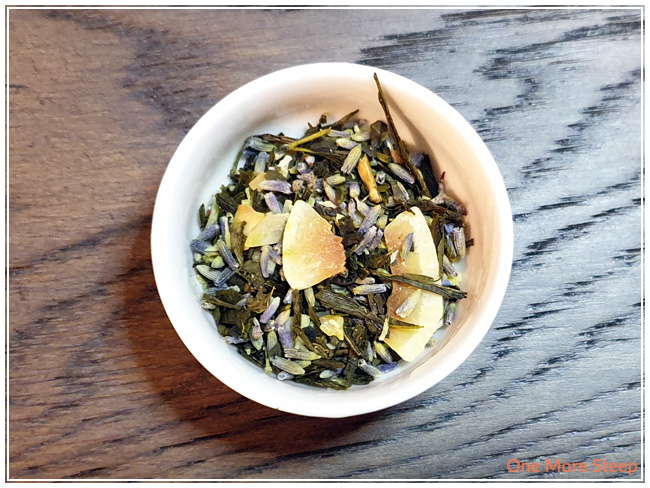 Preparation
Dessert by Deb recommends steeping Lavender Coconut Macaron in 200°F (93°C) water for 4 to 6 minutes. I opted to follow the water temperature recommendation and did an initial steep for 5 minutes.
First Taste
Lavender Coconut Macaron steeps to a pale yellow colour. It's very lavender forward in the aroma from the steeped tea. The flavour is first and foremost lavender – very floral notes, and it has a nice sweetness to it, with the toasted coconut as an undertone. I don't really taste the green tea base, and I think that has a lot to do with the fact that the lavender and coconut being so strong.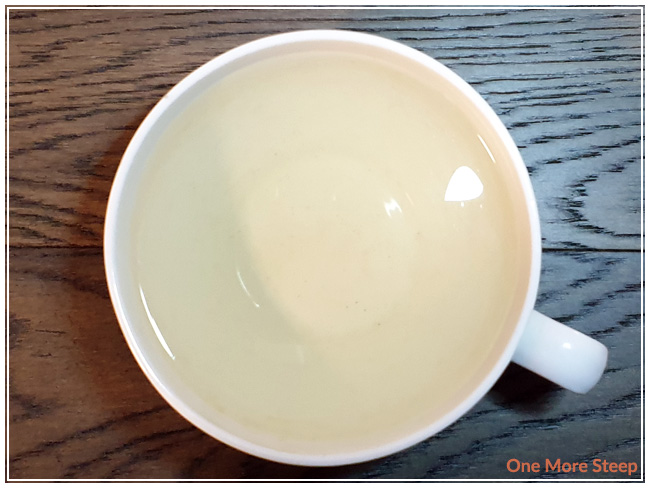 A Second Cup?
I resteeped Lavender Coconut Macaron twice, adding an additional 30 seconds for each subsequent steep. I found that the flavour wasn't as floral as I enjoyed in the initial steep, so I preferred the initial steep the best.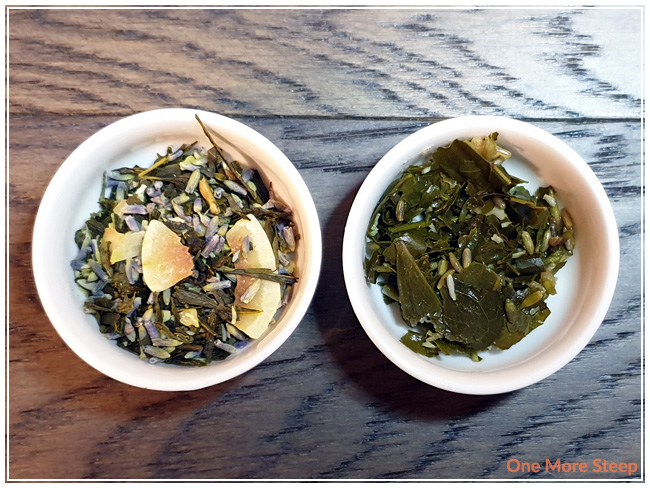 My Overall Impression

I liked Dessert by Deb's Lavender Coconut Macaron. I really enjoyed just how strong the lavender is, how forward such a delicate feeling flower is in this green tea blend. While I couldn't taste the green tea base very well, I found that the toasted coconut did really well against the lavender and it really just makes for a lovely cup of tea. It'd be a great addition to an afternoon tea line-up just for the delicate floral notes, and I think it'd be great iced with a splash of lemonade to really amp it up and make it into a great summer iced tea.
Curious about the cup rating system? Click here to learn more.