Butterscotch Jam Bars by Dessert by Deb
Rooibos / Flavoured
$16.00 for 75g
Butterscotch Jam Bars is an exclusive blend for Dessert by Deb subscription subscribers and is available for purchase by subscribers only at this time.
First Impressions
Butterscotch Jam Bars is a rooibos blend that came in one of my subscription boxes, and it is a subscriber exclusive. This rooibos blend comes in a gold sealed, resealable pouch, with a colourful label across the front. I'm personally keeping my fingers crossed that I don't smell or taste the rooibos because it's not one of my favourite ingredients – I tend to find that rooibos reminds me of a medicinal flavour.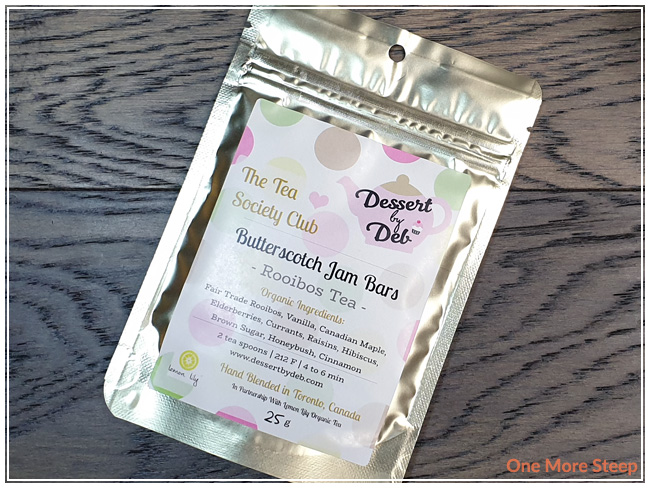 Butterscotch Jam Bars has a beautiful aroma to it – I can smell brown sugar, maple, raisins and vanilla. Surprise, I can't smell the rooibos base at all. The brown sugar and vanilla notes make me think of a cake or pastry, which is nice and quite fitting considering the name of the blend is Butterscotch Jam Bars.
Butterscotch Jam Bars consists of organic: fair trade rooibos, vanilla, Canadian maple, elderberries, currants, raisins, hibiscus, brown sugar, honey bush, and cinnamon.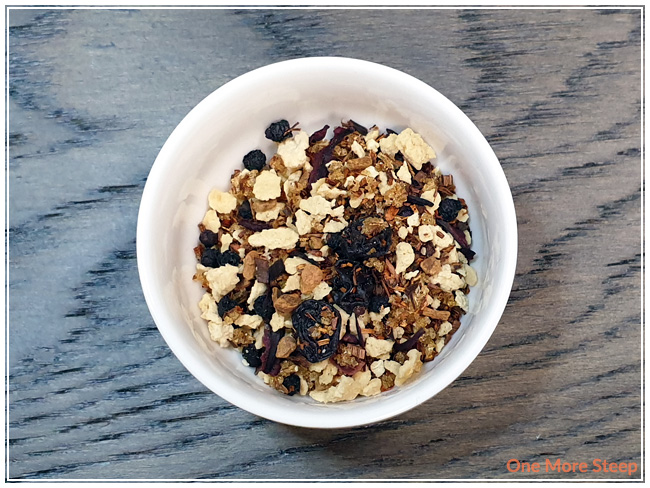 Preparation
Dessert by Deb recommends steeping Butterscotch Jam Bars in 100°C (212°F) water for 4 to 6 minutes. I followed the recommended steeping temperature and did an initial steep for 5 minutes.
First Taste
Butterscotch Jam Bars steeps to a nice orange colour with a bit of a pinkish hue to it, which I credit to the hibiscus, of course. There's the aroma of vanilla and brown sugar, with hints of raisins in the background. I found the blend to be nicely sweet, with that brown sugar and maple in the mix. It definitely tastes like a dessert, and that it should be more of a guilty pleasure that it is given the flavour of the blend. It tastes like a cake, which is really scrumptious. The big bonus (for me!) is that I can't taste the rooibos base itself, all I taste is vanilla, raisins, brown sugar, and the hint of maple in the background.
I really don't think that it needs a sweetener, but if you do choose to add something, I would go with brown sugar or maple syrup to play up some of the flavours that exist in the blend.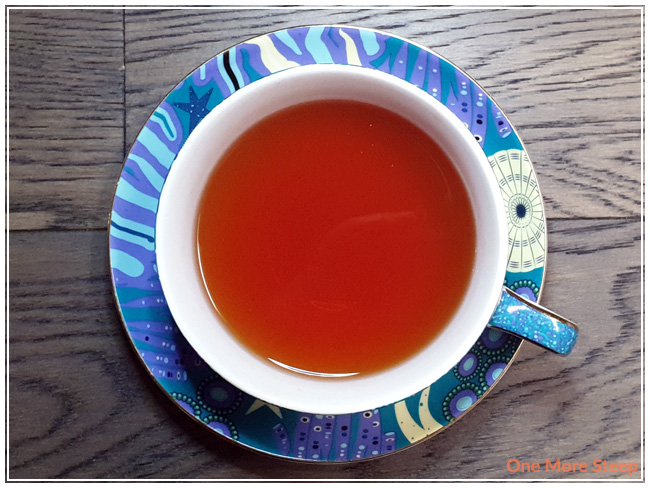 A Second Cup?
I attempted to resteep Butterscotch Jam Bars, but found that the second steep was more rooibos and less dessert-like. Which means, if you're a fan of rooibos, then steeping again is a great way to go.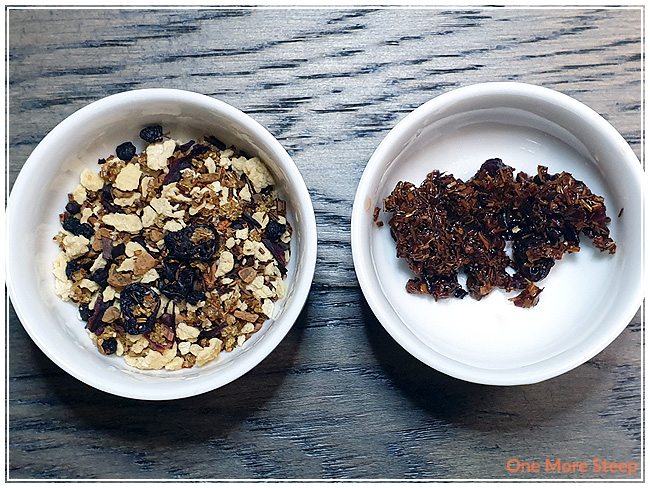 My Overall Impression

I liked Dessert by Deb's Butterscotch Jam Bars. I really appreciated the care into developing the flavours that shone through in the initial steep. The use of brown sugar and maple with the blend of elderberries, currants, and raisins, really helped to create the flavour of a baked good. The initial steep was definitely preferred by me over the resteep because I'm not a fan of rooibos. For those who do love rooibos though, I think you'll get more enjoyment from resteeping it.
Curious about the cup rating system? Click here to learn more.