Purple Papayaberry Iced Tea by Adagio Teas
Herbal Infusion / Flavoured
$8.00USD for 6 pouches (2.1oz)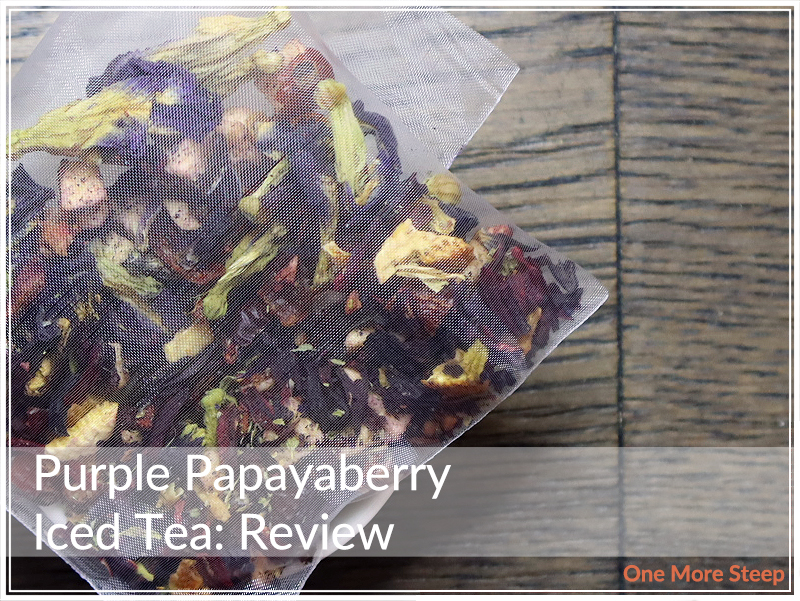 Adagio Teas has provided me with Purple Papayaberry Iced Tea for the purposes of writing an honest review.
First Impressions
It's still summer, tea friends! So I'm happy to have a nice glass of iced tea right now; Adagio Teas was happy to send me Purple Papayaberry Iced Tea – an herbal tisane that came in portioned pouches for making up pitchers of iced teas. Purple Papayaberry Iced Tea comes in a sealed, resealable coloured bag with printed information across the front.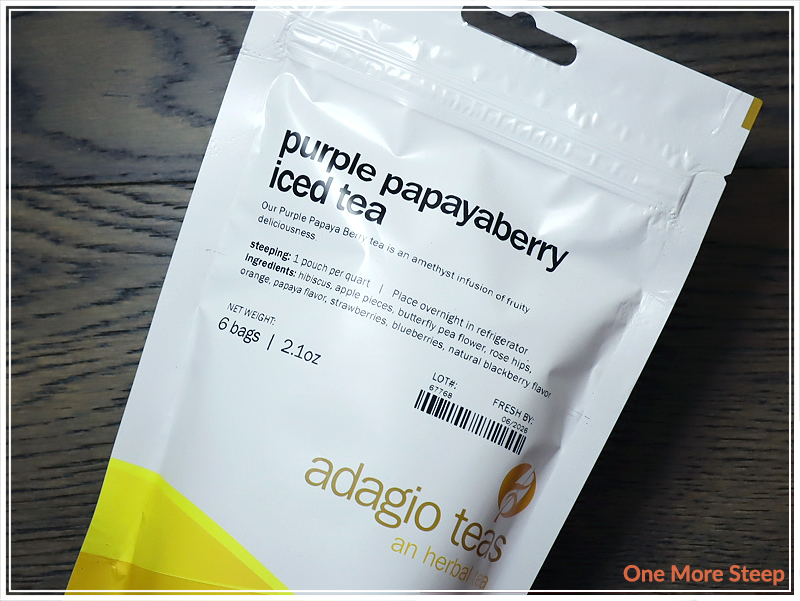 While the blend comes in pouches, I did rip one apart to take a look at it. It has a great fruity aroma that reminds me of a berry jam. Purple Papayaberry Iced Tea consists of: hibiscus, apple pieces, butterfly pea flower, rose hips, orange, papaya flavour, strawberries, blueberries, and natural blackberry flavour. It really is quite pretty to look at! Such bright colours – like a little happy rainbow in a cup.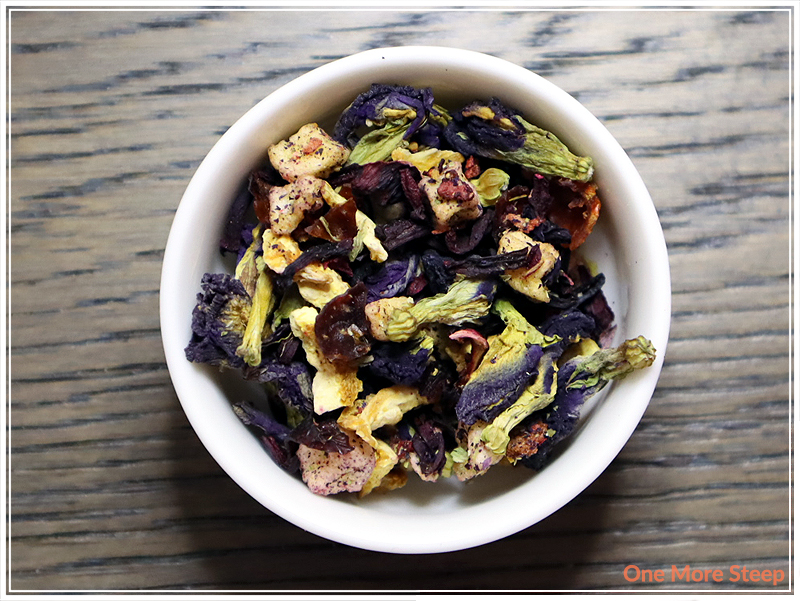 Preparation
Adagio Teas recommends preparing Purple Papayaberry Iced Tea with 1 pouch per 1 quart of water, and to place in the fridge overnight. I followed the instructions to steep overnight in the fridge.
First Taste
Purple Papayaberry Iced Tea steeps to a brilliant purple-red colour. There's a bright berry, fruity aroma to this tisane. The flavour is lightly fruity, and reminds me a bit of a thinned fruit punch – which given the nature of steeping the ingredients, isn't unexpected. It's quite refreshing, and it does a good job of quenching the thirst. Given that this blend does contain butterfly pea flower, you can add some lemon juice to change the colour.
I did top off the glass with some sparkling water, to add a bit of oomph – and it really hits the spot (so I would recommend adding some sparkling water a bit of refinement).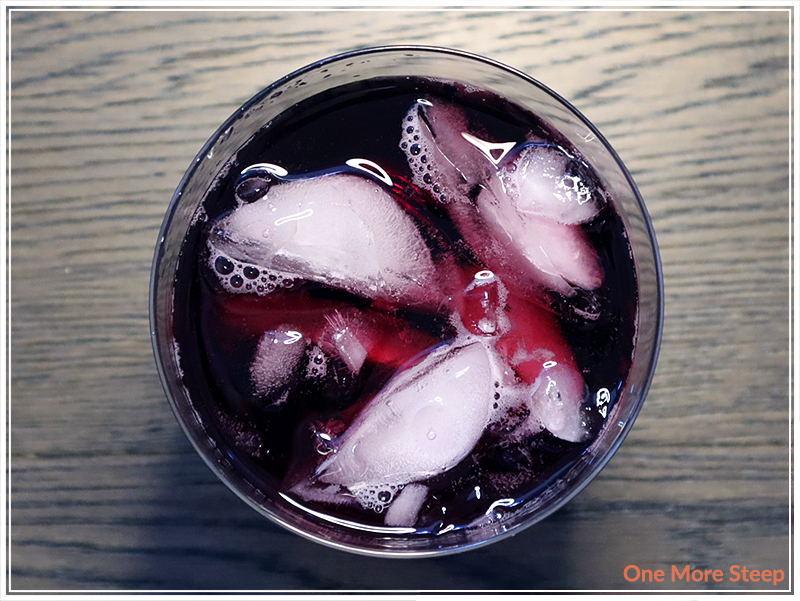 A Second Cup?
I attempted to resteep Purple Papayaberry Iced Tea, and found the colouring to be quite thinned compared to the initial steep. The aroma and flavour is lacking in comparison to the initial steep. I would recommend Purple Papayaberry Iced Tea for just the one steep with the leaves.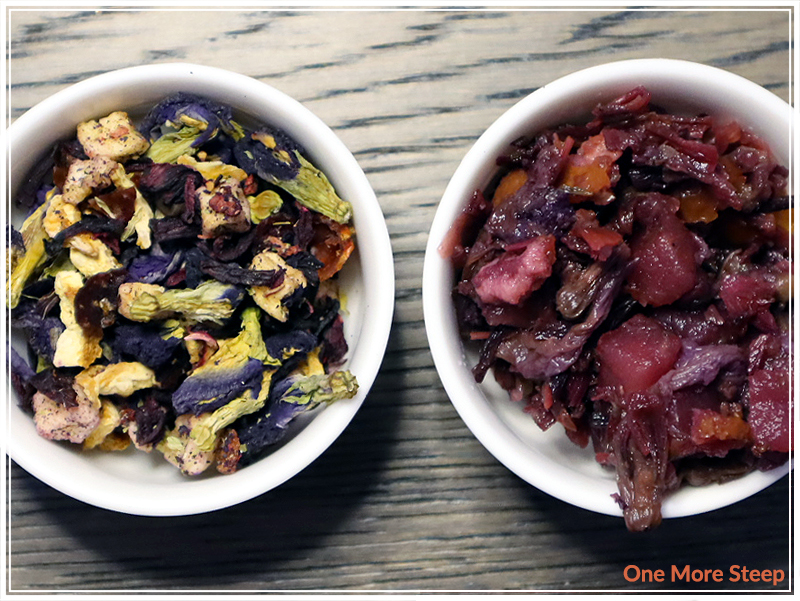 My Overall Impression

I liked Adagio Teas' Purple Papayaberry Iced Tea. I found it easy to steep, a beautiful colour, and has a good flavour. I do wish that the aroma, which was stronger than the flavour that I got from the drink itself. That said, it has a refreshing quality to it, and I think it's a great iced tea option for those who want something light with a berry flavour to it.
Curious about the cup rating system? Click here to learn more.