Rou Gui by Teakan
Oolong Tea / Straight
$30.00 for 65g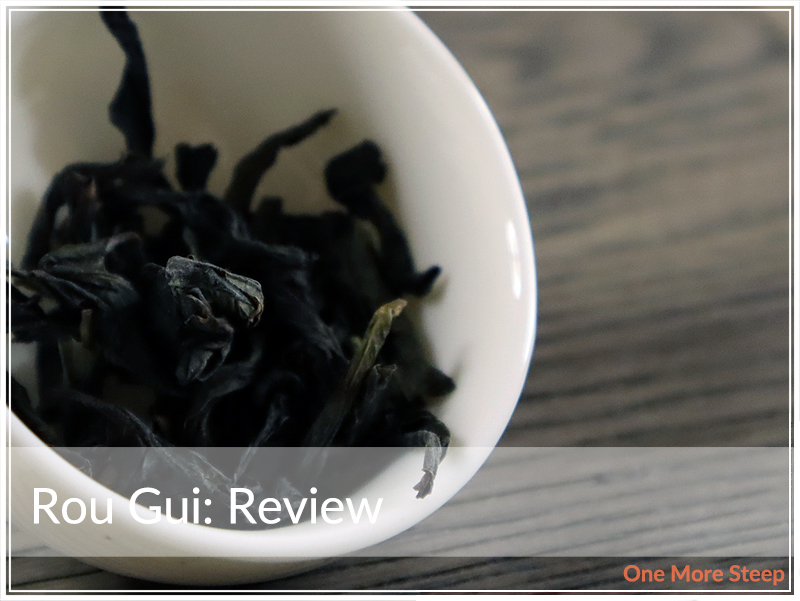 Rou Gui is part of Teakan's Volume 5 Exploration Kit, a collection of five single origin teas. Rou Gui makes up 10g of the 65g kit.
First Impressions
Rou Gui came as part of Volume 5 of Teakan's Exploration Kits. This oolong comes in a sealed, resealable kraft paper pouch. There's a white and black label on it, which tells me that it's an oolong tea from Wuyishan, Fujian, China. This particular oolong is from spring 2021. This particular little pouch carries 10g out of the 65g tea sampler kit – which is enough for a few cups of tea.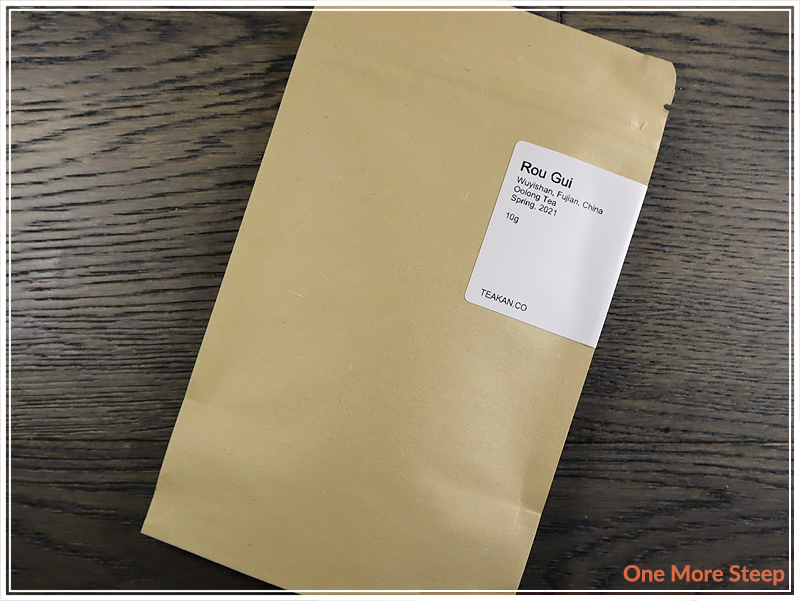 The leaves are a dark, dark green, with very minimal streaks of lighter green throughout. The leaves are long, wiry, and it really does take up a large volume of space for the weight of tea that's in there. The aroma is lightly floral. There is something slightly earthy about it that reminds me of shittake mushrooms.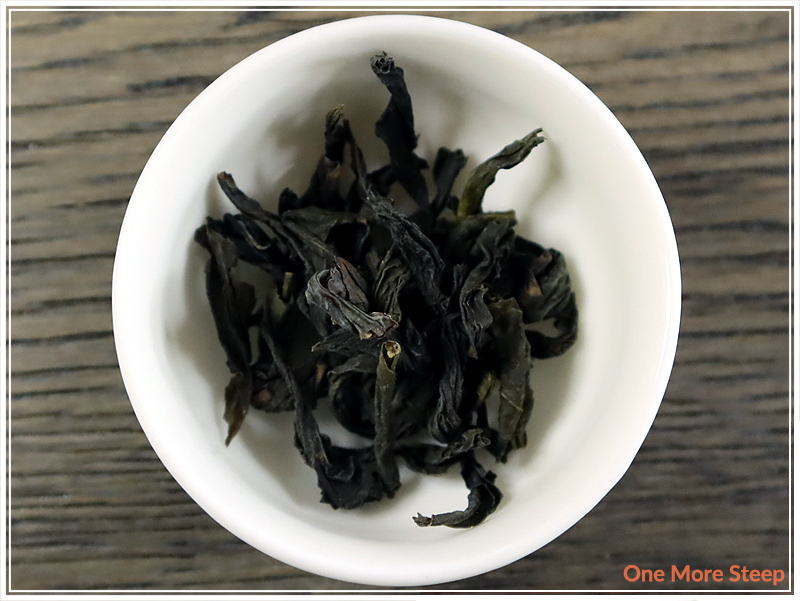 Preparation
Teakan recommends steeping Rou Gui in 96°C (205°F) water and doing an initial steep of 2 to 3 minutes for western style steeping and a mere 10 to 15 seconds for gongfu style steeping. I opted to do an initial steep of 2 minutes in my western style tea pot.
First Taste
Rou Gui steeps to a golden yellow. It has the light aroma of florals. Flavour wise, I found that Rou Gui has a bit of sweetness and floral flavour to it. There's almost a cinnamon note to the aroma that takes the backseat to the floral fragrance, but it fades away when I drink it. There's a smoothness to this tea that is inviting – I found zero bitterness or astringency to it, which is nice. I found it easy to drink.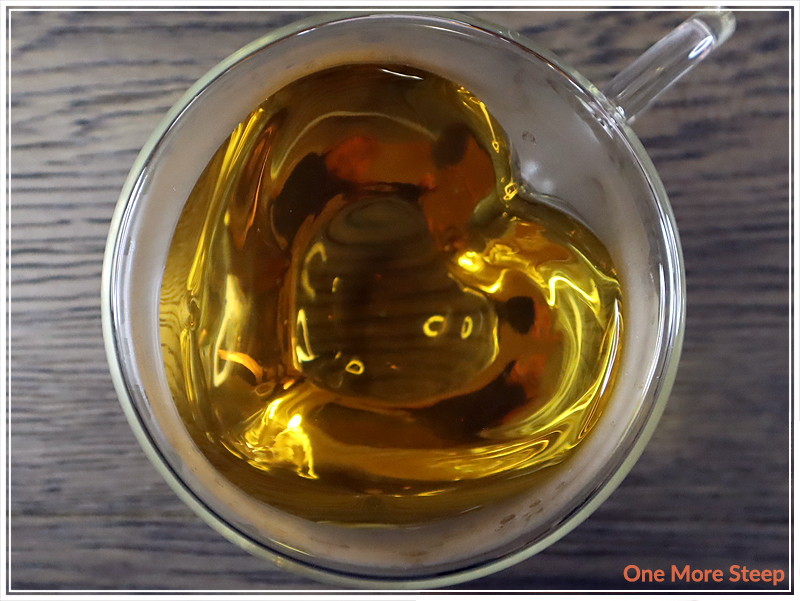 A Second Cup?
Rou Gui was resteeped five times (six steeps total) with the same leaves. I did add an additional 30 seconds with each subsequent resteep. The leaves opened up a significant amount, and were pleasant shades of green throughout. I found the flavour to remain fairly consistent. The floral flavour was stronger for the first resteep, and then slowly began to fade after that.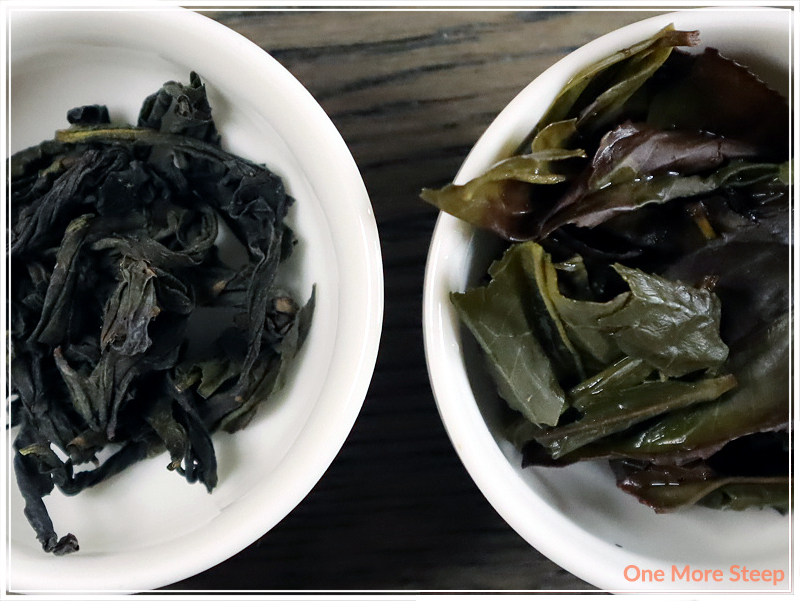 My Overall Impression

I loved Teakan's Rou Gui. The last couple of teas from Teakan's Volume 4 have hit the spot with me because I'm such a fan of oolong. Rou Gui didn't disappoint when it came to aroma, steeping, flavour, or resteeping. Sipping this oolong was a pleasant activity to do over an afternoon and I greatly enjoyed getting to taste it and experience the nuances of the flavour from this Wuyishan oolong.
Curious about the cup rating system? Click here to learn more.