Pocky Green Tea & Pocky Dark Rich Matcha by Glico
$2.49 for 70g / $2.99 for 65g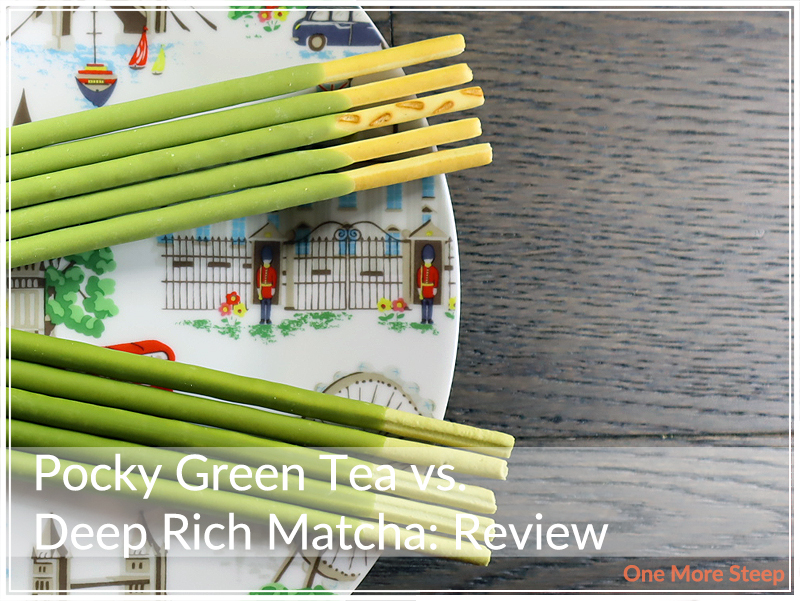 First Impressions
I'm a fan of green tea treats, so when I spotted two different green tea Pocky flavours I wanted to try them both – and also do a taste comparison! Dark Rich Matcha (right) and Green Tea (left) came at different price points. The Dark Rich Matcha was $2.99 for 65g, whilst Green Tea was $2.49 for 70g.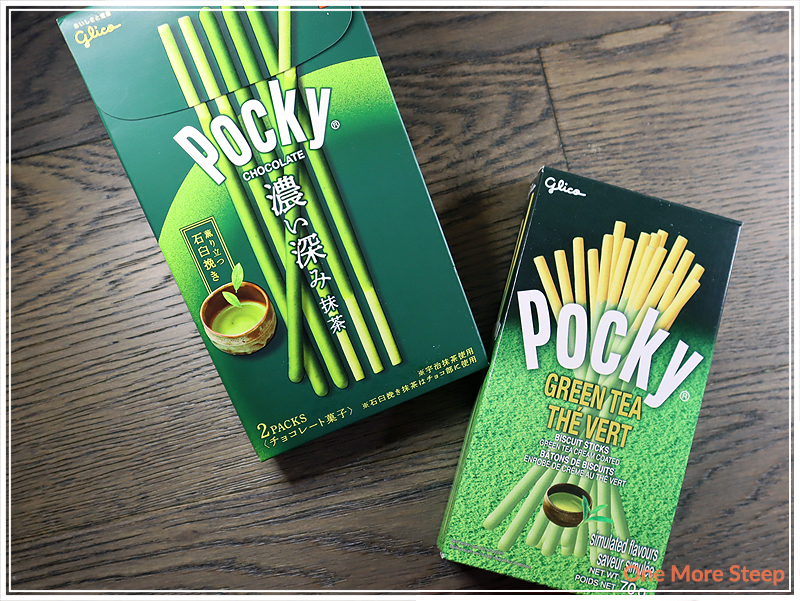 Dark Rich Matcha comes in a two pack, with a dark green packaging while the Green Tea is white. Truth be told, the mild difference in price doesn't make too much of an impact for me with only a 50¢ difference. The Dark Rich Matcha comes in a matte box while the Green Tea comes in a glossy box, which makes the Dark Rich Matcha appear more luxurious because of the matte feel.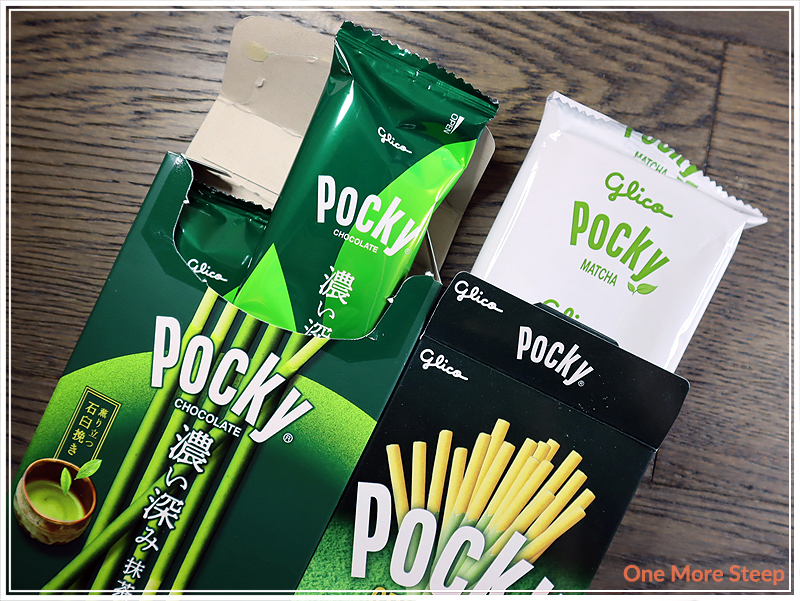 Pocky Green Tea consists of: wheat flour, sugars, vegetable oil, whole milk powder, vegetable oil shortening, green tea powder, artificial flavours, salt, yeast, soy lecithin, sodium bicarbonate, mono- and di-glycerides, carotene, brilliant blue FCF.
Pocky Dark Rich Matcha consists of: wheat flour, sugars, cocoa butter, whole milk powder, palm oil, shortening, tea powder, wheat gluten, salt, yeast, soy lecithin, artificial flavour, potassium chloride, baking powder, and sucralose.
First Taste
Both Pocky green tea varieties are very similar – same length, same thickness in the green coating. The lighter one was Green Tea while the darker one is the Dark Rich Matcha. Both are sweet – Green Tea has a mild grassy taste while the Dark Rich Matcha has a grassy umami flavour to it combined with hints of chocolate.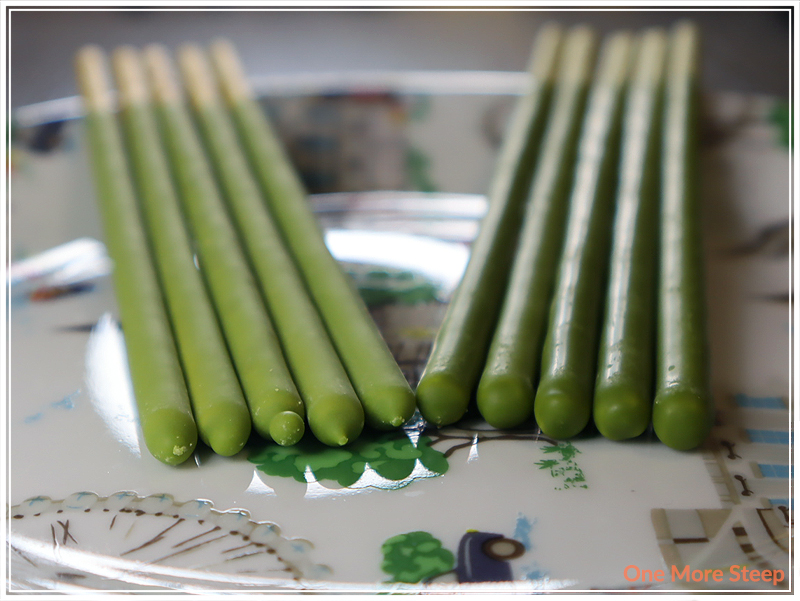 The biscuit portion has a very mild flavour to it, a fairly plain cookie in itself. The Pocky Green Tea actually has a nicer looking biscuit stick to it – being more golden in colour in comparison to the Pocky Dark Rich Matcha which has a greenish hue to it. Other than colour though, the plain parts of the biscuit sticks taste basically identical.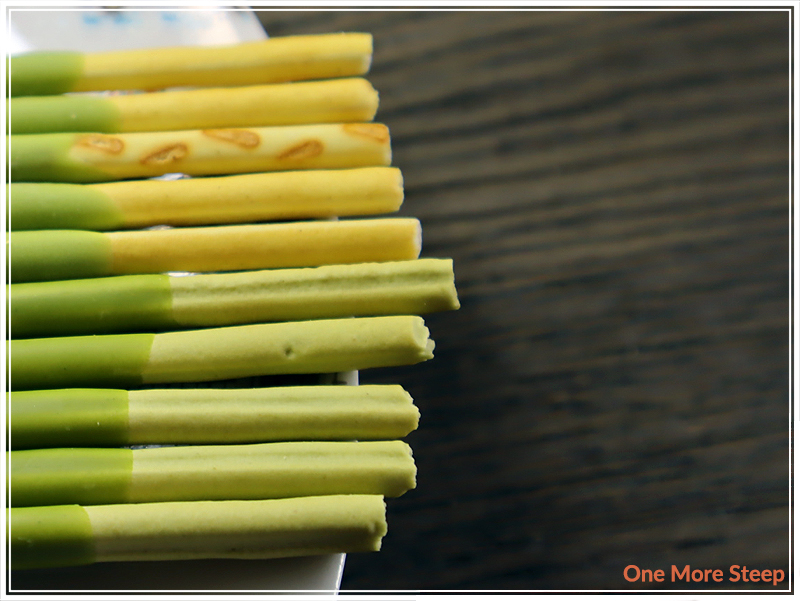 My Overall Impression

I loved both Glico's Pocky Green Tea and Dark Rich Matcha. The flavours of both are good, with a nice flavour of matcha. I find that I enjoy the Dark Rich Matcha more due to the chocolate undertones. The small difference in price points doesn't influence me either way, although I do like the idea of having two packages in one box, for freshness if for whatever reason I don't finish it in one sitting (although, really, who am I kidding?). I think they both make for a good snack, and would want to have both again (but definitely the Dark Rich Matcha if given the choice of only one).
Curious about the cup rating system? Click here to learn more.