One of my favourite tea accessories is my tea infuser, which I use with loose leaf teas at home. My first tea infuser was purchased online and was this silicone strawberry-like shaped thing. The basics of it is to remove the stem, fill with tea, insert the stem back in and then steep. The problem with it is that the holes were much too large. Every single type of tea I tried in it would come out and I'd wind up with tea leaves in my tea. While that isn't the end of the world, it's still not doing it's job so I had to find something else.
The tea infuser I use now at home is this one: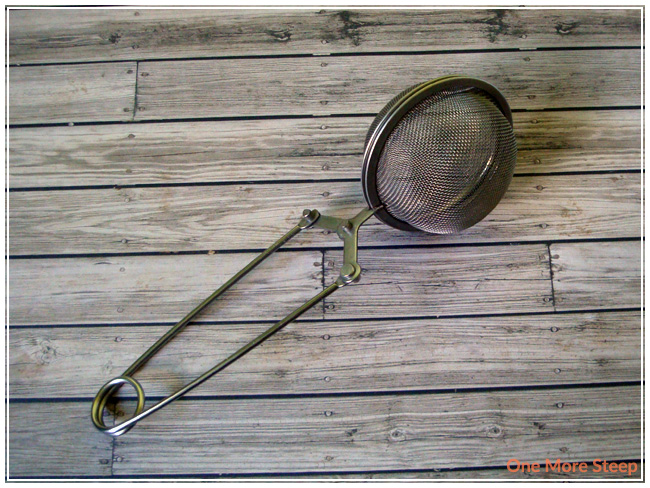 It's stainless steel, doesn't hold onto any scents or flavours of previously steeped tea, and the mesh sides clean really easily. It's fairly good about keeping the tea in the ball, I have very minute of tea leaves in my tea (it's almost never leaves, but just small bits of the loose tea). It opens when I press the handles together, and closes when I let go. If you let go, it will snap close – which is something to note if you're snapping it close after filling up one half of the ball – tea leaves will go everywhere and it may make you sad (or annoyed).
The nice bonus about this fantastic tea infuser (that I love and use constantly at home, when not drinking bagged tea) is that it can be found in dollar stores! It fits well in most average sized mugs, I can see people running into trouble with the handle not being large enough if you're prone to using those very large mugs, but for most mug sizes it should be suitable.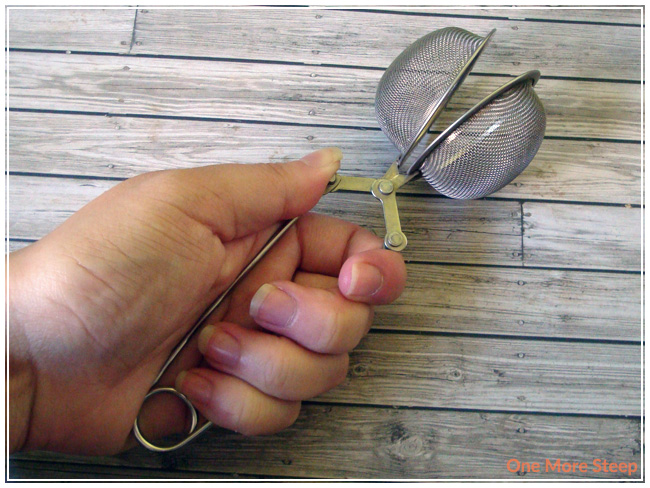 I've had this tea infuser for a while now, so I no longer have the packaging to show you, but I do recall that I had purchased it at Daiso. If you don't have a Daiso near you, don't despair – you can find many similar ones online or probably in local shops. I know that some people don't like tea balls because it doesn't allow for as much room for the tea leaves to expand as they do the infusers that sit in the cup and look like a metal basket. When the tea infuser is $1-2 vs. $10+, it's much more budget-friendly solution. I will likely get a tea infuser in the future that can sit in my mug and allow for optimal tea leaf expansion and unfurling, but for now I'm using my budget-friendly tea infuser.
Tea infusers come in all shapes and sizes! What's your favourite tea infuser? Let me know in the comments below!