Matcha by Purdys Chocolatier
Green Tea (Matcha) / Chocolate
$11.00 for 6 pieces (70g)
First Impressions
I love chocolate as much as the next girl, but when it comes mixed with tea? You know I had to give it a try! If you're not familiar with Purdys, they are a chocolate company based in Vancouver, British Columbia. Their stores feature chocolates, candies, ice cream, and more. The purple and gold store fronts can also be found across Canada, and I picked up this box of Matcha at a store near me.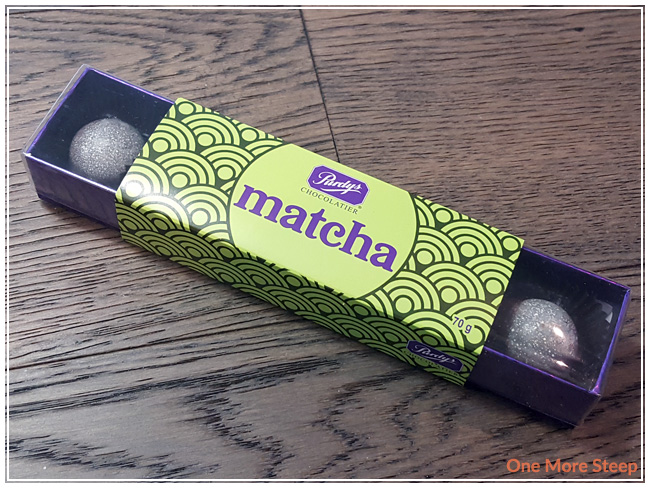 Inside the box, there are six beautiful chocolates. Each one has a unique speckled design on it – according to the product page, Purdys uses a spirulina-based dye mixed with cocoa butter to create the colours. Matcha is a unique truffle that consists of a blend of white chocolate and matcha green tea powder, inside of a milk chocolate shell. Each chocolate is nestled in its own brown paper cup. The aroma that I get from the chocolate is milk chocolate.
The ingredients in Matcha are: sugar, milk ingredients, cocoa butter, unsweetened chocolate, coconut oil, matcha powder, natural and artificial flavours, soy lecithin, turmeric, spirulina concentrate, apple concentrate, titanium dioxide, water, sunflower oil, maltodextrin, and citric acid.
First Taste
I cut my first Matcha chocolate in half. The green centre of the Matcha has a sweet, grassy aroma to it. The flavour reminds me a lot of a matcha latté – there's a touch of honeyed sweetness, grassy notes, a touch of saltiness, and the milk chocolate shell just melts in your mouth. Despite it being a fairly hefty chocolate, it's quite light in terms of the mouthfeel – there's a nice decadence to it.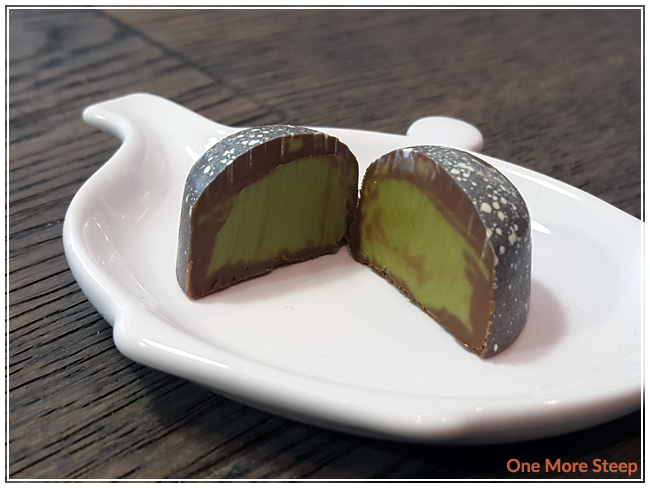 My Overall Impression

I loved Purdys Chocolatier's Matcha. I think that the matcha flavour really shines through. The speckled decoration is beautiful, and I really like how they used natural dyes to create the colours. The milk chocolate shell is superb, but as someone who's grown up eating Purdys, I don't expect anything less. These are nice for a treat, at the price of $11 for 6 pieces, it's definitely not something that I'll have around all the time, but they're quite tasty and I would recommend trying it out if you're a fan of matcha and chocolate.
Curious about the cup rating system? Click here to learn more.