Purple Jasmine by JusTea
Green Tea / Flavoured
$10.00 for 90g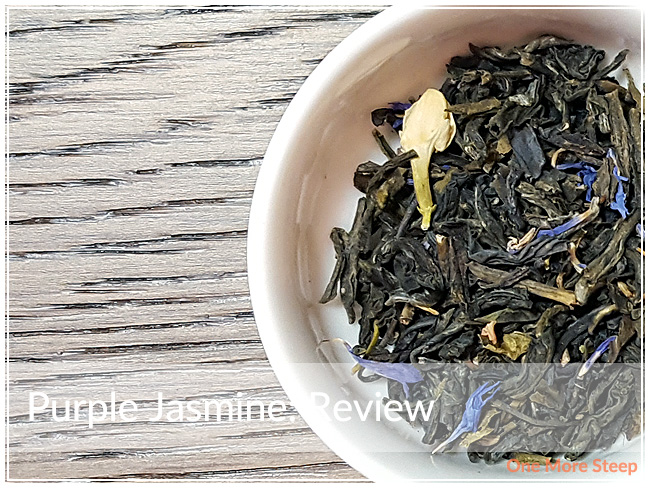 First Impressions
Purple Jasmine was tea that I received for free from JusTea because they offer free teas to people on their birthday when they sign up for their newsletter. Luckily, Purple Jasmine is tea that I haven't tried yet so I was pleased to receive it in the mail. It came to me in a resealable bag that is paper on the outside and foil on the inside, which is nice for tea packaging because keeps out moisture, air, and light.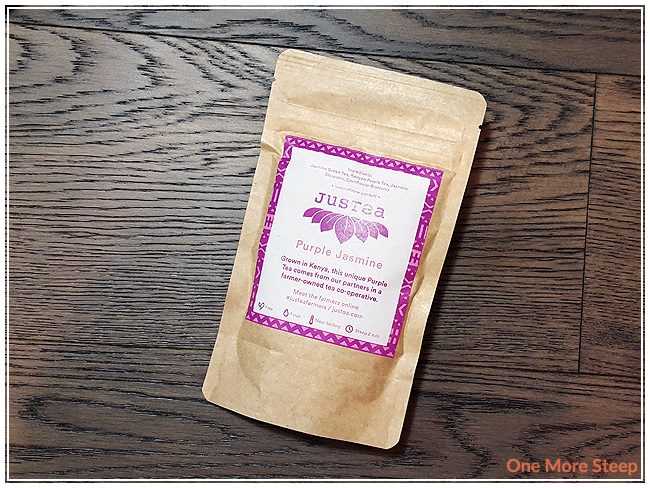 This green tea blend smells just like a jasmine green tea, which is one of my favourite types of tea blends. It has a sweet floral fragrance that is familiar. Purple Jasmine consists of jasmine green tea, Kenyan purple tea, jasmine blossoms, and cornflower blossoms.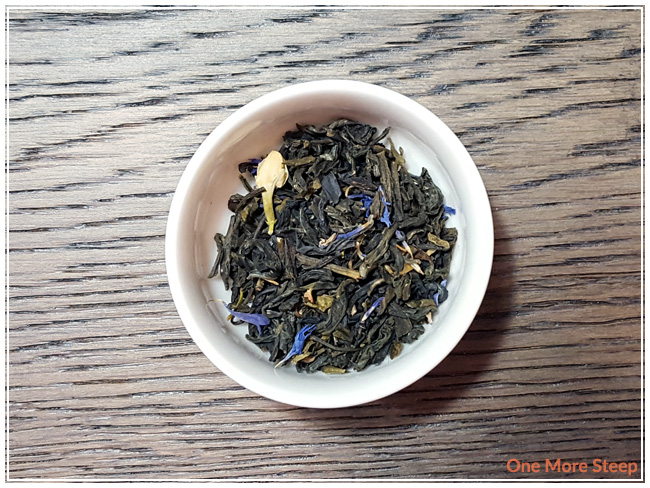 Preparation
JusTea recommends steeping Purple Jasmine in near boiling water for 2 minutes. Their product page for Purple Jasmine suggests a temperature of 175°F (80°C), which is lower than "near boiling" in my books.
First Taste
Purple Jasmine steeps to a light golden yellow. This green tea blend has a bright floral aroma that instantly makes me think of jasmine flowers. I found that it has a sweet jasmine/floral taste, and there's the subtle undertones of the green tea base. I noted some grassy notes that I attributed to the green tea base since the jasmine can be a bit overpowering in comparison.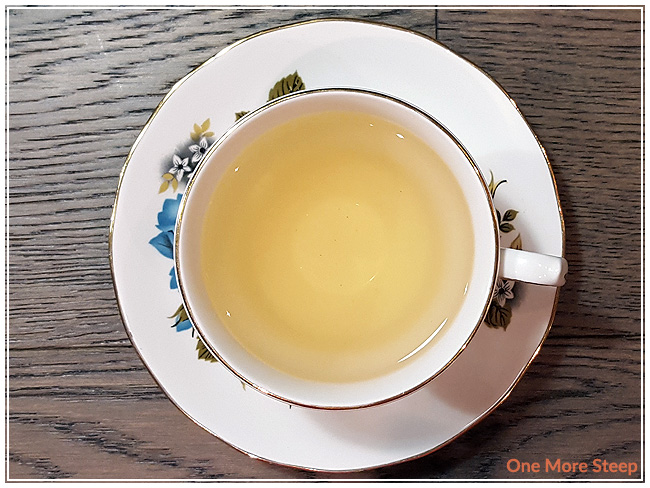 As it is a purple tea, I opted to add a little bit of lemon juice to my cup of tea. I found that the colour turned to a very light grapefruit-esque pink. However, I found that the lemon juice didn't do much for the taste as it muddled the jasmine flavour. I much preferred it without the lemon juice.
A Second Cup?
I resteeped Purple Jasmine twice. I found that the flavours were still quite strong for the first resteep, but found for the second that the sweet floral flavours were much more dilute. I would say that Purple Jasmine is good for one more steep.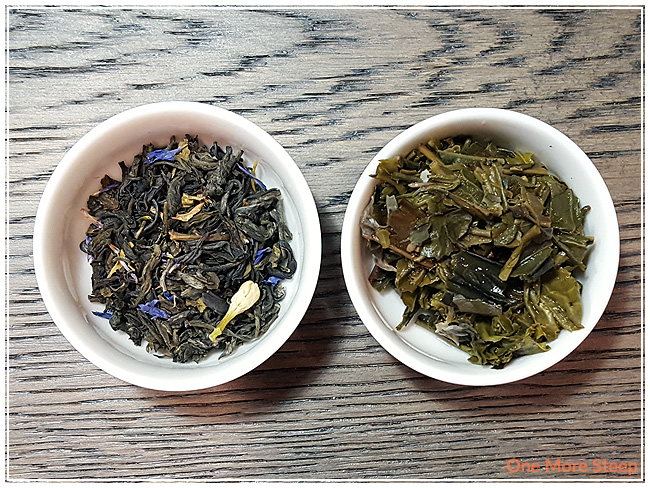 My Overall Impression

I loved JusTea's Purple Jasmine. I really enjoyed this jasmine blend and how fragrant this tea was in both the dry leaf and the steeped tea. I wouldn't recommend doing the colour change with the lemon juice unless you're a fan of lemon in your tea, because I just don't like what it does to the beautiful jasmine flavours in this tea blend. Because of the natural sweetness, I would pair this tea with a savoury breakfast to offset the heaviness in a hearty breakfast, or with any other meal to provide a contrast.
Curious about the cup rating system? Click here to learn more.