Honey Bee by Thay Tea
Black Tea / Flavoured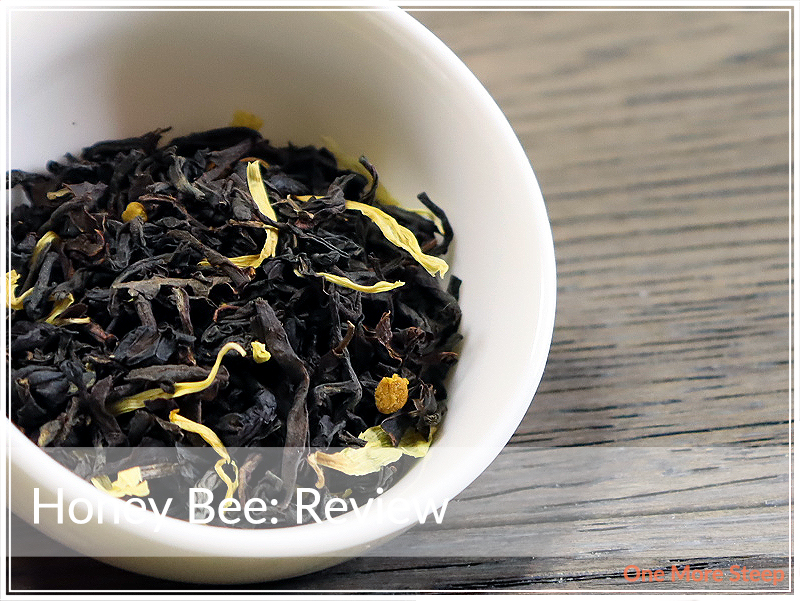 I received Thay Tea's Honey Bee as a birthday gift in 2021, so I did not attempt to find the pricing on the Thay Tea website (but it's linked above).
First Impressions
Honey Bee came to me as a birthday gift – and I'm always happy to receive tea, especially when it's from a company that is new to me. Thay Tea is based in Ucluelet, British Columbia, Canada and has a focus on organic looseleaf blends. The tea comes in a white sealed, resealable pouch with a white label across the front. It's not cluttered, and has all the information that I'm looking for when it comes to trying a tea for the first time.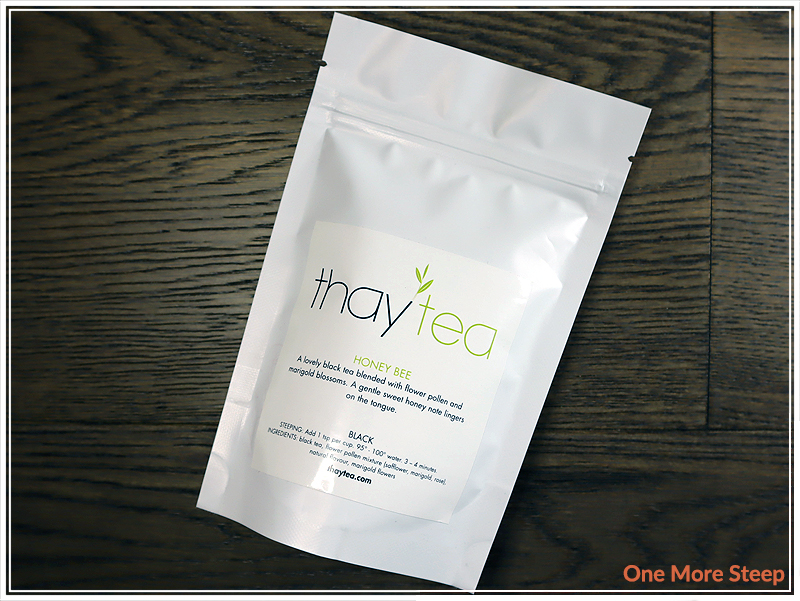 Honey Bee is a black tea blend that consists of: black tea, flower pollen mixture (safflower, marigold, and rose), natural flavour, and marigold flowers. You can see the tiny little balls of pollen in the blend, which is always fun. If you're a sufferer of seasonal allergies, you'll know that (local to you) bee pollen is commonly used for helping to decrease the symptoms of seasonal allergies – anything to help me sneeze less is greatly appreciated, especially with all that's been going on the last two years. The aroma of Honey Bee is sweetly floral, with an almost malty fragrance to the black tea base. It's nicely inviting with the honeyed notes.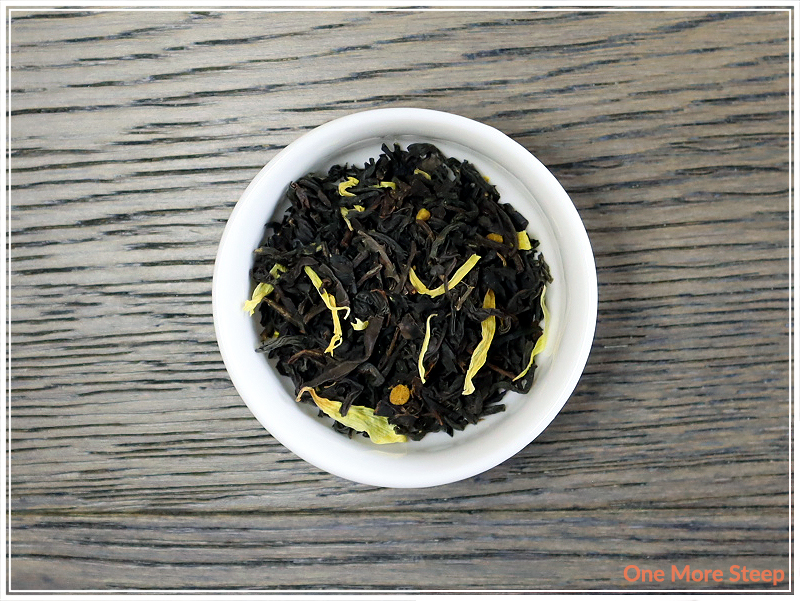 Preparation
Thay Tea recommends steeping Honey Bee in 95-100°C (203-212°F) water for 3 to 4 minutes. I opted to do an initial steep of Honey Bee with 100°C (212°F) water for 3 minutes.
First Taste
Honey Bee steeps to a medium orange, with just little flecks that managed to escape my stainless steel infuser basket. The aroma of Honey Bee is floral, there's a certain amount of honey sweetness, and then there's the malty notes from the black tea base. The flavour reflects the aroma of the tea very well – with the floral and honey flavours, with the malty flavours of the black tea that are also just a smidge astringent. I found that the honey notes add a nice amount of sweetness to the blend, but it isn't cloyingly sweet. It has a nice balance with the floral notes.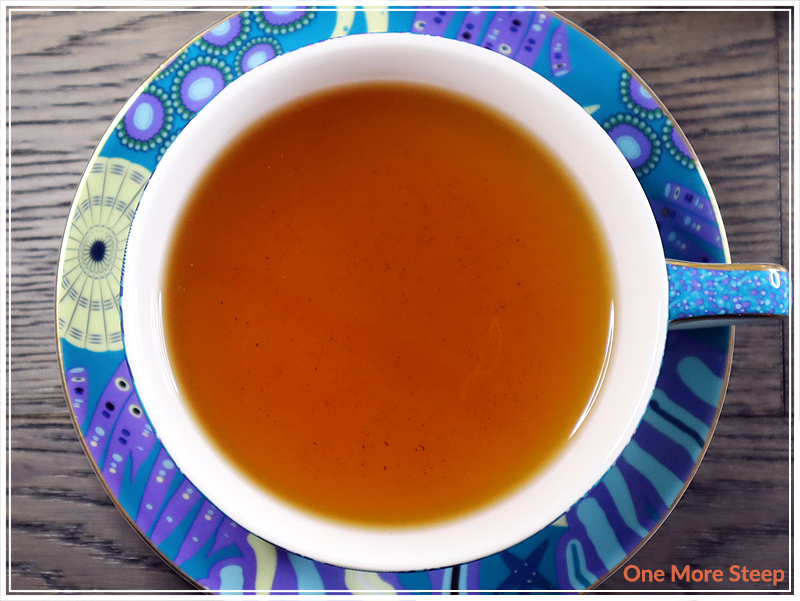 A Second Cup?
I attempted to resteep Honey Bee, but found that the honey notes were missing in the second steep – most likely because the pollen had suspended itself into the tea during the initial steep. If you're a fan of the honey flavours in Honey Bee, I would recommend Honey Bee for just the initial steep.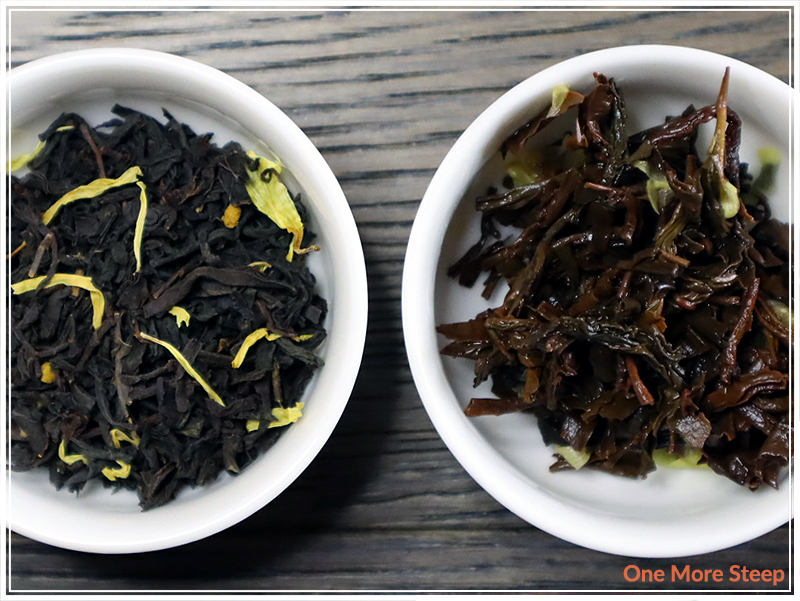 My Overall Impression

I loved Thay Tea's Honey Bee. There's something playfully fun about Honey Bee. The use of pollen to add that floral flavour and honey sweetness makes for a nice blend. The black tea base adds a much needed malty flavour that make Honey Bee into a not-just-sweet tea, which makes it potentially pair well with a savoury treat. I would hazard a guess that it would take some cream well to add an extra level of decadence to Honey Bee – and if you need to add some sweetener, I would highly recommend honey over anything else.
Curious about the cup rating system? Click here to learn more.