Jasmine Dragon Phoenix Pearls by Teavana
Green Tea / Flavoured
$14.98 for 2oz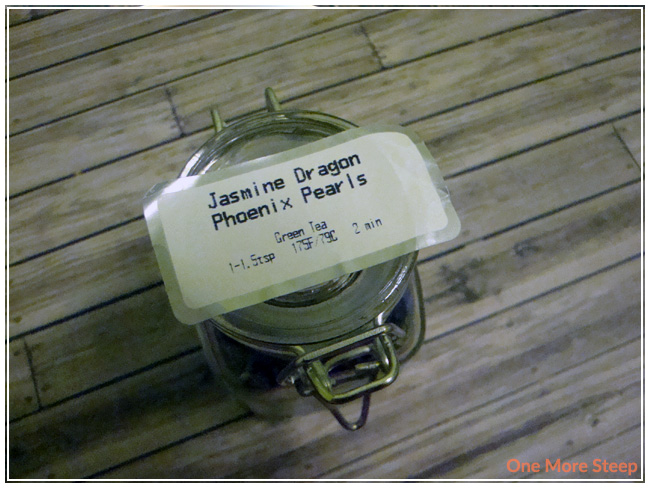 First Impressions
This is a tea that I got from my sister, which she got from the Starbucks-Teavana rewards program as a perk from being an avid Starbucks patron. Jasmine Dragon Phoenix Pearls are rather cute! They're small rolled pearls of tea leaves that come packaged in a standard Teavana bag with wire tabs closure. The smell is amazing – as a fan of jasmine, the floral scent is very inviting. If you're not into jasmine-scented teas, this would not be a tea for you.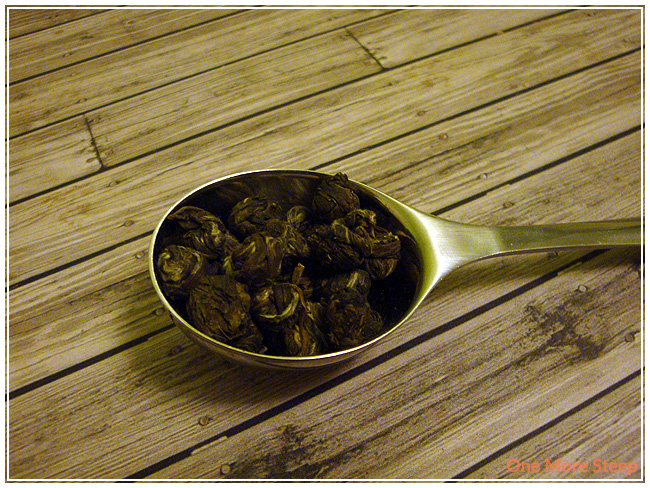 Jasmine Dragon Phoenix Pearls isn't a tea complicated by a long list of ingredients, it consists of green tea that has been scented with jasmine blossoms. The page for this tea on the Teavana website boasts that the tea pearls are made up of three leaves each, and hand rolled – as all pearls are. The scent that the dry leaf gives of is floral with a hint of sweetness that I find many jasmine scented teas often have.
Preparation
Teavana recommends steeping Jasmine Dragon Phoenix Pearls in 79°C (175°F) water for 2 minutes (Teavana's website states 3 minutes for recommended steeping time).
First Taste
I steeped 6 pearls in the water for about 2 minutes. This tea steeps a very pale colour, it is almost as if the tea is tinted a little bit of a yellow. It has a beautiful light, clean, floral scent. Jasmine Dragon Phoenix Pearls has a light, sweet taste to it. The jasmine provides a nice floral taste, the tea itself is quite nice. It's smooth, no bitterness at all, it has a very subtle flavour that isn't too aromatic as some jasmine teas can be. It's very pleasant and makes for a nice cup of tea. (Also, if you leave the cup for too long, it's quite pleasant cold too!)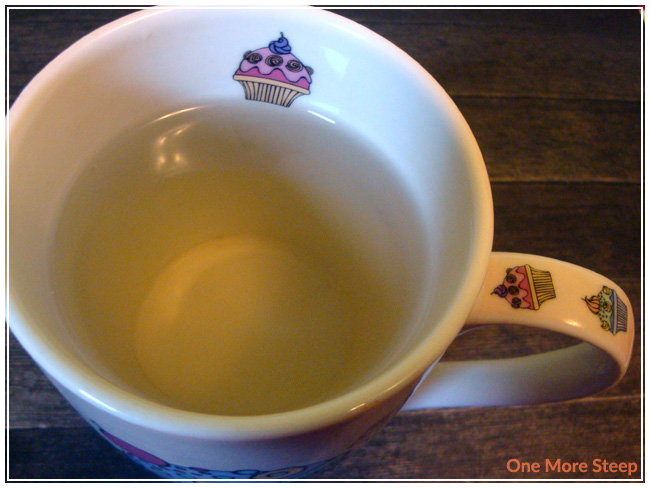 A Second Cup?
Jasmine Dragon Phoenix Pearls steeps for a second time fairly well – the flavour is still very good and matches up with the first cup. On the third steep, tea begins to lose some flavour and is more like flavoured water.
My Overall Impression

I loved Teavana's Jasmine Dragon Phoenix Pearls. On the surface, it seems like such a simplistic tea, but the taste of this jasmine green tea is delicious. It's subtle, understated, and smells of jasmine but isn't overwhelming. I quite loved each cup of this tea I had because it's delightful. Because the aroma and taste of this tea isn't particularly strong or commanding, it's nice to have with a snack of some sort as it doesn't distract from what you're eating.
Curious about the cup rating system? Click here to learn more.