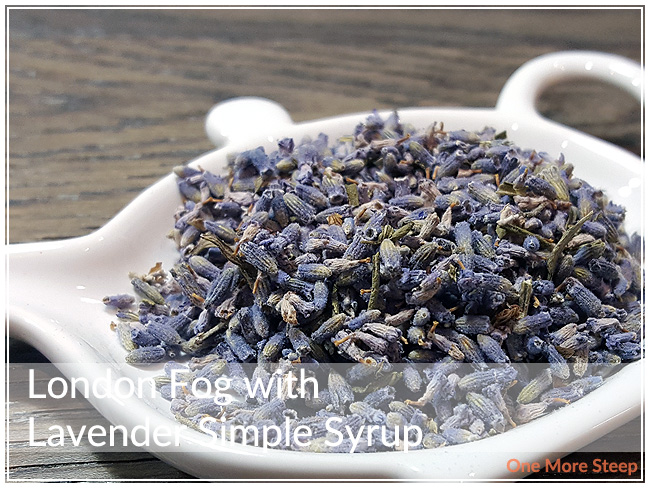 One of the most elegant drinks that I've ever ordered at a café has been the London Fog, otherwise known as an Earl Grey tea latte. There's a lot of variations on this popular drink and you get something a little bit different depending on where you go. Allegedly, the drink originates from Vancouver, British Columbia, Canada (as per its Wiki page). Today, I'm sharing my recipe for a London Fog which has everything I love in a good tea latte – made with a bit of vanilla extract and a homemade Lavender Simple Syrup.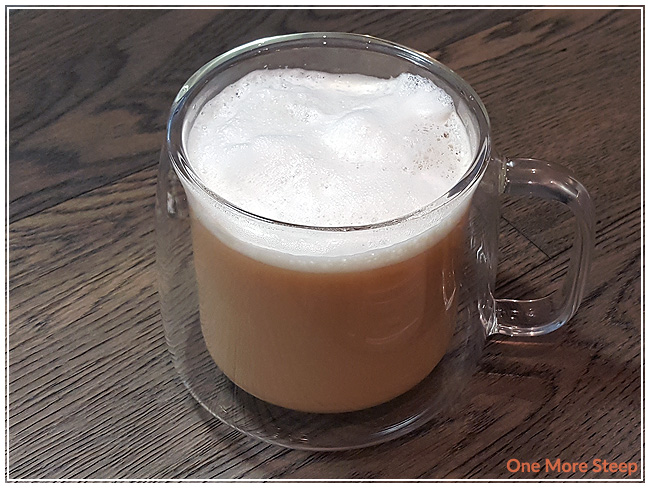 London Fog Recipe

2 tsp Earl Grey tea or 2 tea bags – I am using DavidsTea's Organic Earl Grey
450ml water
1 Tbsp Lavender Simple Syrup (see recipe below)
¼ tsp pure vanilla extract
125mL milk (or dairy-free alternative), frothed
Steep the Earl Grey tea to your liking – you want it to be stronger than you'd usually drink Earl Grey straight.
Stir in Lavender Simple Syrup and pure vanilla extract.
Froth milk – either with a dedicated milk frother, frothing wand, or with a mason jar (my personal favourite method).
Pour milk into your cup of tea, spoon foam over top.
And enjoy!
I'm using a 600mL double-walled latte (or soup) mug (pictured above). If you're using a different size cup than I am, I essentially aim for approximately two-thirds of the cup for the tea and one-third for the frothed milk & foam. I find that ratio works best for my tastes when it comes to tea lattes, but you might find it needs more or less tea – experiment and figure out what works for you!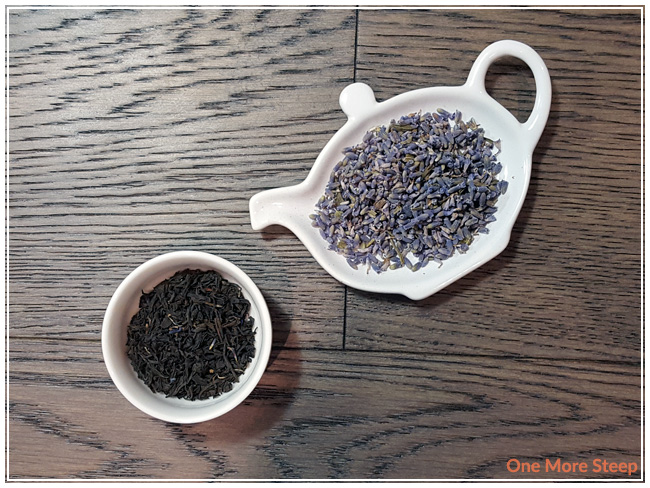 Lavender Simple Syrup Ingredients
1 cup sugar*
1 cup water*
2 Tbsp dried culinary lavender buds
* You can make more or less simple syrup depending on how often you want to have a London Fog, as long as you use equal parts water and sugar. You will want a clean jar/bottle on hand to store the Lavender Simple Syrup.
Lavender Simple Syrup Directions
Combine sugar, water and lavender buds in a saucepan and place over medium heat.
Stir until the sugar has dissolved.
Allow the syrup to simmer for 1-2 minutes, then remove from heat.
Once cooled, strain/remove lavender buds.
Pour the Lavender Simple Syrup into an jar or bottle and refrigerate.
The Lavender Simple Syrup will keep for at least 2 weeks in the fridge – don't forget to label it with the date!
If you make this London Fog with Lavender Simple Syrup, I'd love to see your photos! Be sure to tag me on Instagram (@onemoresteep #onemoresteep) or comment below with a link to the photo!
Pin it for later!