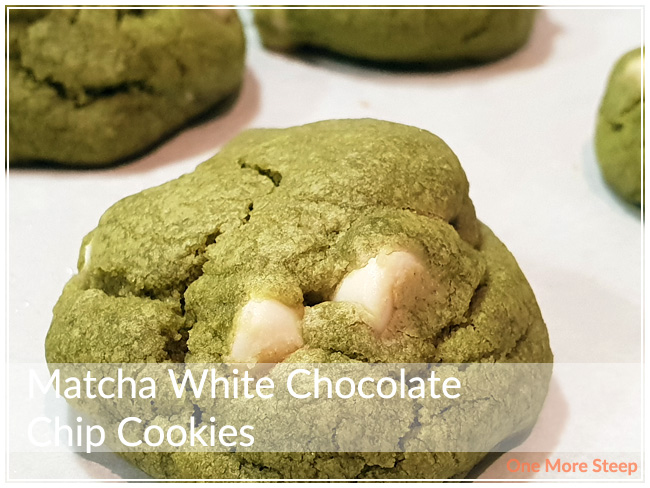 It's the season for holiday baking, work cookie exchanges, and another tea themed cookie recipe from yours truly! I'm spearheading the cookie exchange at my work this year, so I just had to create something new – my colleagues are starting to have expectations! This is my third year working on my unit, and this is my third cookie recipe on One More Steep! Previously, I shared my recipes for Earl Grey Shortbread Cookies and Matcha Sugar Cookies.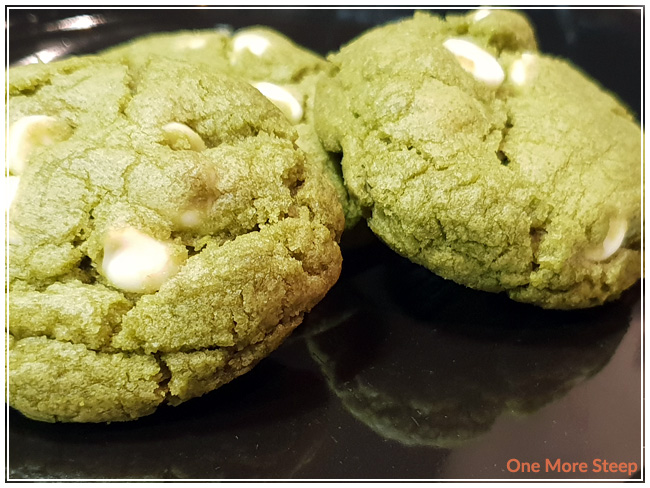 I'm a huge fan of chocolate chip cookies, and I just could not resist changing it up by adding matcha! These cookies have a crunchy exterior with a melt-in-your-mouth inside that is bursting with white chocolate sweetness and matcha goodness. It genuinely reminds me of a matcha latte – and I'm loving it! If you're a fan of matcha, this is the cookie for you. If you're a fan of matcha lattes, white chocolate chips, or cookies in general – this is also the cookie for you.
Recipe Yields: 3 dozen. Baking Time: 12 minutes.
Ingredients:
1½ cups granulated sugar
1 cup butter (softened)
1 teaspoon vanilla extract
1 egg
2¼ cups all-purpose flour
1 teaspoon baking soda
1½ to 2 cups white chocolate chips*
2 tablespoons matcha powder
* I used a full bag of Hershey's Chipits White Chocolate Chips (225g) with each batch, which is just a smidge over 1½ cups. You can use or more white chocolate chips according to your personal preference.
Wanting to make this recipe vegetarian/vegan friendly? It's easy! Substitute with vegan butter (or margarine), aquafaba (3 tablespoons of aquafaba is equal to 1 whole egg; aquafaba is the fluid from canned chickpeas!), and look for dairy-free white chocolate chips (they do exist!).
Directions:
Preheat oven to 375°F.
Beat sugar, butter, vanilla extract, and egg together until well blended.
Mix in flour, baking soda, and matcha until evenly green.
Stir in white chocolate chips (I found this easier to do with my hands).
Roll dough out into balls that are approximately the size of a rounded tablespoon, lay out cookies at least 2″ apart as these cookies will spread.
Bake 12 minutes or until edges are light brown.
Allow cookies to cool for 1-2 minutes before transferring to cooling racks.
Recipe adapted from Betty Crocker The Big Book of Cookies, "Chocolate Chip Cookies".
If you make these delicious Matcha White Chocolate Chip Cookies, I'd love to see your photos! Be sure to tag me on Instagram (@onemoresteep #onemoresteep) or comment below with a link to the photo!