Traditional Tea Discovery Kit by DavidsTea
Black Tea, Green Tea, Oolong Tea, and White Tea / Straight
$35.00 for 110g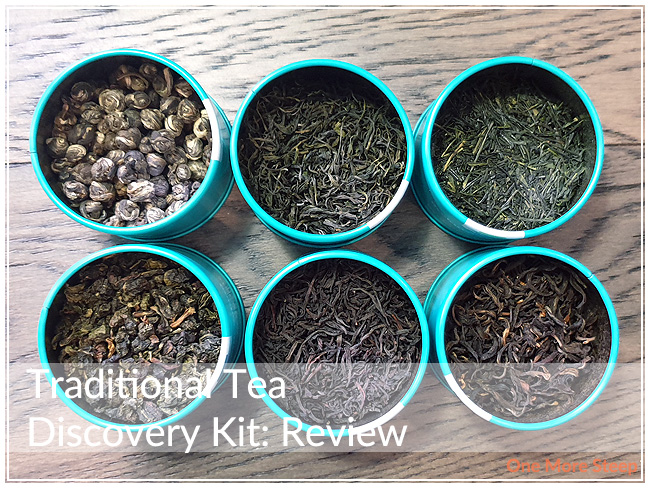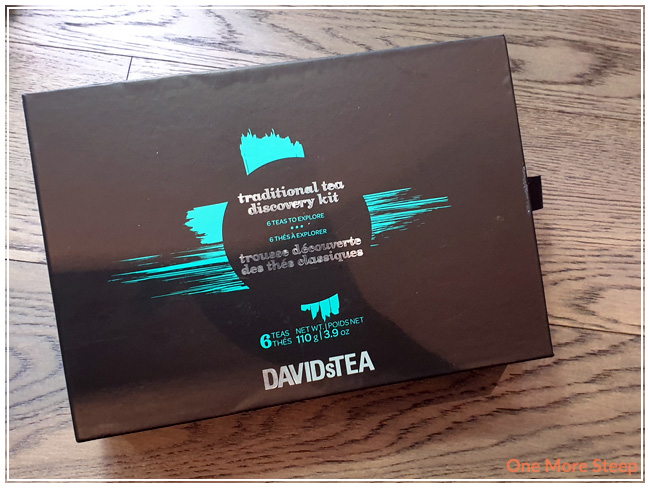 First Impressions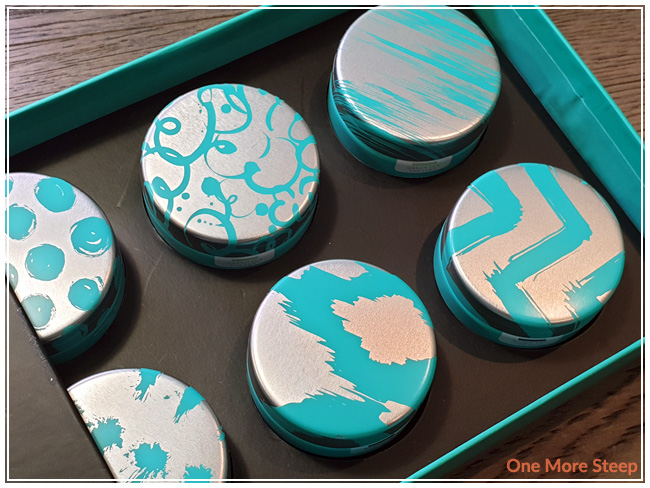 This is the Traditional Tea Discovery Kit, which was released as part of the Origins Collection from DavidsTea (there is also a Green Tea Discovery Kit and Black Tea Discovery Kit). The Traditional Discovery Kit consists of 6 teas that each come in a cute metal tin: 24g of Organic Zen Pearls (white tea), 12g of Organic Mao Jian Jade (green tea), 24g of Organic Gyokuro Yamashiro (green tea), 22g of Guangzhou Milk Oolong (oolong tea), 16g of Orange Pekoe (black tea), and 12g of Organic Nepal Black (black tea). I've linked previously written reviews to the teas that I have tried previously, and I will be showcasing the Organic Zen Pearls and Organic Gyokuro Yamashiro in this review.
From left to right: Organic Zen Pearls, Organic Gyokuro Yamashiro
Organic Zen Pearls has a beautiful jasmine aroma, and the tea comes in cute pea-sized pearls. There is a nice differing range of colours of the leaves from a dark olive to a light cream. Zen Pearls are rolled white teas from Fujian Province, China – scented with jasmine flowers. Gyokuro Yamashiro has these shiny dark green leaves, that have a slightly salty, umami notes. Gyokuro Yamashiro consists of organic steamed green tea from Kagoshima, Japan.
Preparation
DavidsTea recommends steeping Zen Pearls in 90°C (195°F) water for 3 to 5 minutes. My initial steep was for 3 minutes.
DavidsTea recommends steeping Gyokuro Yamashiro in 80°C (175°F) water for 1 to 2 minutes. My initial steep was for 1 minute.
First Taste
Zen Pearls steeps to a light orange colour. There's a light jasmine aroma to this tea, which is nice and sweet. I found that this tea has a smooth mouthfeel. There's light jasmine floral flavouring throughout, with no astringency or bitterness. I found it to put me in a very zen mood since I find it very relaxing to have a jasmine tea.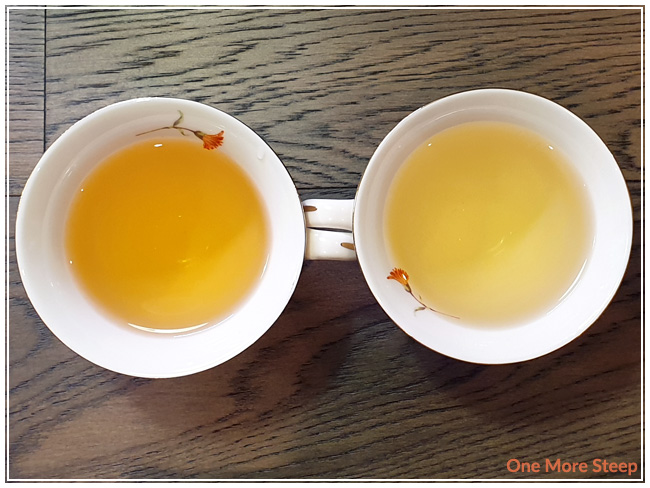 From left to right: Organic Zen Pearls, Organic Gyokuro Yamashiro
Gyokuro Yamashiro steeps to a yellow. There are obvious umami notes from the aroma that comes off from the tea. I found that there is a full mouthfeel from this tea – it's smooth and has a light sweetness. There is a nice savoury quality from this tea, which I think comes from the umami notes.
A Second Cup?
For each resteep, I kept to the same temperature of water as the initial steep, and added an additional 30 seconds for each subsequent steep.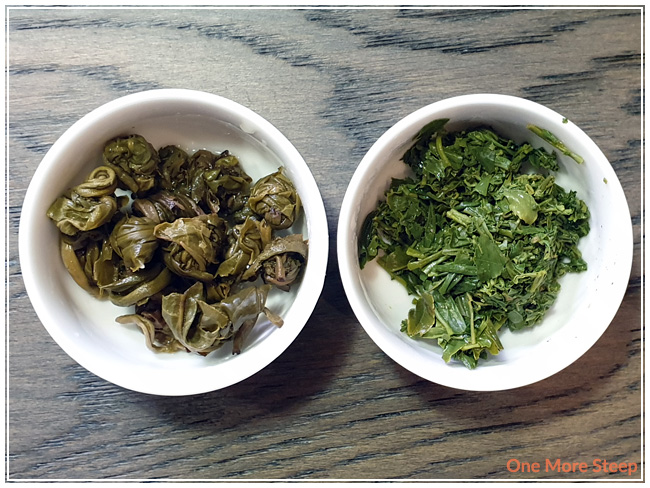 From left to right: Organic Zen Pearls, Organic Gyokuro Yamashiro
For Zen Pearls, I did 5 resteeps. I found that the jasmine flavouring stayed fairly consistent and it was nice to watch the leaves unfurl further with each steep.
For Gyokuro Yamashiro, I did 3 resteeps. I found that umami quality got a bit lighter with each resteep, becoming more sweet.
My Overall Impression

I loved DavidsTea's Traditional Tea Discovery Kit. I really love the presentation of this tea kit, and the adorable printed tea tins. For the new-to-me teas, I really enjoyed the flavours and I think that DavidsTea did a great job of putting together an assortment of quality traditional teas to allow people to sample a variety of teas. The only thing that would have made it better is if they had included Butterfly Jasmine in it.
Curious about the cup rating system? Click here to learn more.