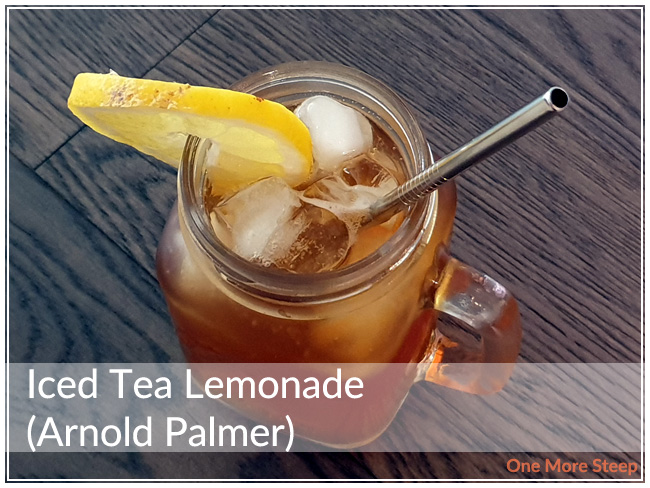 The lovely thing about lemons is the brightness and acidity that they add – especially when added to tea! Iced Tea Lemonade is a popular drink, and I'm guilty of buying it in cans and bottles from the store for the convenience factor. And while I'll still do it from time to time (and recycle!), it's nice to be able to make it at home – I get to make it fresh, control how much sugar does or does not end up in each cup, and it's a lot more environmentally friendly!
Arnold Palmer is the name commonly used to reference a non-alcoholic drink that consists of iced tea and lemonade. The ratio the late American pro-golfer was known to drink was 1 parts lemonade for every 3 parts tea.

Iced Tea Lemonade Recipe – Serves 2
Lemonade
1 tablespoon Simple Syrup (see recipe below)
1 tablespoon lemon juice
1 cup water
2 tablespoons loose leaf black tea¹
2 cups water (100°C/212°F)
¹ I have made this recipe with a variety of straight black tea, including: Orange Pekoe, English Breakfast, and Darjeeling Black Tea. I would recommend using a black tea that hasn't been blended with other ingredients. You can also try an Arnold Palmer with a twist by using a straight green or oolong tea in place of the black tea.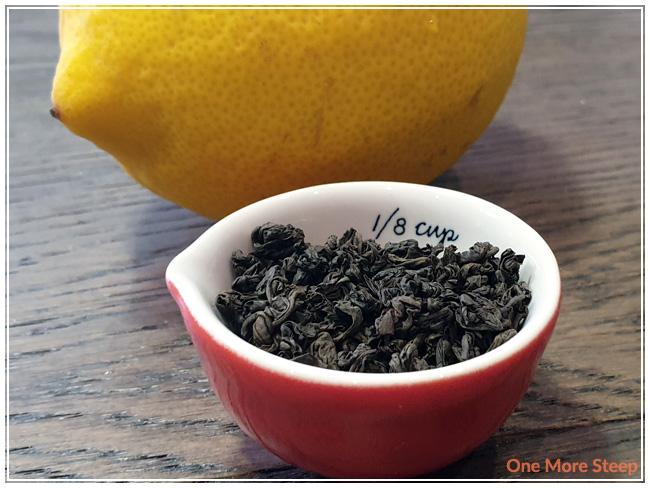 Mix Simple Syrup, lemon juice, and water in a measuring glass – set aside.
Steep black tea in heated water for 3 minutes – or according to steeping instructions.
Allow the tea to cool – chill in the fridge.
Per glass, add in:
⅓ cup lemonade
Ice, to fill.
1 cup cooled black tea
Garnish the rim of your glasses with a lemon slice or wedge.
Tea Tip! Pair your Iced Tea Lemonade (Arnold Palmer) with a paper or reusable glass or stainless steel straw.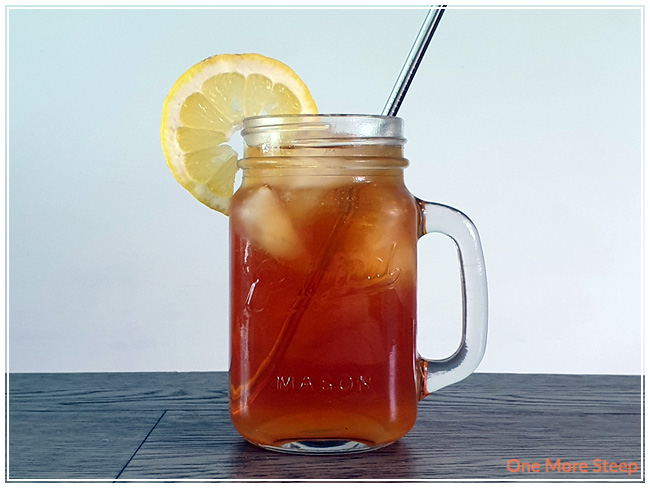 Simple Syrup Recipe
1 cup water*
1 cup sugar*
* You can make more or less Simple Syrup depending on your Iced Tea Lemonade (Arnold Palmer) needs. I used organic cane sugar for my Simple Syrup in this recipe. The basis of a Simple Syrup is a 1:1 ratio of sugar and water.

Super Simple Simple Syrup Method
Combine equal parts sugar and boiled water from a kettle in a bowl.
Mix until the sugar is fully dissolved.
Set aside to cool.
Less Simple Simple Syrup Method

Combine all Simple Syrup ingredients in a saucepan, and place over medium heat.
Stir until the sugar is fully dissolved.
Allow syrup to simmer for 1-2 minutes.
Remove from heat and allow to cool.
Pour Simple Syrup into a jar or bottle and refrigerate.
The Simple Syrup will keep for at least 2 weeks in the fridge – don't forget to label with the date!
If you make this Iced Tea Lemonade, I'd love to see your photos! Be sure to tag me on Instagram (@onemoresteep #onemoresteep) or comment below with a link to the photo!