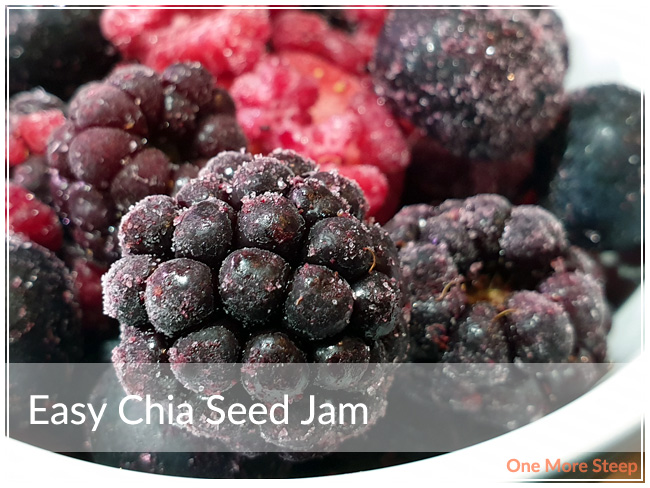 I'm a big fan of easy recipes so when I tell you that this is easy, I mean it! You can make some delicious fruity jam in 10 minutes or less (not including cooling time). And if berries aren't in season where you are, have no fear because frozen works just as well! I make this year round and it goes great on scones, English muffins, paired with your favourite nut butter, or just on a spoon. After all, if you're setting the table for afternoon tea – you're going to have some jam to go with those Lemon & Cranberry or Pumpkin Spice Scones, right?
My Easy Chia Seed Jam is lower in sugar than traditional jams, which makes it also friendly for those looking to cut down on sugar – plus all those chia seeds are an added boost of omega-3 fatty acids, fibre, iron and calcium! If you've ever made a chia pudding before, you'll know that chia seeds thicken things up! That's what makes this jam more jam-like than fruit juice – give it a bit of time to work, and it'll thicken up!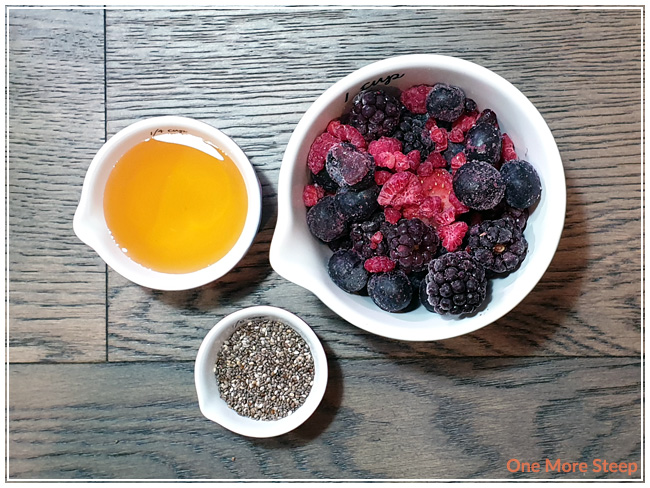 Easy Chia Seed Jam – Makes 1½ cups
2 cups berries (fresh or frozen)¹
2 tablespoons chia seeds
2 tablespoons sweetener²
¹ I used a frozen berry mix for the Easy Chia Seed Jam featured in the photos (strawberry, blueberry, blackberry, and raspberry).
² I typically use agave syrup (unflavoured) or maple syrup, but you can opt to use honey or simple syrup (1:1 ration of sugar and water). If you want to keep this jam vegan friendly, then avoid using honey.
Throw in the berries into a saucepan and put it on medium to high heat.
As the juices start to come out, break up the berries with a potato masher.
Once your mashed berries start bubbling, add chia seeds and sweetener.
Turn off heat, stir until evenly mixed.
Allow to cool and then transfer into an air-tight container.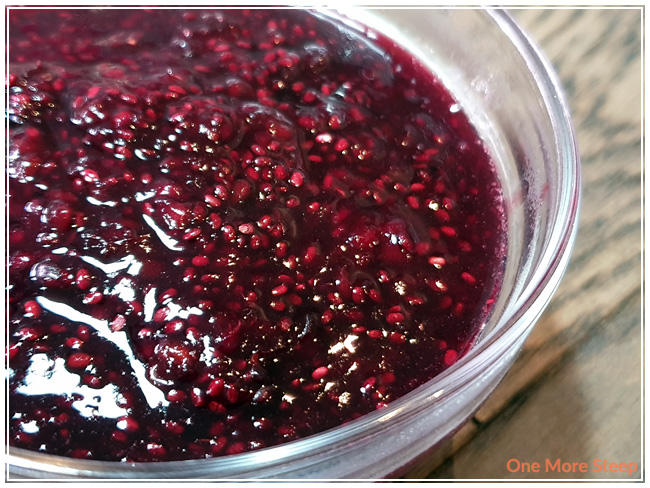 This Easy Chia Seed Jam will keep in the fridge for up to a week, but in my experience it doesn't last that long. Please note, because of the low sugar content (as well as the lack of pectin) this is not a canned jam or preserve. You do need to keep it in the fridge and use it within a week (if you make a big batch, you can freeze it for later).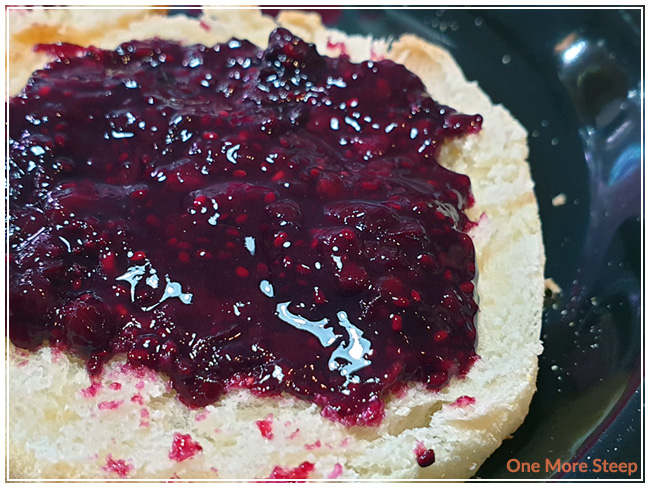 If you make this Easy Chia Seed Jam, I'd love to see your photos! Be sure to tag me on Instagram (@onemoresteep #onemoresteep) or comment below with a link to the photo!