Maple Chai by DavidsTea
Black Tea / Flavoured
$8.98 for 50g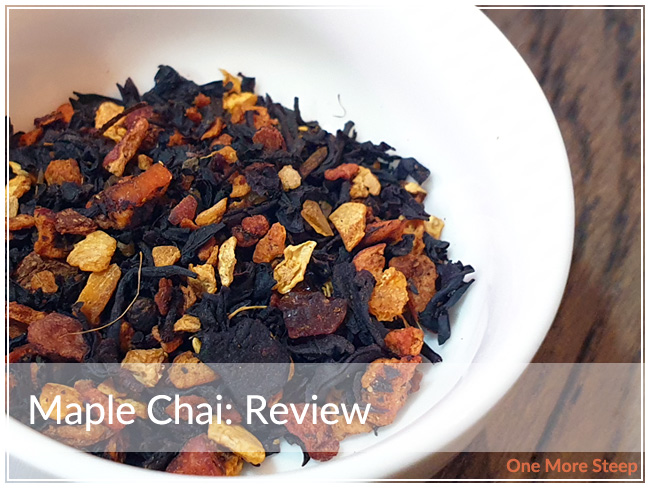 First Impressions
I got Maple Chai samples from my local DavidsTea locations as part of their sneak peek to promote the new chai blends (I might have made a few purchases…). So I decided I should probably give them a try especially since so many people were talking about this blend online. Each sample is 5g and good for one cup. There's no mention on the packaging directly that I can find about it being compostable or recyclable, which is unfortunate.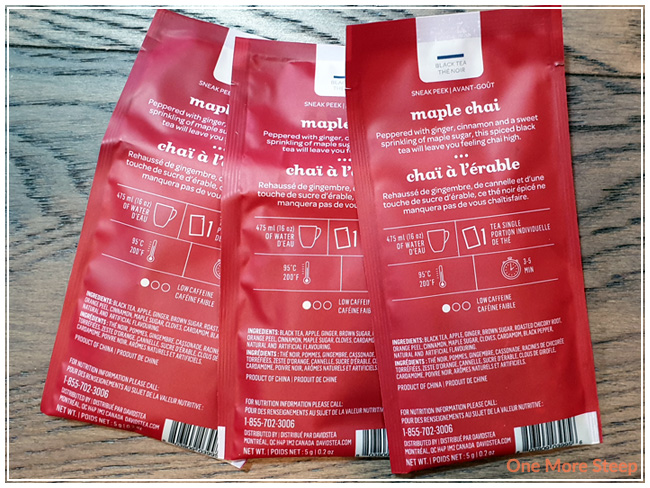 Maple Chai has a great aroma to it. I can pick out the ginger, cinnamon, apple, brown sugar, and cardamom. It's really inviting with all the warm spices in it. It's a pretty dry leaf, but I don't really smell the maple in it which I find to be disappointing given the name of the blend. Maple Chai consists of: black tea, apple, ginger, brown sugar, roasted chicory root, orange peel, cinnamon, maple sugar, cloves, cardamom, black pepper, natural and artificial flavourings.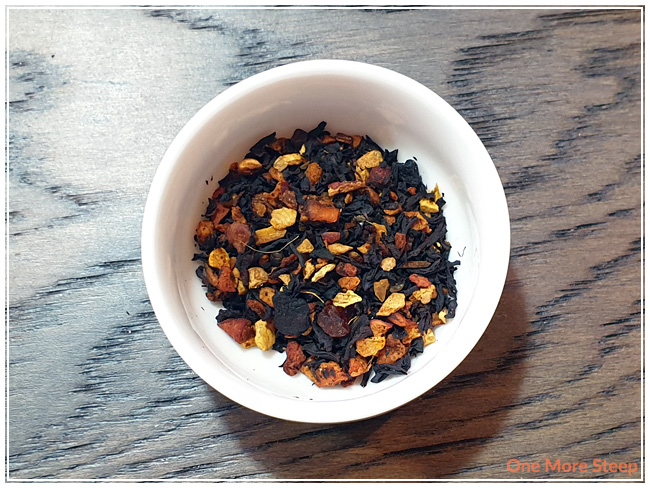 Preparation
DavidsTea recommends steeping Maple Chai in 95°C (200°F) water for 3 to 5 minutes. I opted to do a 4 minute steep.
First Taste
Maple Chai steeps to a golden orange colour. There's a pleasant aroma, but I don't smell the maple. I do smell the warm spices in the blend – primarily ginger, cinnamon, cloves, and cardamom. It has a nice sweetness, a nice robust flavour behind it that I believe to be from the black tea. The brown sugar comes through nicely, and goes well with the spices. It's a smooth tea, no bitterness when steeped for 4 minutes.
I did attempt Maple Chai as a latte, and found that it was greatly improved – I also used maple syrup as sweetener to get some maple flavouring in there.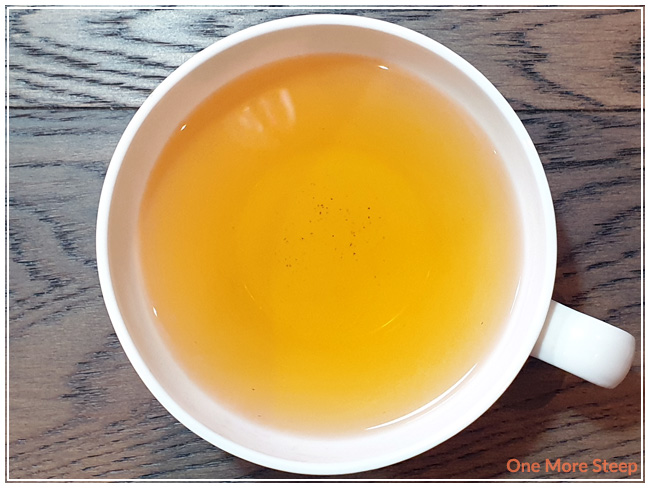 A Second Cup?
I resteeped Maple Chai twice, adding an additional 30 seconds for each subsequent steep. I found that the flavour didn't really improve, resulting in a weaker tea each time. I would suggest steeping Maple Chai for just the initial steep.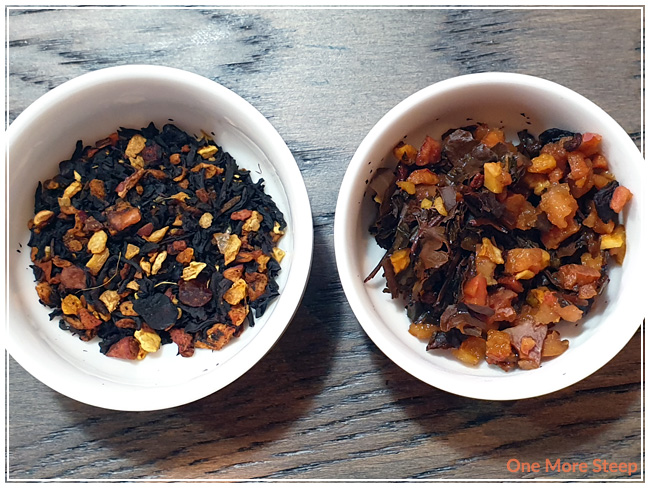 My Overall Impression

I  thought that DavidsTea's Maple Chai was just okay. There was a lot of hype about this black tea blend, so I was quite eager to try it – it was great that it was available to shoppers in the retail shops. I do hope that DavidsTea continues to give out sneak peek samples, because it's a great way to create hype about a new blend that they're proud of. While I liked Maple Chai as a chai, I was disappointed that there wasn't more maple flavouring in the tea because that was the part of the name that I thought should have been better reflected in the flavour. Definitely try this one as a latte though, and maybe use maple syrup as a sweetener, as it works nicely as a latte despite not having a lot of maple syrup by itself.
Curious about the cup rating system? Click here to learn more.