Candy Cane Matcha by DavidsTea
Green Tea (Matcha) / Flavoured
$9.98 for 50g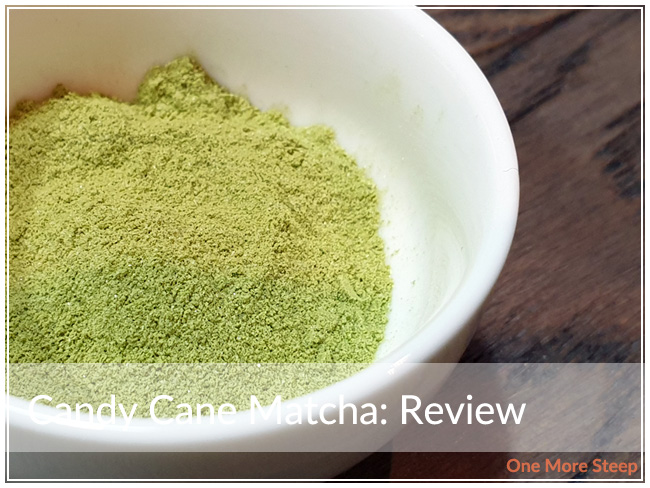 First Impressions
I picked up a bag of Candy Cane Matcha as part of the Cyber Monday sales that DavidsTea had online. I quite like mint (and I do enjoy candy canes), so I was curious as to how it would taste when paired with matcha. This is a seasonal offering, so if you're thinking about giving it a try don't sit on the fence too long. Candy Cane Matcha came in a sealed, resealable silver pouch with a bright green label on the front.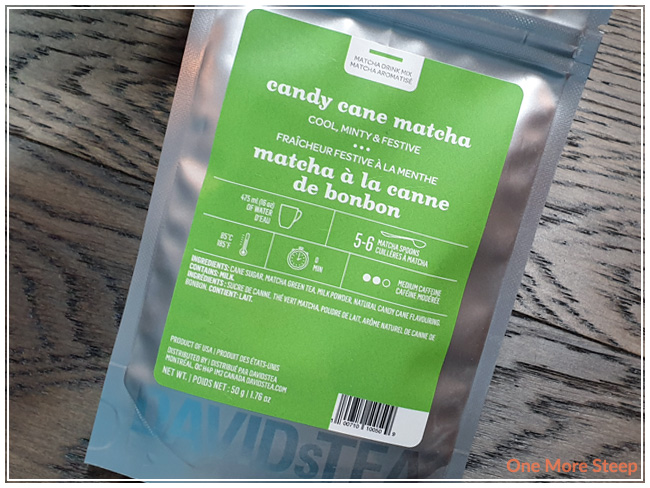 The powder itself is a pale pistachio green and has a very strong minty aroma to it. Candy Cane Matcha consists of: cane sugar, matcha green tea, milk powder, natural candy cane flavouring. I do question how does one get natural candy cane flavouring, considering how candy canes are a candy. Candy Cane Matcha is described as a matcha drink mix and is labelled as such so nobody will be confusing it with a traditional, straight matcha.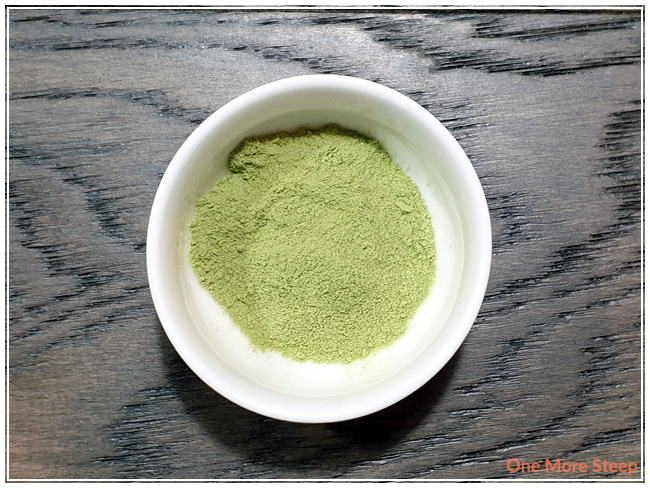 Preparation
DavidsTea recommends mixing Candy Cane Matcha with 85°C (185°F) water, so I followed the temperature recommendation.
I sifted Candy Cane Matcha into my bowl first, and then whisked it with my bamboo whisk. You can probably get away with a handheld milk frother to mix it, as I find that the matcha drink mixes often do well in heated water. If you're new to preparing matcha, you can find out more tips and tricks in my article The Basics of Preparing Matcha.
First Taste
Candy Cane Matcha whisks easily enough in water, but I honestly forgot about the fact that milk powder was a listed ingredient when I was whisking it and genuinely thought that something had got off about the drink mix because of the colour. It's a milky pale green and if you're used to how a matcha is supposed to look like – you might find this a bit off-putting. Once I reviewed the list of ingredients and reminded myself that milk powder is present, I didn't find it so wrong anymore.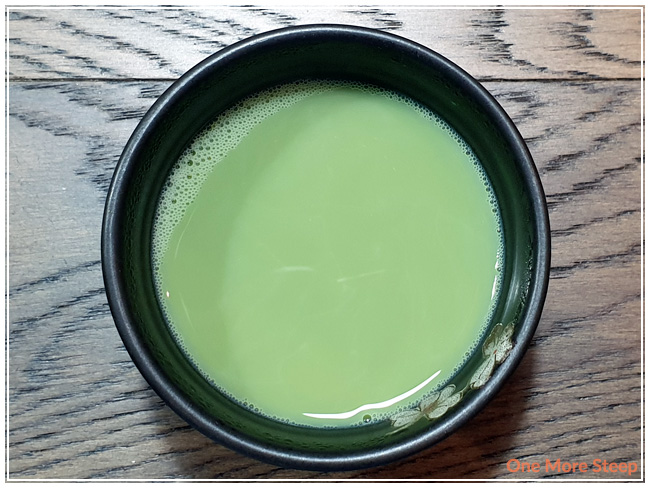 Candy Cane Matcha does smell delightfully minty, which met my expectations given the name. I found it to be sweet and minty in flavour. The matcha itself isn't very noticeable, but that's really not surprising given the intensity of a flavour like mint. I did find it quite tasty though, and plenty sweet – but not cloyingly so.
A Second Cup?
As Candy Cane Matcha is a suspension, there were no second helpings with the same powder.
My Overall Impression

I liked DavidsTea's Candy Cane Matcha. I found the aroma and the flavour to be spot-on for what I expected from a matcha blended with candy cane. I do wish that perhaps that it had more of a matcha flavour to it, but it does make me think of the holidays so I do think that it was appropriately minty. I can see this making an excellent matcha latte for the holidays, and perhaps would even do well with a bit of eggnog in there as well.
Curious about the cup rating system? Click here to learn more.