Caramel Apple Cinnamon Bun by Dessert by Deb
Black Tea / Flavoured
$6.00 for 25g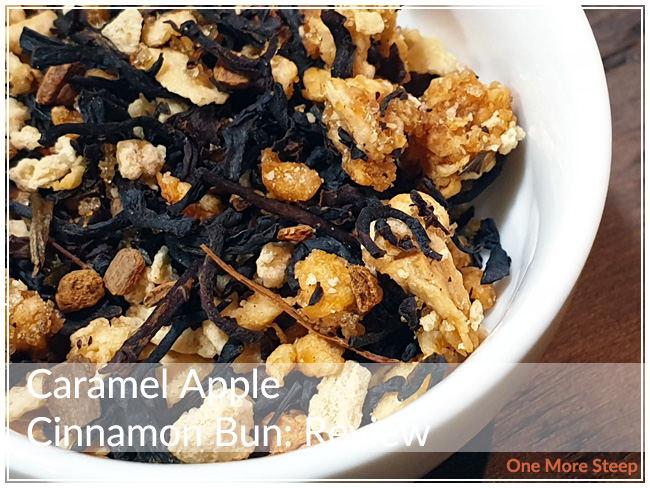 First Impressions
I received Caramel Apple Cinnamon Bun in my January/February Dessert by Deb subscription box, and it's one of the teas in Deb's Winter Snow Bunny Collection – which means that it's not subscriber exclusive and anyone can order it online via her website. This black tea blend comes in a resealable pouch with a colourful label on the front.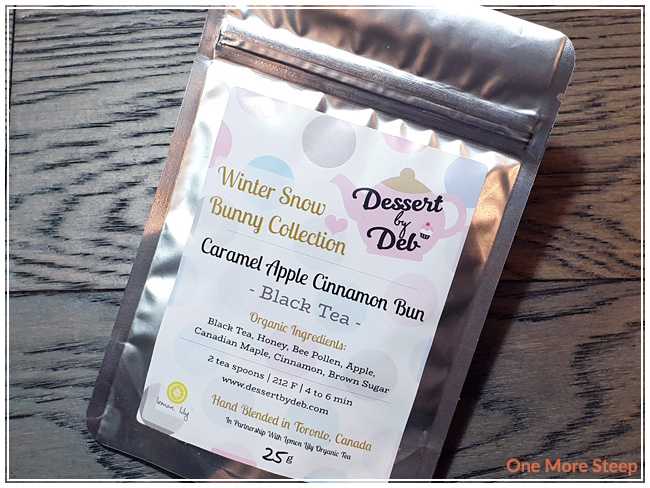 Caramel Apple Cinnamon Bun has a pleasant aroma – I can definitely smell the cinnamon and apple notes, with a hint of caramel in the background. You can see the brown sugar granules mixed into the blend and it just smells like a baked good – which is a good since, considering the word bun. It just smells really inviting and like something that I could order at a bakery. Caramel Apple Cinnamon Bun consists of: black tea, honey, bee pollen, apple, Canadian maple, cinnamon, and brown sugar.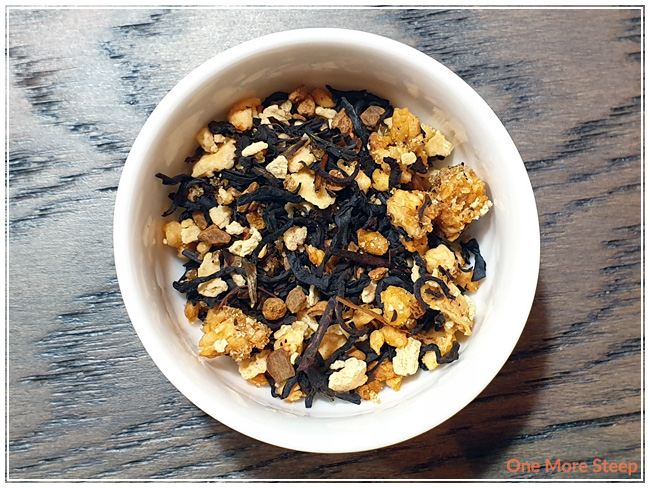 Preparation
Dessert by Deb recommends steeping Caramel Apple Cinnamon Bun in 100°C (212°F) water for 4 to 6 minutes.
First Taste
Caramel Apple Cinnamon Bun steeps to a light orange brown colour. There's a pleasant maple and cinnamon aroma from the tea. I do notice that it is a bit cloudy, and that is because of the bee pollen – just a fun tidbit in case you've ever had a tea blend with bee pollen and wondered why your tea wasn't clear anymore. The flavour of this dessert blend is nice – I can taste the maple, cinnamon, with hints of apple. The brown sugar is sweet and really works well with the maple and cinnamon – some really classic flavour combinations there. It basically tastes like a dessert and I'm here for it.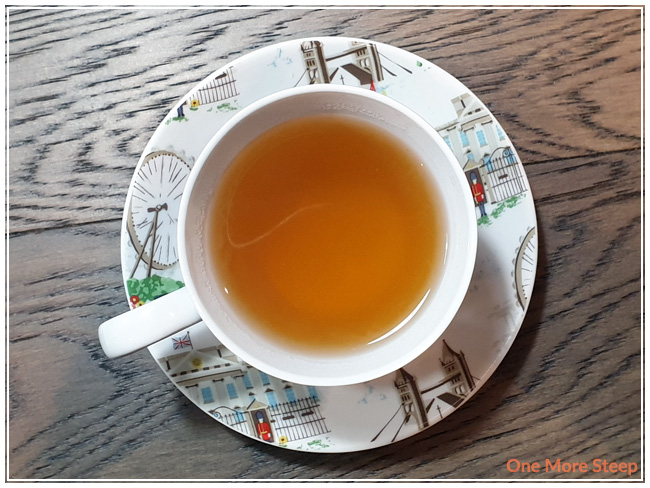 A Second Cup?
I attempted to resteep Caramel Apple Cinnamon Bun and found that it didn't do too well in terms of the flavour. I think this was because the brown sugar was gone and the apple was harder to find when I sipped it. The cinnamon and maple were still quite strong, but it just wasn't as well-balanced as with the initial steep. So I enjoyed Caramel Apple Cinnamon Bun for just the initial steep.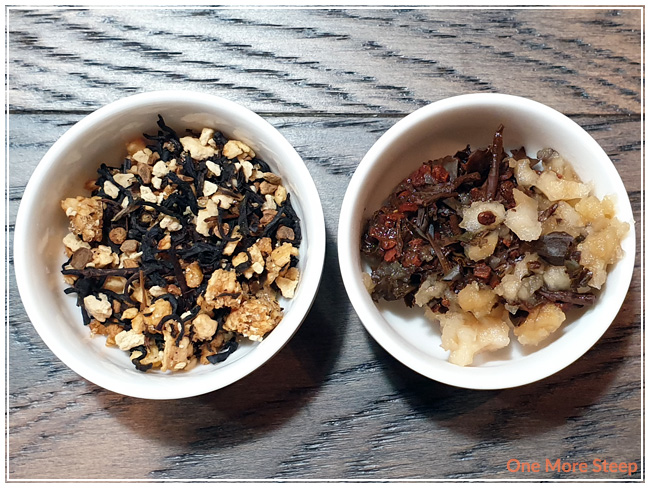 My Overall Impression

I liked Dessert by Deb's Caramel Apple Cinnamon Bun. I think that this black tea dessert blend does a really great job of living up to its name – I get the brown sugar notes, maple, cinnamon, apple – it all just really works well together. While it's pretty sweet, I think it could do with a bit more brown sugar and maybe a heavier hand with the apple, because I think the apple had to go up against a lot of stronger flavours. But it reminds me of an apple pie in a way, and a little bit of vanilla would just make it perfection.
Curious about the cup rating system? Click here to learn more.