Motherhood Teas by Adagio Teas
Black Tea, Green Tea, White Tea, Honeybush, Tisane / Flavoured
$24.00USD for 6 0.5oz tins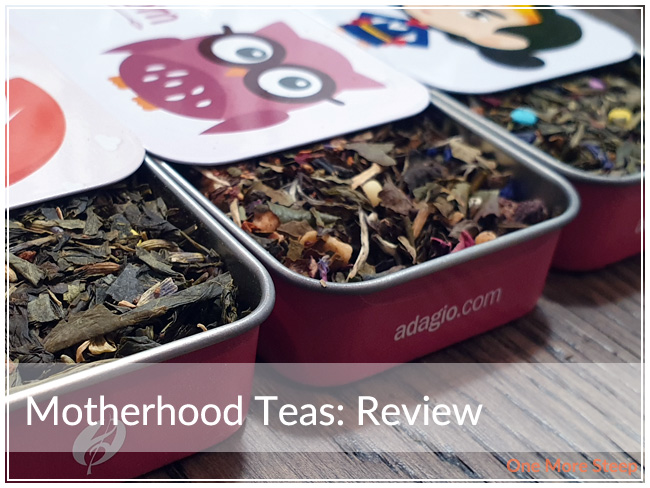 Adagio Teas has provided me with Motherhood Teas for the purposes of writing an honest review.
First Impressions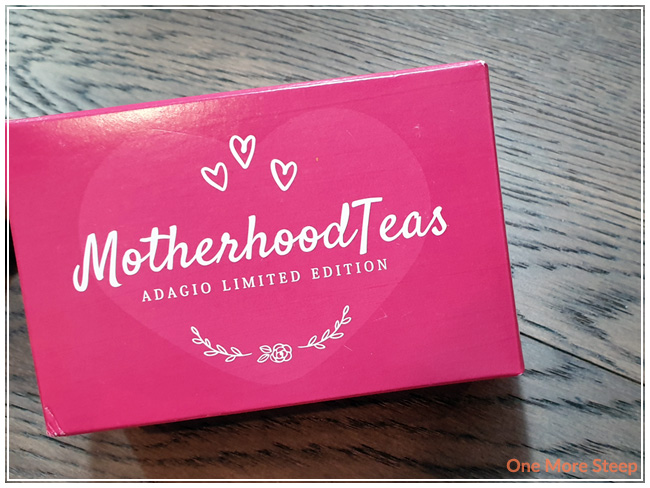 Motherhood Teas is a super sweet little set of six limited edition blends designed for moms and the mother figures in your lives. The adorably illustrated tins slide open and are jam-packed with the tea/tisane inside. The tins neatly fit into a dark pink box and it's basically already packaged up for you to gift to your mom (and Mother's Day is coming up, so you best go and order now if you haven't already gotten your mom a present!).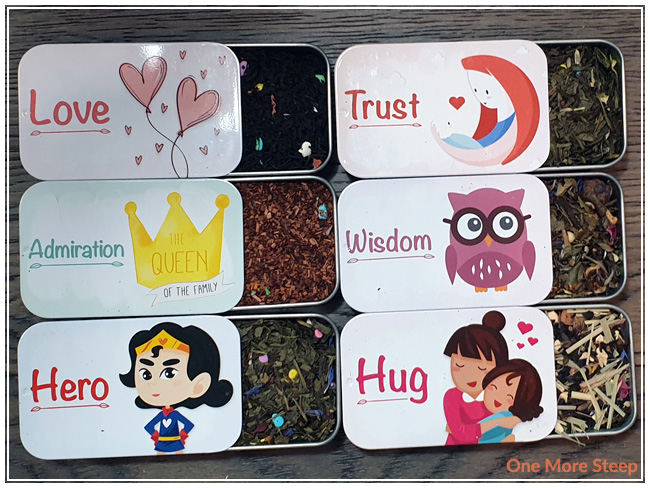 Each tin is adorable – there's Love, Admiration, Hug, Hero, Wisdom and Truth.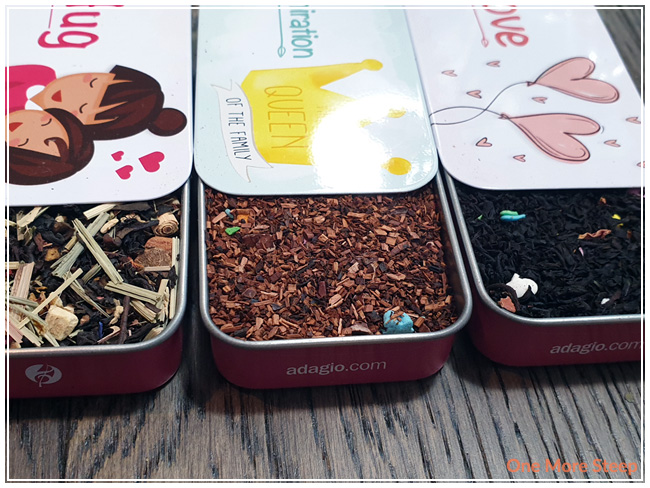 From left to right: Hug, Admiration, and Love.
Love has a slight rose aroma, I can also smell the black tea base and it has some vanilla notes. Love consists of: black tea, heart sprinkles, rose petals, rose flavor, and natural creme flavor.
Admiration is a honeybush blend, but it does have some rooibos qualities to it and I can definitely smell that medicinal quality behind it. There's a nuttiness in the background though, which I find intriguing. Admiration consists of: honeybush, flower sprinkles, cocoa nibs, natural hazelnut flavor, and natural chocolate flavor
Hug has a lovely aroma – lemongrass, berries, roses and ginger are all mingling in there. Hug consists of: rose hips, hibiscus, apple pieces, rose petals, blue cornflowers, lemon grass, natural creme flavor, licorice root, blueberries, strawberries, raspberry leaves, natural strawberry flavor, natural blueberry flavor, raspberries, ginger root, natural blackberry flavor, peppermint leaves, safflower, and blue cornflowers.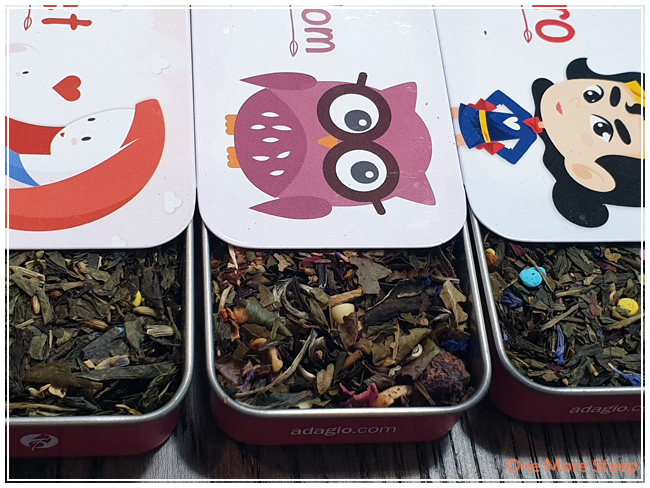 From left to right: Trust, Wisdom, and Hero.
Hero has the cutest tin, by far! This green tea blend smells grassy, floral, and has some lovely vanilla notes to it. Hero consists of: green tea, hibiscus, confetti sprinkles, natural vanilla flavor, orange peels, natural bergamot flavor, and blue cornflowers.
Wisdom is a white tea blend – I can smell vanilla and chocolate, I don't really smell the white tea base or the coconut that exists in here, but bonus because I can't smell the rooibos either. Wisdom consists of: white tea, rooibos, apple pieces, white chocolate chips, hibiscus, blueberries, natural strawberry flavor, strawberries, blue cornflowers, coconuts, rose petals, and natural vanilla flavor.
Last, but certainly not least, is Trust. Trust smells like apricots, vanilla, and cream to me. This green tea blend consists of: green tea, butterfly sprinkles, lavender, vanilla pieces, apple pieces, natural apricot flavor, strawberry pieces, apricots, and marigold.
Preparation
Adagio Teas recommends steeping Love, Admiration and Hug in 100°C (212°F) water for 3 minutes (Love) and 5-10 minutes (Admiration and Hug). I followed the steeping instructions and did 3, 5 and 5 minutes.
For Hero, Wisdom, and Trust, Adagio Teas recommends steeping in 82°C (180°F) for 2-3 minutes (Hero), 3-5 minutes (Wisdom), and 2-3 minutes (Trust). I used 80C (175F) water to steep these three and did the initial steeps for 3, 5 and 5 minutes.
First Taste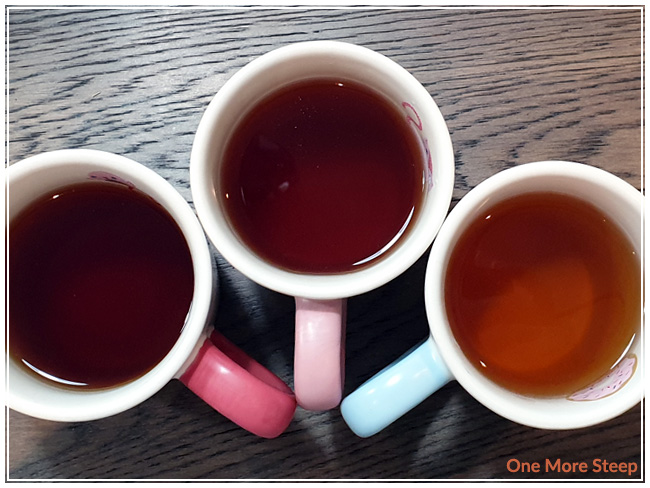 Left to right: Love, Admiration, and Hug.
Love steeps to a golden brown colour. I found the aroma to be very similar to the dry leaf – I get the rose, vanilla and black tea base. The flavour is pretty good, I found it to be sweet with some light floral notes without being over the top perfume. It's pleasant and I think it'd be great with cream and sugar, or paired with an afternoon tea.
Admiration tastes like rooibos, which is never my favourite ingredient. I found it to have some light chocolate flavours with a honeyed sweetness. I do like the sweet part of this tisane, and I think fans of rooibos and honeybush would enjoy this one.
Hug has a really strong lemongrass and ginger aroma and flavour to it. It steeps to a lovely yellow-brown colour. There's some nice warming qualities about it that I think are really enjoyable and would be nice for busy moms who want something to drink while unwinding after a long day of balancing working from home and home schooling.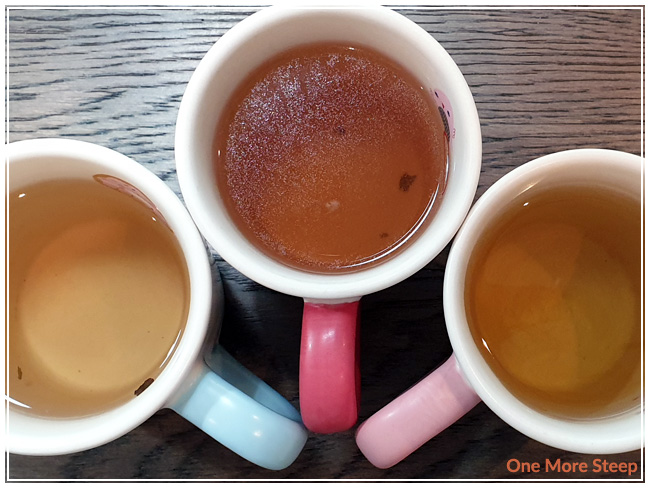 Left to right: Hero, Wisdom, and Trust.
Hero has a great aroma to it – it steeps to a peachy yellow, which was surprisingly not pink despite the fact that hibiscus is in the blend. There's some grassy and vanilla notes to Hero. I found the flavour to be grassy, with hints of vanilla and a nice creamy quality to it. It's quite light enough that I think it'd be nice as an iced tea too – since if you're a hero, you're a hero throughout the year and that includes different seasons.
Wisdom steeps to a golden orange with some oils floating on top – I think it's from either the chocolate or coconut (or both). I still can't taste the coconut. It has some nice vanilla and chocolate notes to it. I found it to be smooth, with a lovely texture despite the oils floating on top (it doesn't taste heavy at all). It's sweet too, and reminds me of a dessert. I think this one means to be paired with some strawberry shortcake or a freshly baked scone with strawberry preserves.
Trust steeps to a light yellow – I love the colour. It smells like apricot and vanilla. There's a very pleasant sweetness to this that I enjoy. I found it to be light and pleasant – the apricot flavour is the best. I think this one would be a great iced as well, as it's just got that lightness to it that goes well with iced teas.
A Second Cup?
I found that Hero, Wisdom, and Trust resteeped the best (for one resteep). A lot of the added flavourings were missing in the second steep of the same leaves.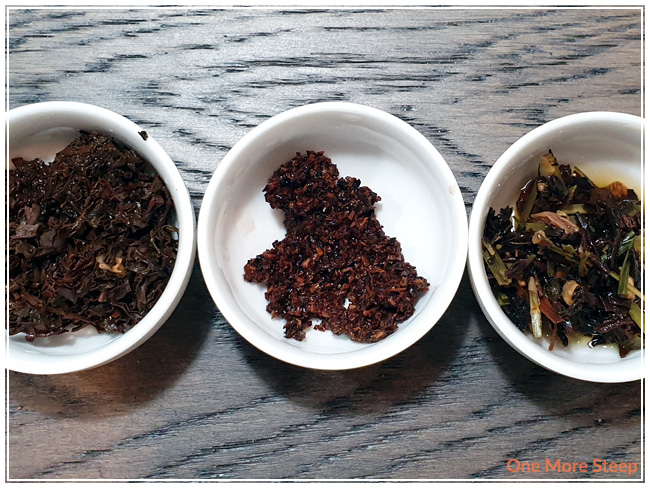 Left to right: Love, Admiration, and Hug.
For Love, I found a lot of the rose flavour to be missing. While for Admiration and Hug, the flavours were just a bit muddled and didn't like the initial steep.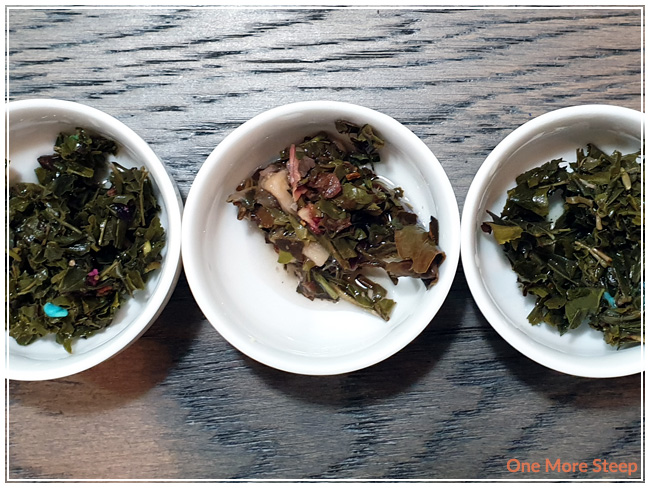 Left to right: Hero, Wisdom, and Trust.
My Overall Impression

I loved Adagio Teas's Motherhood Teas collection. I think it comes well packaged, with adorable illustrations, and a nice collection of blends that allows moms to try something new and perhaps find a new favourite. Hug, Hero, and Trust were my top picks/favourites out the six – and if I had to pick an absolute favourite, it'd be Trust.
Curious about the cup rating system? Click here to learn more.