Lemon Meringue Green by Adagio Teas
Green Tea / Flavoured
$9.00USD for 3oz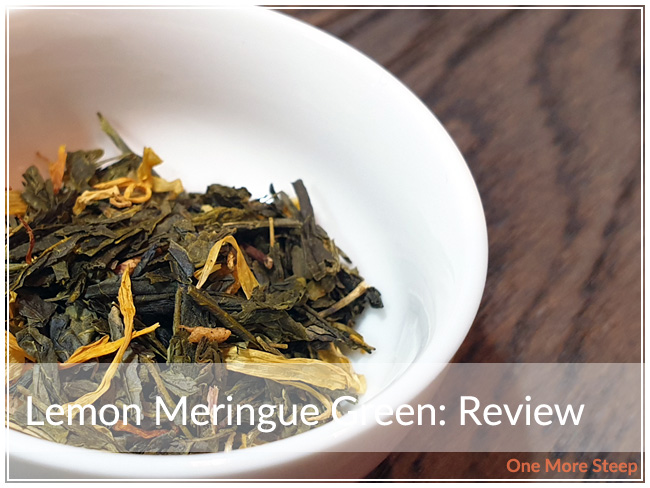 Adagio Teas has provided me with Lemon Meringue Green for the purposes of writing an honest review.
First Impressions
Lemon Meringue Green comes in a familiar coloured pouch, courtesy of Adagio Teas. The sealed, resealable package has a nice little printed label on the front that lets me know the details of the tea. The leaf itself is quite fragrant – with some really strong lemon and orange notes, as well as some lingering vanilla notes in the background.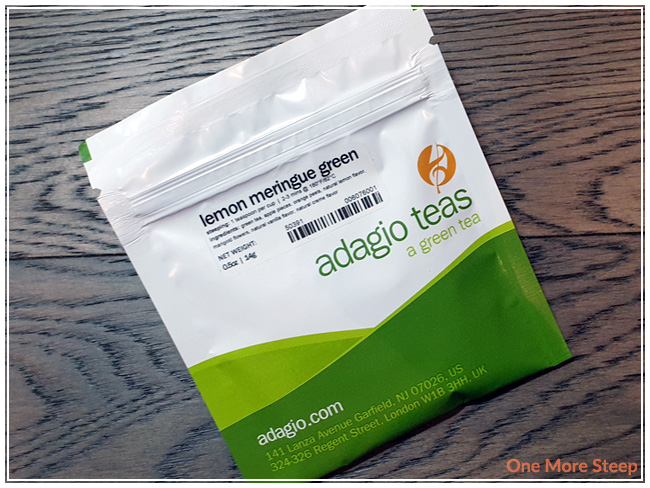 The tea leaves are quite pretty – it reminds me of a sencha in appearance, the leaves are flatten. Smelling Lemon Meringue Green outside of the pouch, it definitely reminds me of the aroma of a lemon pound cake. Hints of buttery deliciousness and quite inviting! Lemon Meringue Green consists of: green tea, apple pieces, orange peels, natural lemon flavour, marigold flowers, natural vanilla flavour, and natural creme flavour.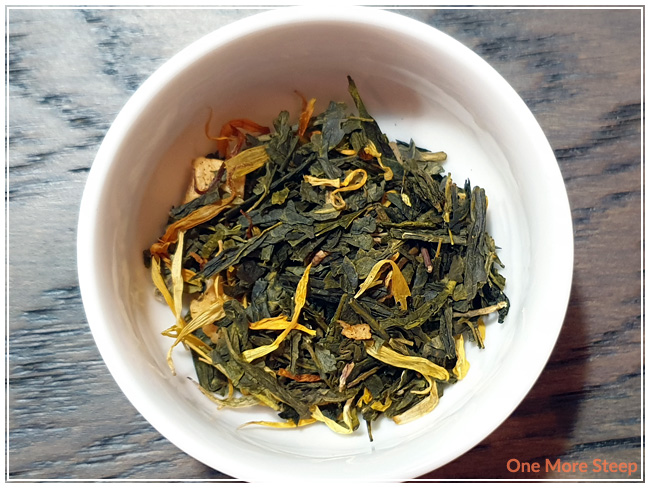 Preparation
Adagio Teas recommends steeping Lemon Meringue Green in 180°F (82°C) water for 2 to 3 minutes. I opted to do a steep in 175°F (79°C) water for 3 minutes to start off.
First Taste
Lemon Meringue Green steeps to a very pale greeny-yellow colour. It smells like lemon and vanilla, which is nice. The flavour of the tea wasn't surprising as it mimics the fragrance of the dry leaf quite well. I can taste vanilla, something buttery, lemon, and sweetness. It basically reminds me of lemon pound cake from start to finish, which is quite nice. At the temperature of water I used with the steep time, there was zero astringency or bitterness in this green tea blend.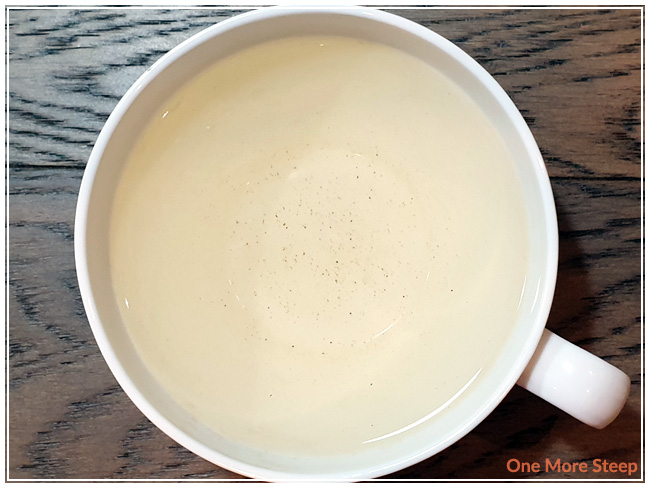 A Second Cup?
I attempted to resteep Lemon Meringue Green once, adding an additional 30 seconds to the first resteep. I found that it was lacking in vanilla while the lemon/citrus notes stayed fairly consistent. Missing the vanilla meant that it didn't quite remind me of lemon pound cake anymore.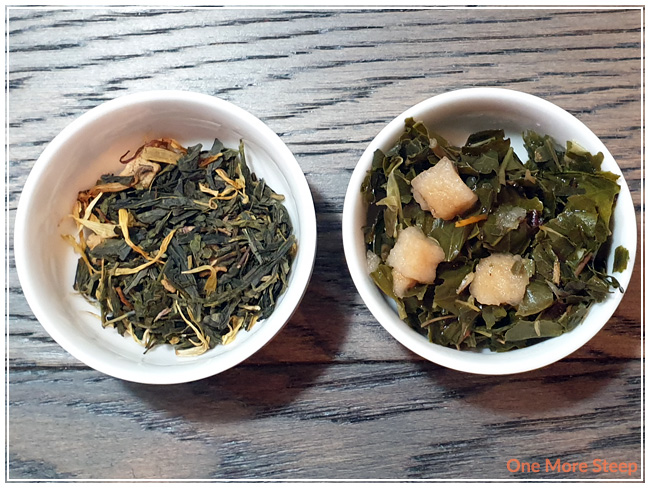 My Overall Impression

I loved Adagio Teas's Lemon Meringue Green. I appreciated how well the tea behaved from dry leaf to steeped tea, and how it stayed consistent in aroma to taste for the initial steep. The aroma of the dry leaf is so inviting, and I think this green tea blend would be a pleasant tea option for afternoon tea, and perhaps paired with dessert. The nature of it being citrus heavy makes me think that it would also be an excellent iced tea drink as well – if you're concerned about over steeping the green tea base, you can always cold steep it.
Curious about the cup rating system? Click here to learn more.