Mango Matcha by DavidsTea
Green Tea (Matcha) / Flavoured
$9.98 for 50g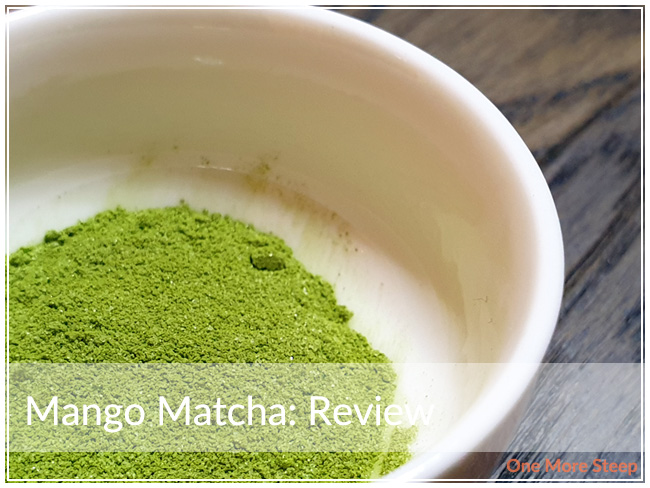 First Impressions
Mango Matcha is a matcha drink mix from DavidsTea. It came to me in the mail in a sealed, resealable pouch. Firstly, I'd like to address the change in the labelling from DavidsTea. I found that the teal of the DavidsTea branding to be a bit difficult to read from the green background – along with the white text on the green background (but not as difficult as the teal on green). I'm no longer surprised by the fact that Mango Matcha has sugar as the first ingredient, because I've gotten used to that now and am a little bit less annoyed by the presence.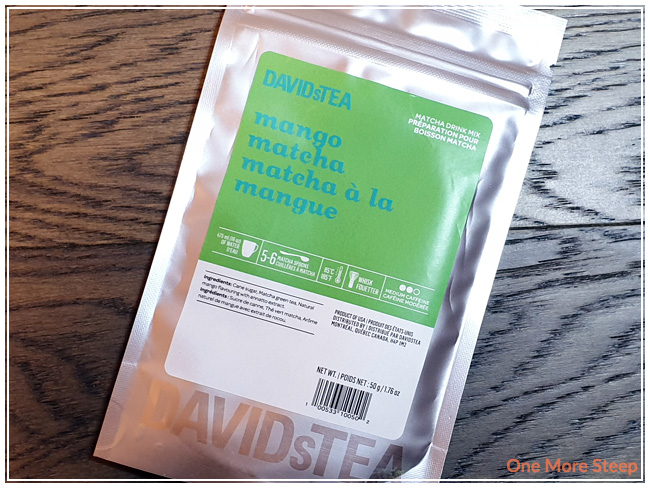 Mango Matcha is a lovely spring green colour, with a hint of sparkle from the sugar. The aroma is strongly mango with a bit of grassy undertones. Mango Matcha consists of: cane sugar, matcha green tea, natural mango flavouring with annatto extract.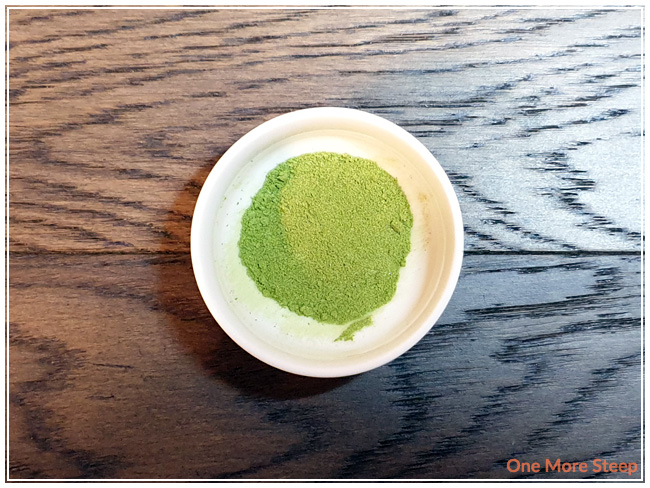 Preparation
DavidsTea recommends repairing Mango Matcha in 85°C (185°F) water with a whisk. I followed the temperature recommendation and whisked it directly in my cup. The nice thing about the DavidsTea matcha drink mixes is that you don't have to sift the powder first because it dissolves quite easily.
If you've never made matcha before, I've got an article for you that discusses The Basics of Preparing Matcha.
First Taste
Mango Matcha whisks into a nice deep forest green. Not a whole lot of frothy bubbles regardless of how much I tried, but it's a vibrant green with a very strong mango aroma from the whisked up powder. I found it to be quite sweet, strong mango flavours, with subtle grassy notes in the background. It's a pleasant drink hot.
I did end up adding some milk to it (organic soy milk) to make it to matcha latte – it helps cut the sugary sweetness down significantly, while adding a nice level of creaminess to it and the mango isn't muted at all.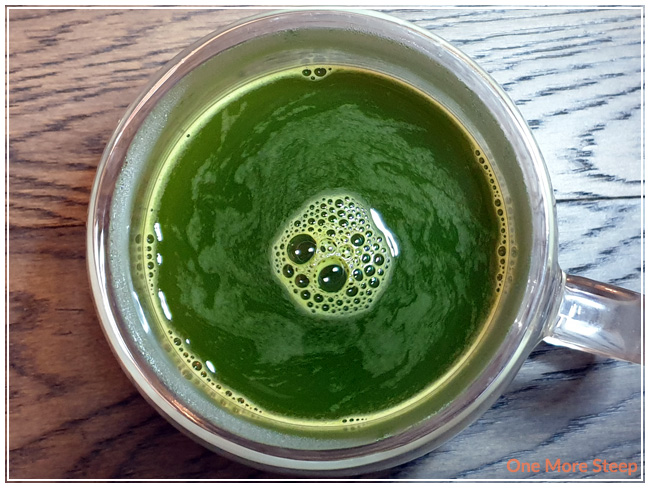 A Second Cup?
As a matcha is a suspension, there were no second steeps at all.
My Overall Impression

&


I loved and liked DavidsTea's Mango Matcha. I liked it hot and plain – but the sugary sweetness was just a bit too much for me, even though I have a really strong sweet tooth. The addition of soy milk really helped to lower the sugar content down a bit, just by adding a little something to help cut the sweetness level. I think Mango Matcha would be great if you like a super sweet drink, but definitely utilize this as a latte base if you're wanting something that's got some good mango flavour, a nice grassy background, but not too sweet. Matcha latte is definitely the way to go with this one.
Curious about the cup rating system? Click here to learn more.