Minty Matcha Meringues by Dessert by Deb
Green Tea (Matcha) / Flavoured
$6.00 for 25g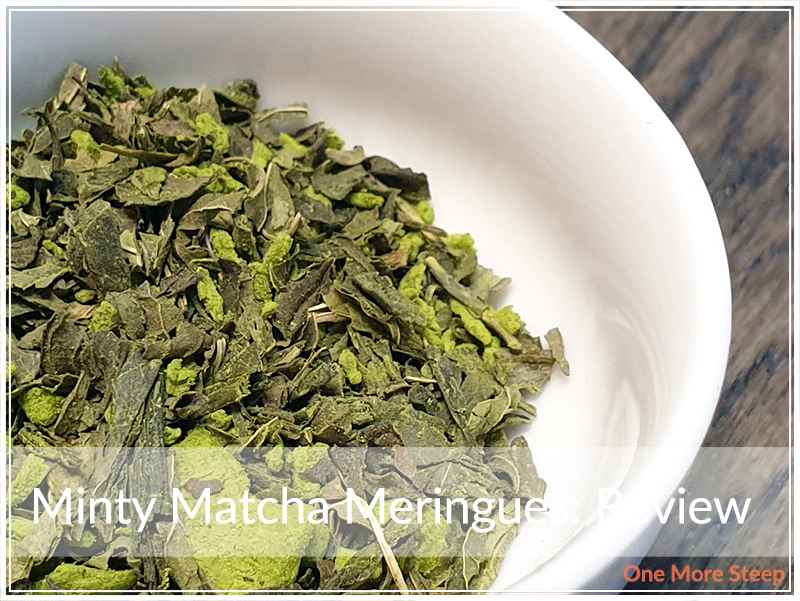 Minty Matcha Meringues came as part of my November/December subscription box from Dessert by Deb.
First Impressions
Minty Matcha Meringues came to me in a lovely pale pink matte metallic sealed (and resealable!) pouch. Yes, this was from my November/December box, yes, it's holiday-themed, and yes, I'm aware that it's March in two days. That said, this cookie-inspired tea is still available on the Dessert by Deb website, if you're wanting to give it a try. Nice colourful label – lets me know the important details (ingredients, steeping instructions, the recommendation to prepare as a latte), and is easy to read – my favourite type of product label.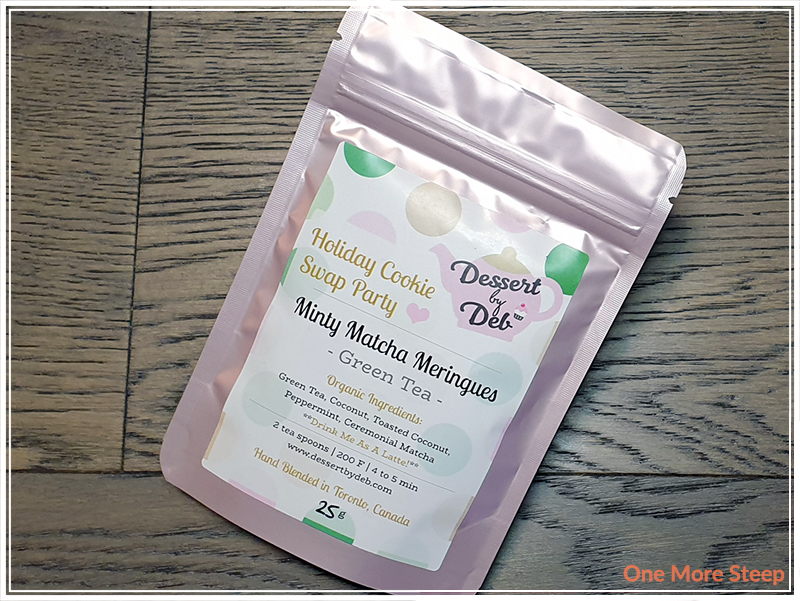 Minty Matcha Meringue consists of organic: green tea, coconut, toasted coconut, peppermint and ceremonial matcha. So when I first opened the packaging, the first thing I smelled was the peppermint. This shouldn't surprise anyone – mint is a very strong aroma. It's very recognizable and just very capable of overpowering other ingredients. Then I smelled hints of coconut and the familiar grassy notes that could be attributed to either the green tea or the matcha. I just love how the matcha coats everything though, look at the coconut!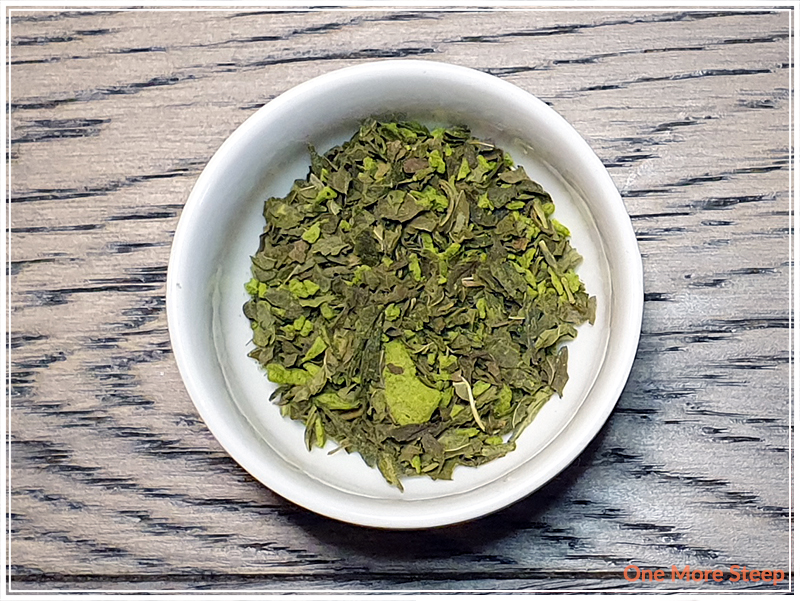 Preparation
Dessert by Deb recommends steeping Minty Matcha Meringues in 200°F (93°C) water for 4 to 5 minutes. I followed the steeping instructions and did an initial steep for 5 minutes.
First Taste
Minty Matcha Meringues doesn't exactly look the prettiest when it's steeped (see, below). It's a bit of a murky yellow-green, there's some oils floating on the top. Coconut naturally has oils in it, so the oils isn't surprising, nor is it excessive like when you try to dissolve sprinkles or chocolates in a tisane or tea. The aroma of the tea is primarily mint, with some grassy undertones. I found the flavour to be a bit curious. I could definitely taste the peppermint, along with some of the coconut and some grassy and vegetal notes from the green tea and matcha combination. It doesn't really scream meringues to me though, because I think of meringues as being very sweet and sugary and hurting my teeth. This… doesn't. Which isn't a bad thing. I do wish that the coconut flavour was more forward compared to the peppermint, but mint flavours are just always at risk of taking centre stage in comparison to other ingredients.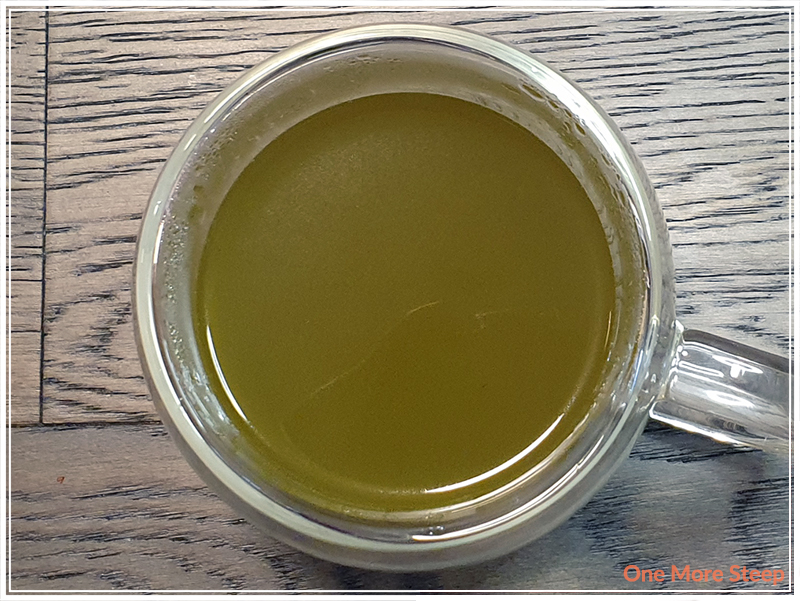 Since Dessert by Deb recommended having Minty Matcha Meringues as a tea latte, I had to give it a go. My general rule of thumb for creating a tea latte is to go with one third frothed milk to two thirds steeped tea. I also add sweetener to the tea portion of it. It does add a level of decadence to the tea (doesn't improve the colour situation though, if anything it might make it worse). I did had some sweetener (vanilla agave syrup) and topped with frothed milk. It adds some creaminess, and the vanilla in the agave helps me think of it more of a baked good, which helps me think of meringues a bit more.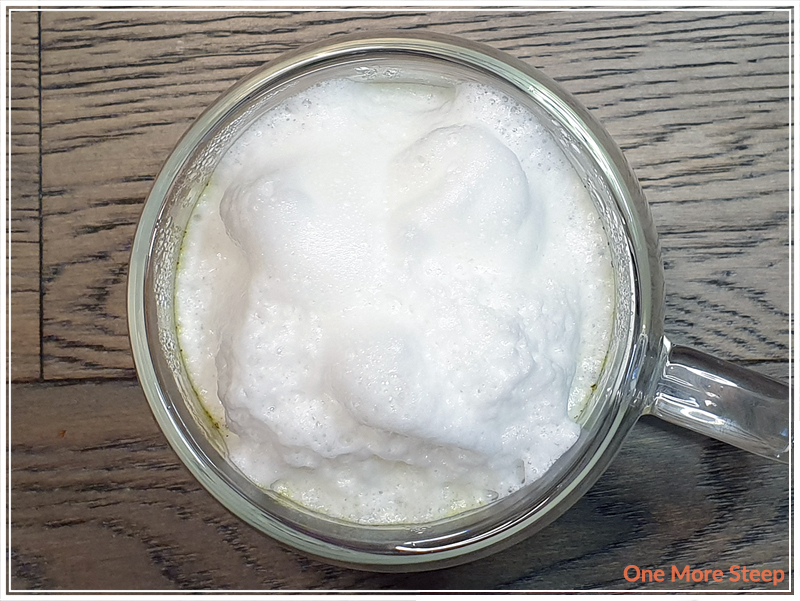 A Second Cup?
I attempted to resteep Minty Matcha Meringues, but found the flavour to fall a bit flat – I think a lot of the flavours that I enjoyed in the initial steep were just all used up in the initial steep (like the mint, the coconut, the matcha). I would recommend Minty Matcha Meringues for just one steep.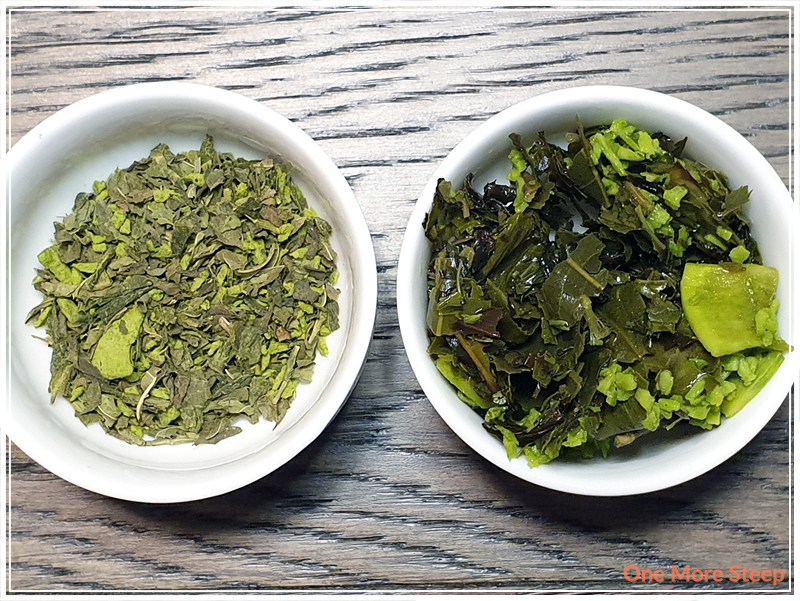 My Overall Impression

I liked Dessert by Deb's Minty Matcha Meringues. There are aspects of this tea that I really enjoyed – the mint forwardness, the matcha undertones, the hints of coconut throughout – but it didn't really make me think of meringue. It really needed some extra sweetener (and if you can get your hands on some vanilla syrup or vanilla agave, it really takes it over the top) to make me think of meringues since those are just sugary sweet and cavity-inducing desserts. I would recommend following Deb's recommendation of turning this into a tea latte – it just makes it that much better and helps temper down how forward the peppermint is.
Curious about the cup rating system? Click here to learn more.