Lychee Bellini by DavidsTea
Black Tea / Flavoured
$8.98 for 50g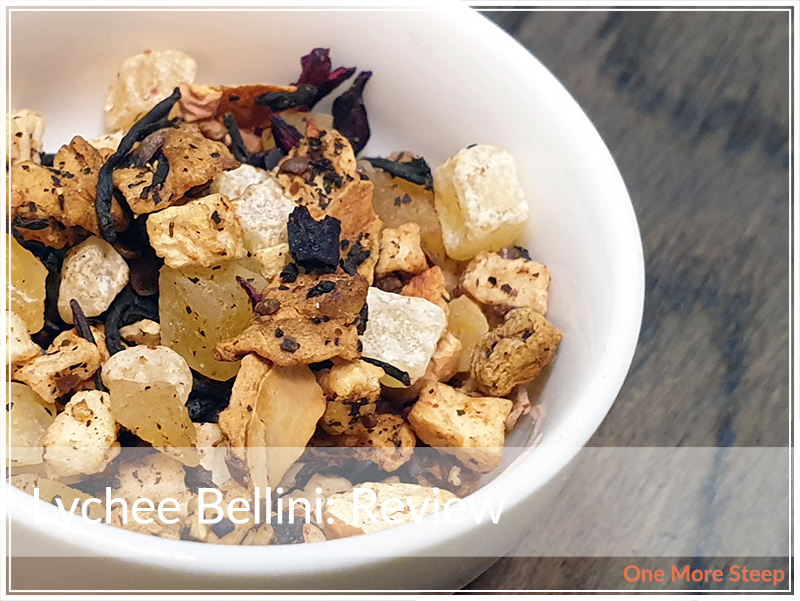 First Impressions
Lychee Bellini was one of those purchases made on a whim, and also because I was quite hopeful that it would be similar enough to another lychee flavoured black tea blend from DavidsTea that's long been discontinued (Peachy Lychee). Lychee is a great little fruit – super sweet, floral, with such a juicy flesh to the fruit. It's so good. But this isn't a lychee fruit, it's Lychee Bellini and it is a black tea blend. It comes in a very familiar silver pouch – sealed, resealable, with a navy blue label on the front with the white text. I've mentioned before not being a huge fan of the small print… I'm still not a fan of the small print, but what's a girl to do?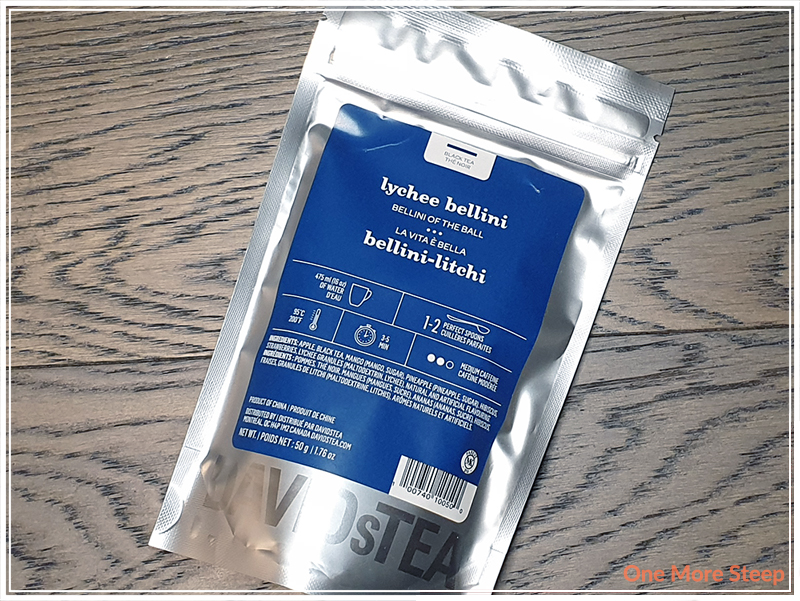 The smell of the dry leaf is amazing. It's fruity with some fun things that I can pick out – like the pineapple and lychee! It's definitely fruity, reminds me of a tropical punch – very inviting, very eager to try it. A bit sad that there's no peach in it so I can pretend it's a Peachy Lychee dupe. Lychee Bellini consists of: apple, black tea, mango, pineapple, hibiscus, strawberries, lychee granules, natural and artificial flavouring.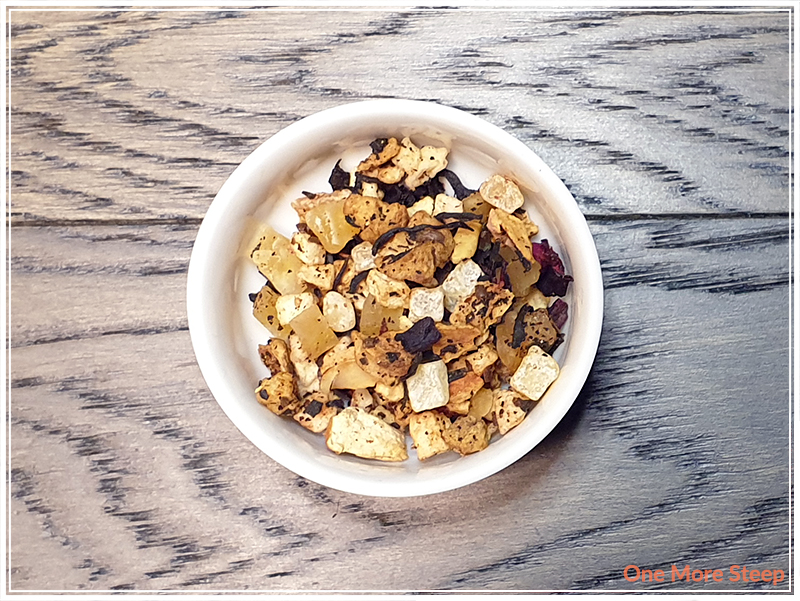 Preparation
DavidsTea recommends steeping Lychee Bellini in 95°C (200°F) water for 3 to 5 minutes. I opted to follow the steeping directions and did a steep for 4 minutes.
First Taste
Lychee Bellini steeps to a deep pink colour thanks to the hibiscus! It has a great aroma to it – very fruit and floral, I definitely taste the lychee in it! Which is great, because that's the part that I was most looking forward to. The mango and apple are both noticeable as well, although I'm not sure if I really taste the pineapple or not. The black tea sort of lingers in the background, but that's where I expected it to be given the other ingredients in the mix.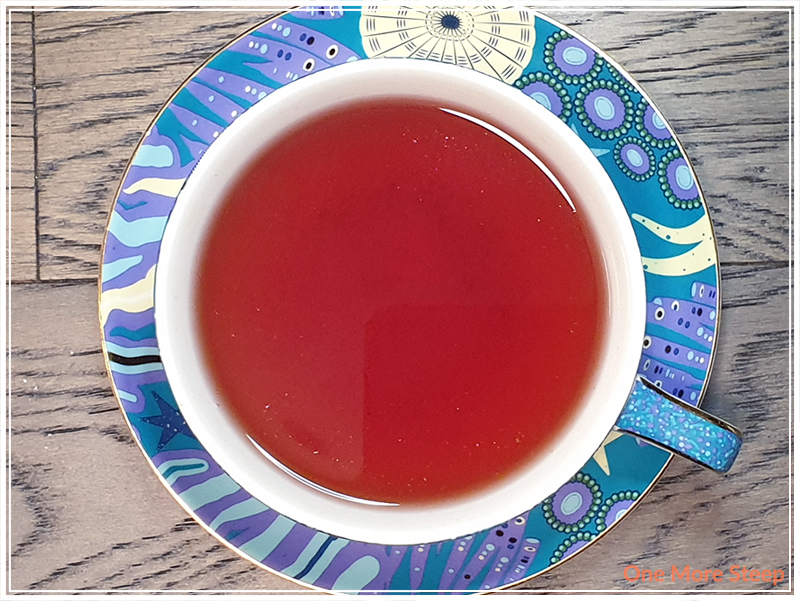 I also tried it iced as well and it's pretty darn good too!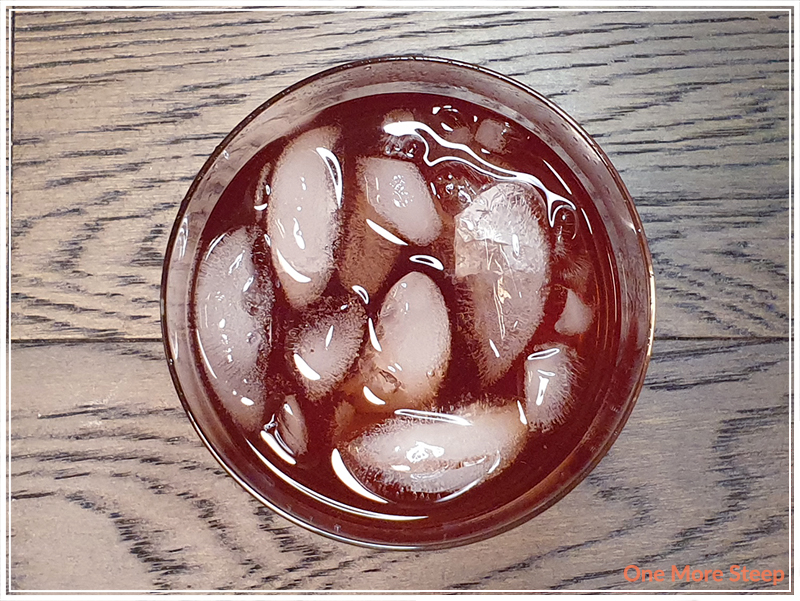 A Second Cup?
I attempted to resteep Lychee Bellini, but found that the fruity flavours that I enjoyed with the initial steep weren't very present in the first resteep. I would recommend steeping Lychee Bellini just the one time.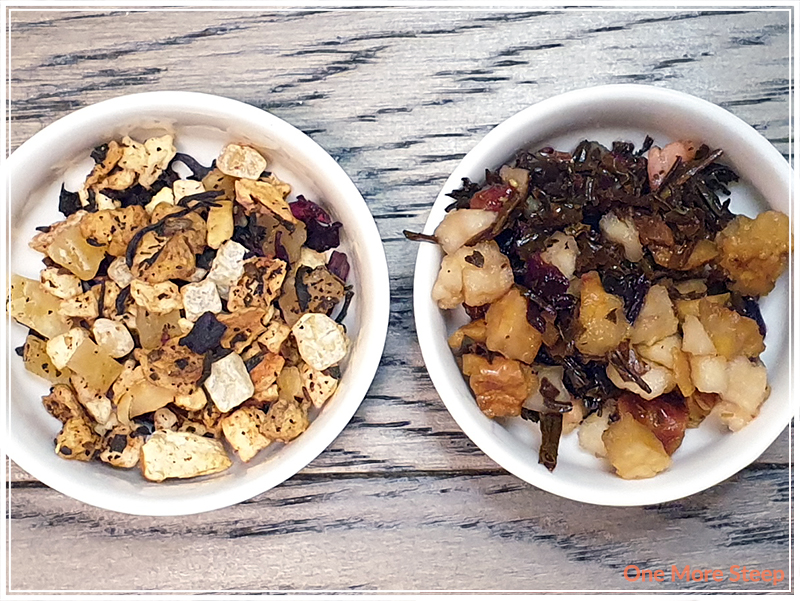 My Overall Impression

I loved DavidsTea's Lychee Bellini. I think it was pleasant when I tried it hot, but the fruity flavours really shined when I had it iced. This is definitely a tea to have iced in the summer, maybe with a splash of lemonade or a squeeze of a lemon wedge in there. I think if you were to sweeten it, I would recommend honey to help accent the sweetness of the lychee. Definitely not a dupe of Peachy Lychee, but it is a lychee black tea blend that stands out on its own.
Curious about the cup rating system? Click here to learn more.