Lychee Mango Mochi by Dessert by Deb
Green Tea / Flavoured
Price$ for Weight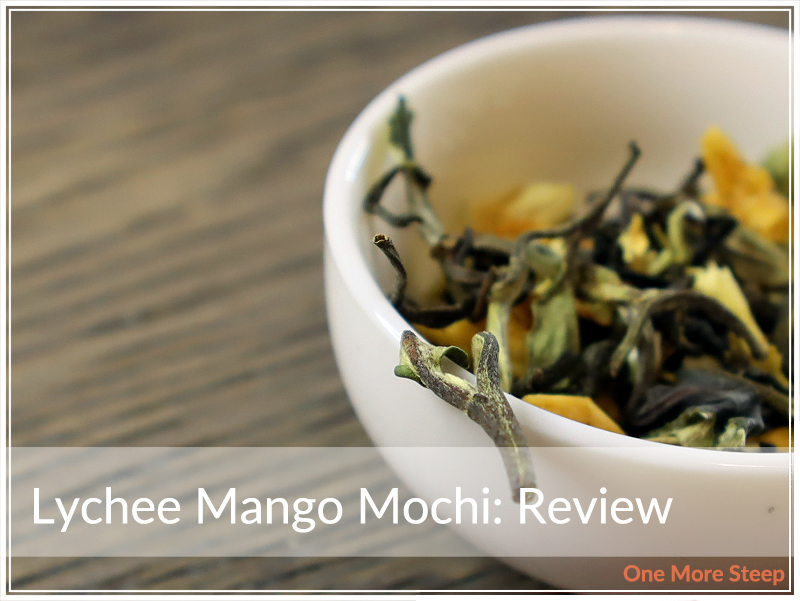 First Impressions
Lychee Mango Mochi was a blend that I came across on the Dessert by Deb website when I was putting in an order (because I wanted a pink teapot with matching cups and saucers…), and I figured, why not get some teas while I was at it? Lychee Mango Mochi wasn't one that I had gotten to try yet via the subscription box, so I was wanting to give it a go because it sounded quite intriguing. I mean, I love mango, I love lychee, and I'm a fan of mochi… So why not?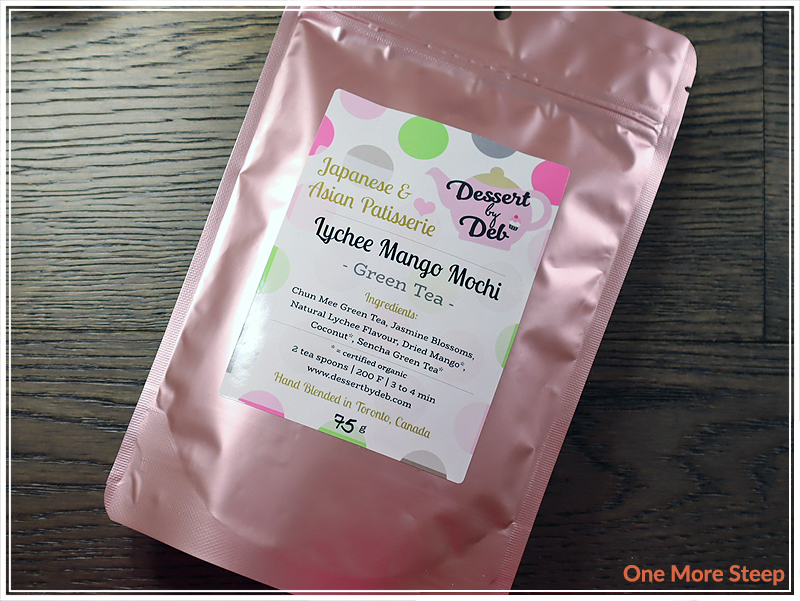 This mango-forward green tea blend comes in a large pink pouch, and is part of the Japanese & Asian Patisserie collection. It has a very strong mango aroma, and Lychee Mango Mochi consists of: Chun Mee green tea, jasmine blossoms, natural lychee flavour, dried mango, coconut, and sencha green tea. It's a beautiful blend to look at, and I think the mango is a lovely ingredient that really doesn't get showcased often enough in tea blends. It's a strong ingredient though, and definitely overpowers what coconut is in the bag – even if the coconut is visibly present.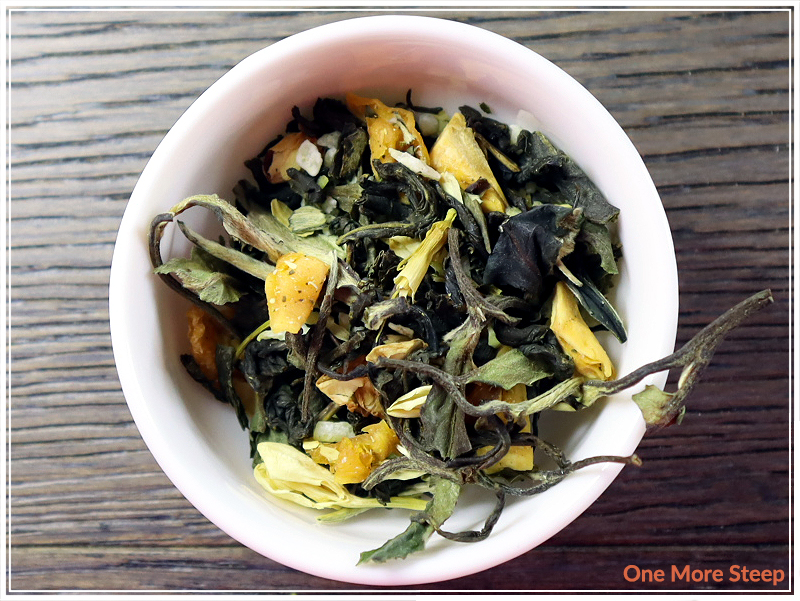 Preparation
Dessert by Deb recommends steeping Lychee Mango Mochi in 200°F (93°C) water for 3 to 4 minutes. I opted to do an initial steep of Lychee Mango Mochi for 3 minutes
First Taste
Lychee Mango Mochi steeps to a bright yellow, very sunshine yellow in appearance. The aroma is primarily mango, with hints of coconut in the background. The tea itself has sweetness – fruity mango flavours, a creamy coconut, the flowery sweetness from the jasmine, and an underlying vegetal flavour from the green teas. I find it has hints of umami throughout, a slight bit of salty, that vegetal bitterness that you come to find in dark green, leafy vegetables. I had this tea hot, and found it had a great fruity flavours – the mango really shines through beyond the rest of the ingredients.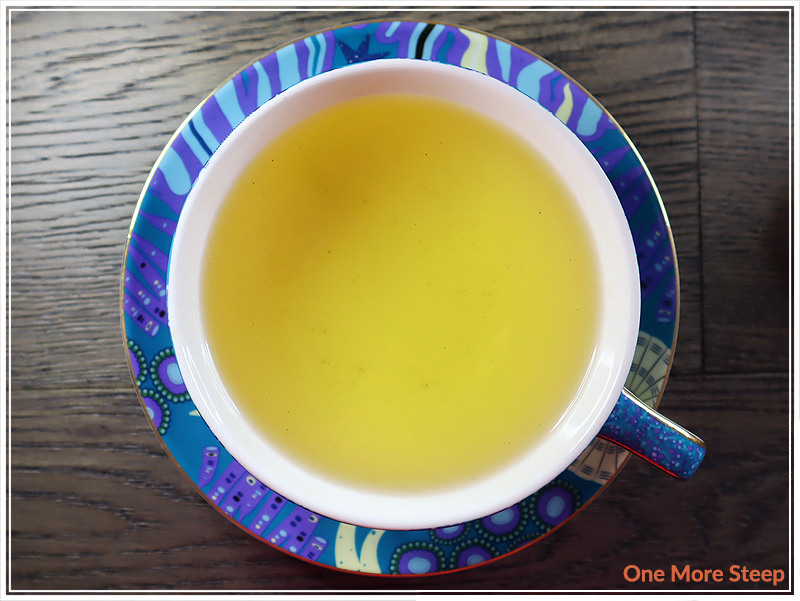 A Second Cup?
I resteeped Lychee Mango Mochi once, adding an additional 30 seconds for the subsequent steep. I found that the flavour wasn't as good as the original steep. That said, the jasmine really shines through with the green tea – so it's a good tea blend to resteep if you love a green tea with jasmine.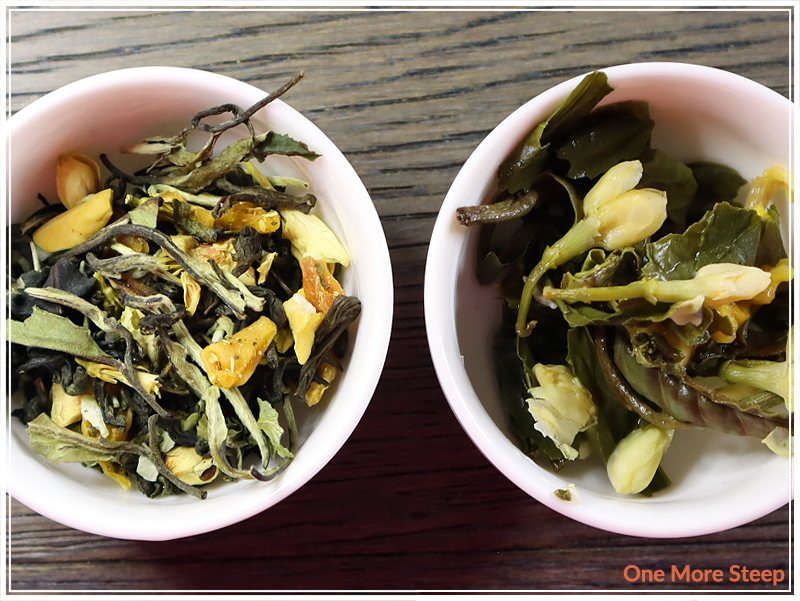 My Overall Impression

I  loved Dessert by Deb's Lychee Mango Mochi. It has a great flavour to it, and the mix of mango with jasmine and green tea, with the underlying coconut, makes it a tasty treat. While I don't really taste the lychee (which I've always found to be quite the delicate flavour), the mango more than makes up for it. I had this tea hot, but I could see it fairing very well iced or cold steeped and would love to try it more in the spring or summer time – this bag is going to end up in my iced tea basket.
Curious about the cup rating system? Click here to learn more.