Buckingham Palace Tea by The Secret Garden Tea Company
Black Tea & Green Tea / Flavoured
$13.00 for 100g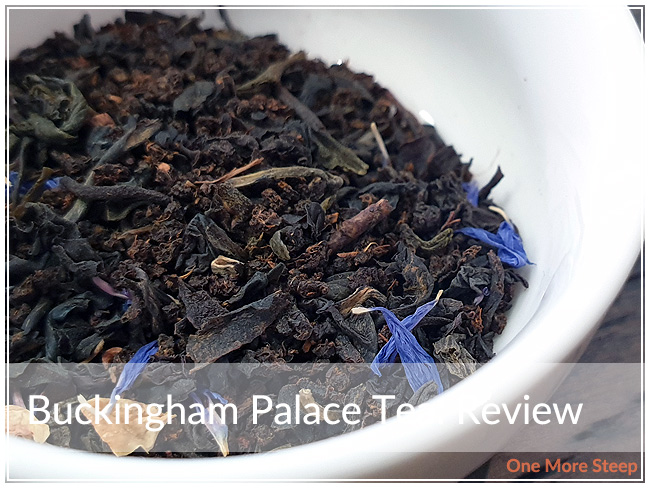 First Impressions
Buckingham Palace Tea is one of the teas that I picked up back in March when I went to The Secret Garden Tea Company for afternoon tea with my friend (review here). This black and green tea blend comes in a paper pouch that is plastic lined with a tabbed closure. It isn't air tight, so it doesn't make for the best tea storing method – but that is easily remedied with a spare tea tin. Buckingham Palace Tea is described by The Secret Garden Tea Company as one of their best selling teas. The packaging only mentions the name of the tea and weight – there are no ingredients or steeping recommendations listed on the packaging.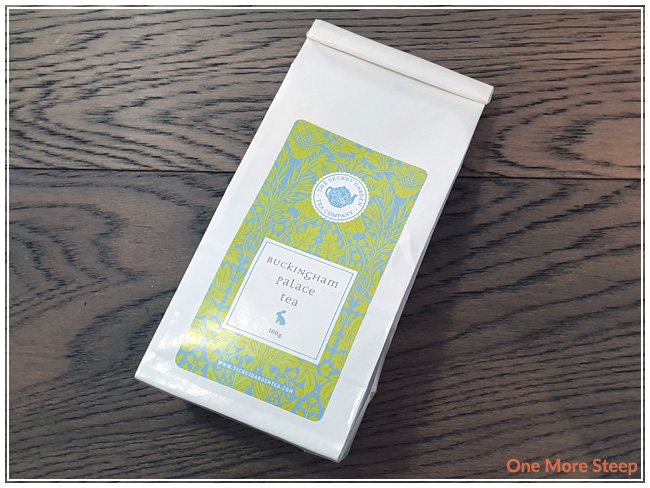 As per the product page on The Secret Garden Tea Company's website, Buckingham Palace Tea consists of: black tea, green tea, cornflower and jasmine petals, and natural flavouring. Bergamot is mentioned in the description, so my assumption is that bergamot is one of the natural flavourings. The tea itself is beautiful, with the obvious vibrant cornflower petals. I didn't see many jasmine petals throughout the tea. The aroma of tea is a mix of citrus and floral. The aroma of tea base reminds me a lot of a strong black breakfast tea.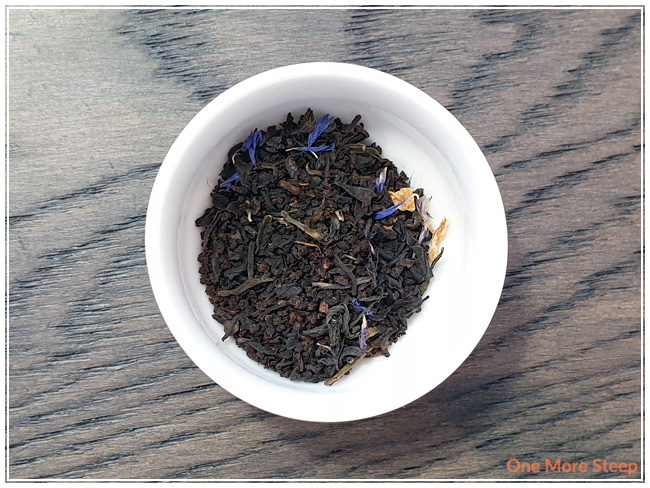 Preparation
As mentioned, there were no steeping instructions for Buckingham Palace Tea. As it does contain a green tea, I opted to use a lower water temperature (175°F/79°C) for 2 minutes.
If you find yourself making a tea that is a blend, it's always a good idea to try steeping it according to the tea that uses a lower temperature water.
First Taste
Buckingham Palace Tea steeps to a beautiful reddish orange. It has a strong citrus aroma and really does remind me of the smell of an Assam black tea. I found that this tea had light citrus/bergamot flavour, with a touch of astringency despite the short steep. There was a mild bitterness noted at the tail end of each sip that I wasn't too big of a fan of. I didn't really taste the green tea or the jasmine, I think the flavour of the black tea and bergamot was a bit overwhelming for those more delicate flavours.
I did add a bit of white sugar and some evaporated milk. I found it helped with the astringency and bitterness, making the tea more palatable for my taste buds.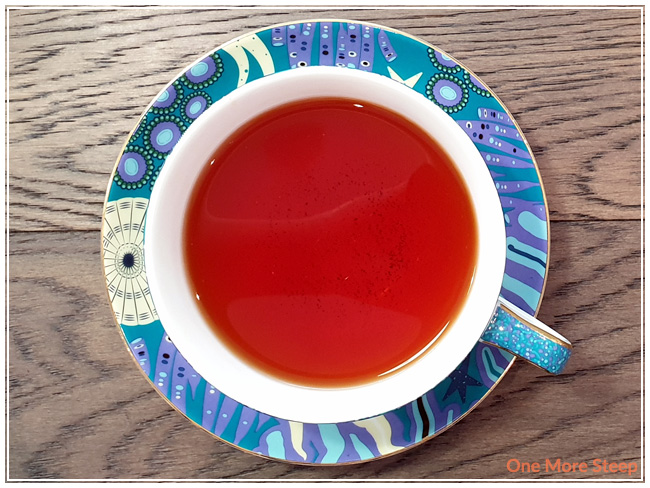 A Second Cup?
I resteeped Buckingham Palace Tea once, adding 30 seconds for the resteep. I found that the flavour was primarily of the black tea base – it really does remind me of a strong breakfast tea. There's still the astringency present, and that bitterness.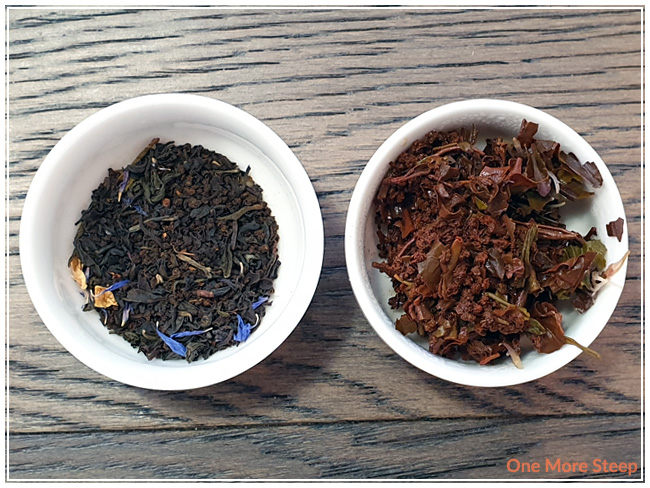 My Overall Impression

I thought that The Secret Garden Tea Company's Buckingham Palace Tea was just okay. I think this tea is really tasty when it has some sweetener and milk added to it, which makes it a nice option for afternoon tea. By itself, I'm not really a fan. I did a relatively short steep and found it to be astringent and bitter – perhaps the green tea is a touch too delicate and requires an even shorter steeping time, but then the black tea doesn't really get to shine. I didn't taste the green tea or jasmine at all, which was disappointing for me. I found it to be very similar to an Earl Grey with the bergamot and black tea base.
Curious about the cup rating system? Click here to learn more.