Candy Cane Chai by Lemon Lily
Black Tea / Flavoured
$9.00 for 50g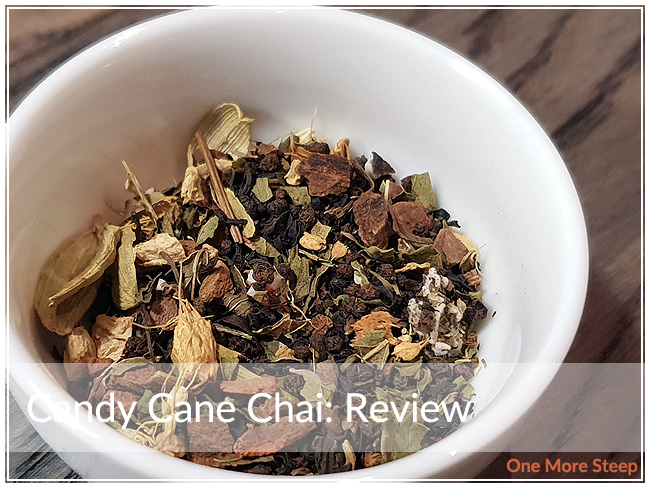 Lemon Lily's Candy Cane Chai came to me as part of The Sugared Teacup's December themed subscription box.
First Impressions
It's never too late for a little peppermint and cheer in your cup, right? I received Candy Cane Chai as part of my December box from The Sugared Teacup and I'll be zooming through those teas before they get out of season. Candy Cane Chai comes in a familiar white, matte foil bag that is resealable (which is awesome!). The aroma of the tea itself is heavily ginger and cinnamon, I can't really make out the peppermint from the candy cane at all, which is a shame. The candy cane pieces that I do see are speckled and mostly covered with the other ingredients.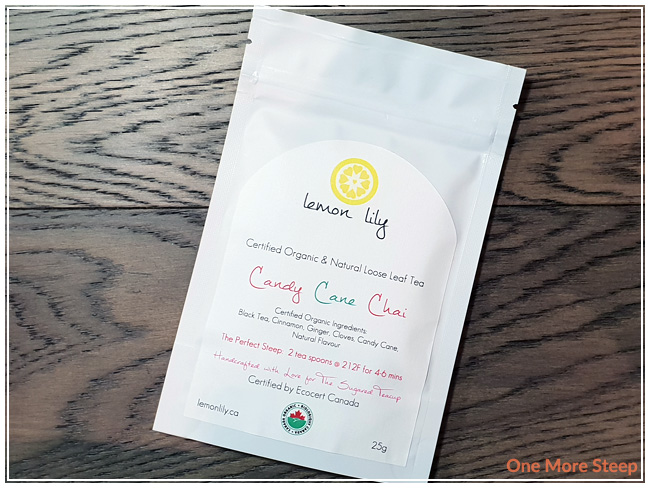 As per the label on the bag I received, Candy Cane Chai consists of: black tea, cinnamon, ginger, cloves, candy cane and natural flavours. According to the product page on Lemon Lily's website, Candy Cane Chai consists of: black tea, cinnamon, ginger, peppermint, candy cane, and vanilla bean. I also see the shells of cardamom pods in my tea, so I'm questioning how accurate the ingredients lists are. I didn't really smell any peppermint in my blend, so I'm not sure when the blend was changed.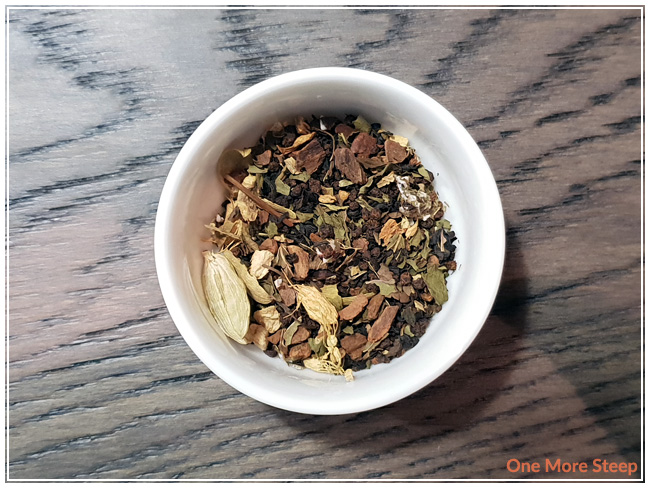 Preparation
Lemon Lily recommends steeping Candy Cane Chai in 212°F (100°C) water for 4 to 6 minutes. I did a 5 minute steep.
First Taste
Candy Cane Chai steeps to a cloudy brown, which is due to the candy cane pieces. The tea itself has a strong cinnamon and ginger aroma to it, and I can smell the peppermint from the candy cane pieces. There's a nice sweetness to it, but I do wish that the candy cane came through more since it does have some heavy chai spice flavours to it.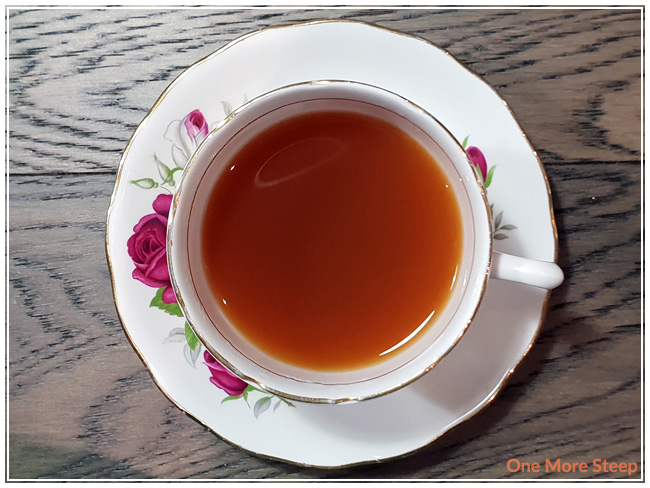 I did add some cream to my cup and found that it was tastier with it, and I also happen to have some leftover candy canes to stir into my tea… This also helps boost the peppermint flavour a lot! Highly recommend doing this to make it live up to its name.
A Second Cup?
I attempted to resteep Candy Cane Chai and found that it didn't hold up to being resteeped. The peppermint aroma was gone and the spices weren't as strong as the initial steep.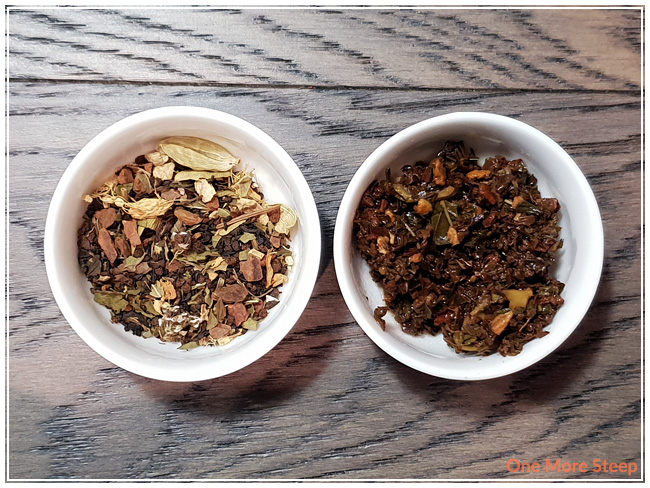 My Overall Impression

I thought that Lemon Lily's Candy Cane Chai was just okay. I'm a little torn between giving this one or two cups, because there's some confusion for me with the ingredients listed on the packaging versus on the website. Did I get old stock? When did the blend change? I found the chai spice level to be pretty good and tasty, I just wish that the peppermint/candy cane flavour stood out more, was stronger, and had a presence in the steeped tea. I would definitely recommend adding in some milk or cream, and then using a candy cane as a stir stick to make it more like a tea latte – I think the addition of a candy cane and cream would really help it to live up to its name. Overall, I think the blend works well as a chai blend, but it doesn't live up to my expectations on the holiday flavours.
Curious about the cup rating system? Click here to learn more.