Laurence & Chico Cafe
Vancouver, BC
Rabbit's Foot High Tea – $49 each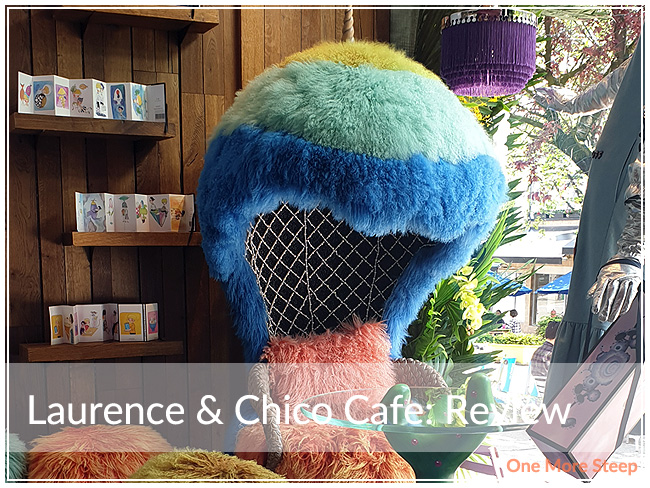 I visited Laurence & Chico Cafe with a small group of friends, and a toddler, just last month. This cafe is full of fun and whimsy, which is also a reflection of the style of Laurence & Chico – a women's fashion and accessories brand created by Laurence Li and Chico Wang. The location is on Bute Street, a traffic-calmed area right off of Robson Street as the road is taken up by cafe tables and chairs, and is very bicycle-friendly. Laurence & Chico is also conveniently located directly across from Breka Bakery & Cafe, which is open 24/7 (in case you're ever in the need for baked goods at 3am).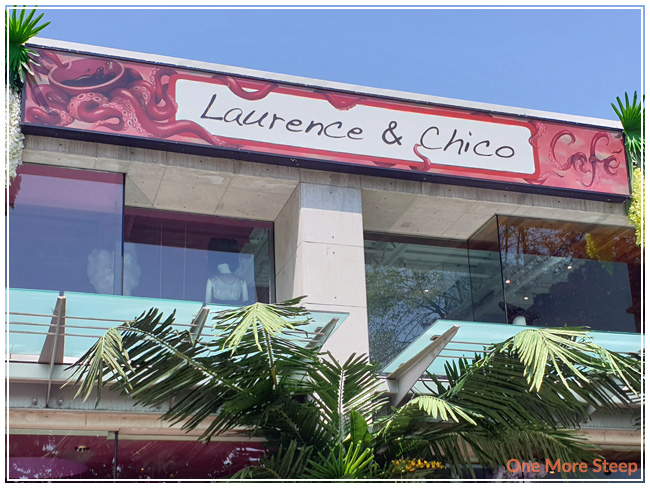 The Cafe portion is in two parts – one is the sit-down area, which Laurence & Chico refer to as their Afternoon Tea Salon Room, with fabulously fluffy and fringed chairs with glass-topped tables that are held up by tentacles. The chairs are stuck in place, as far as I could tell, so individuals with mobility issues may have issues getting into the chairs or being comfortable around the tables. There were some stand-alone stools. Unfortunately for my tiny toddler friend, there were no high chairs available which did not make for a very child-friendly experience.  The other part was a glass-topped bar with stools, and à la carte baked goods case for those who wanted to order something to go – appropriately referred to as their To-Go section. Their to-go cup and boxes were pink and stylized accordingly with their brand.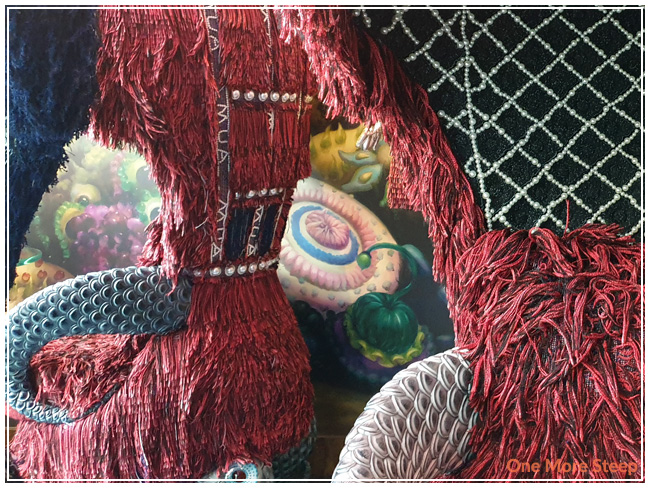 The service was both a hit and a miss. We were met with a friendly face when first entering the Cafe, but our server didn't seem very friendly. Quite a bit abrupt with us and just didn't seem friendly at all. She was the one that told us because we had made a reservation, we all had to order the high tea set.
The tea cup and saucer sets are delightfully branded. The cup itself is completely rounded, so you have no choice but to set it back onto the saucer, which has a little nest for it. The plates for the goodies are seashells and the cutlery are metallic rainbow – which was basically the best thing ever.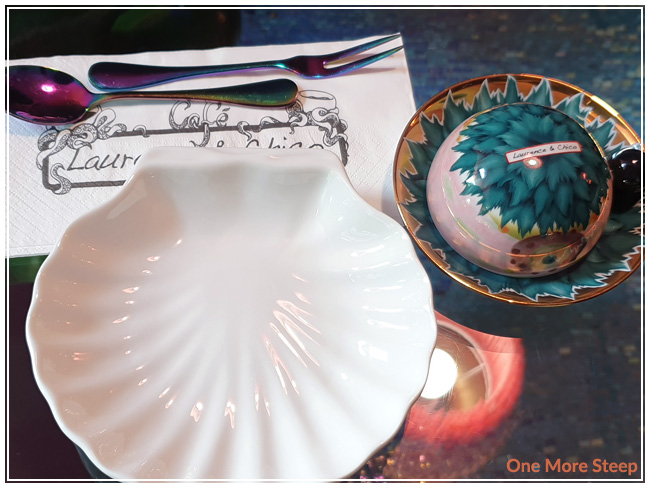 The Rabbit's Foot High Tea is a set menu, with the potential of substitutions for vegetarian eaters. There was a nice tea list as well, which featured two tisanes, three green teas (one of which was a green oolong), four black teas, as well as a "Mystere Sachet" – which was described as "Day after day, discover a new blend; flavors of fruits, exotic ones, vanilla, or even greedy or spicy notes". I opted to have the The à la Vanille – a Chinese and Sri Lankan black tea with vanilla flavouring.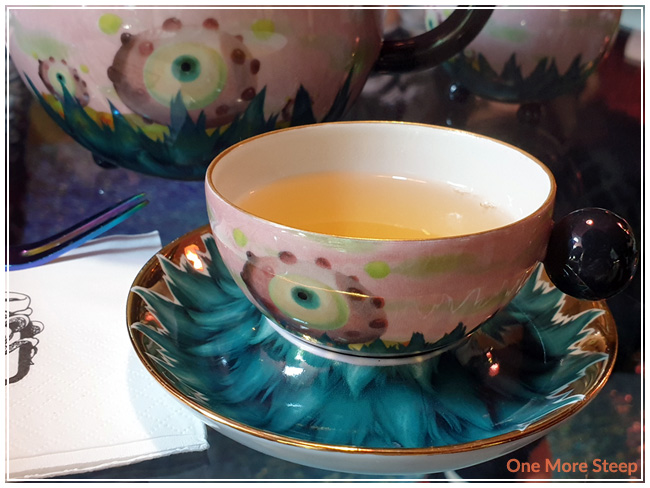 My tea selection was a nice choice, I think. It had a great vanilla aroma from the dry leaf, as well as in the steeped tea. It took to sugar and milk quite easily and was a tasty drink. My second choice would have been the J.E. Oolong Milky, which was described as a semi-fermented oolong green tea from Fujian, China – but two of my party's guests were already getting that tea, so I wanted to try something else and the The à la Vanille smelled really good!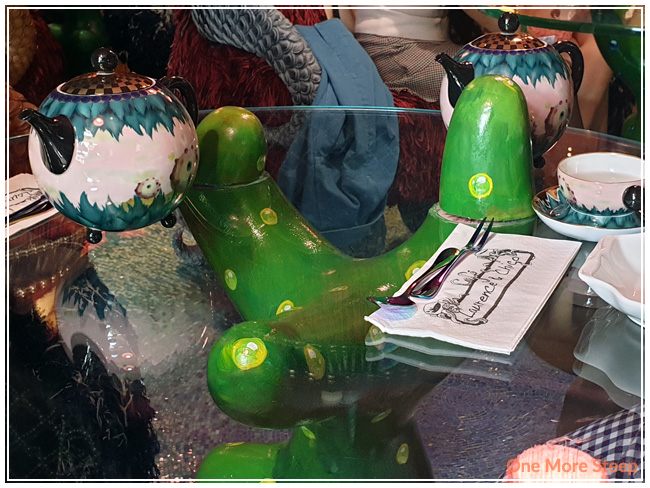 We even received milk and sugar for the table in matching branded teaware. Super cute, although I found the sugar spoon to be a touch small (cute, just small).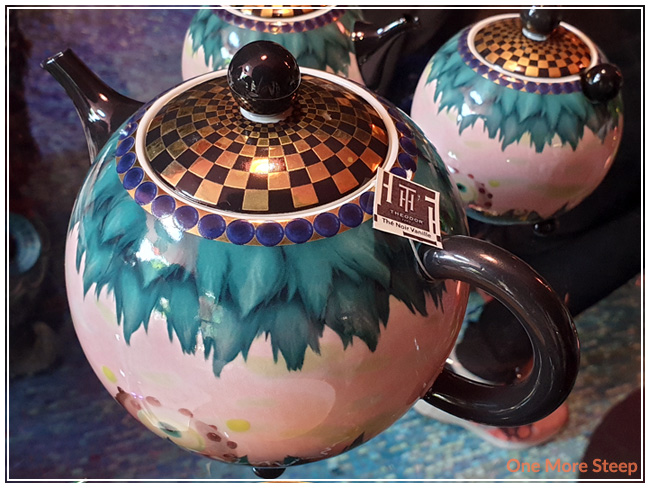 The tea was from Theodor PARIS, a French tea company.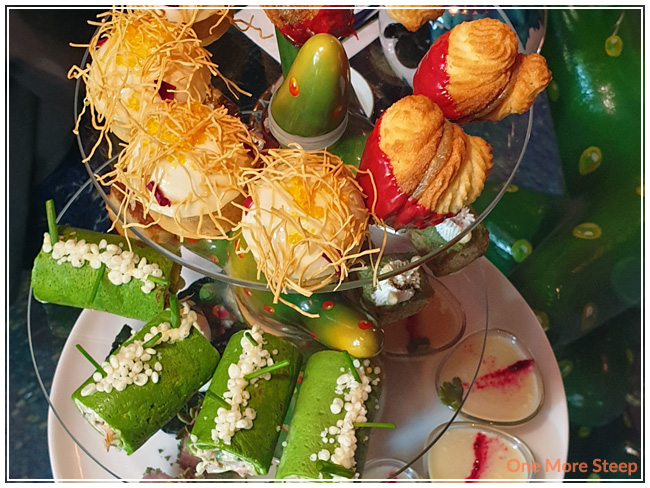 The food came on a three-tea dessert stand – complete with tentacles. The server made suggestions on where to start (with the soup) and to essentially spiral our way up. So in order of the tiers (and eating order), this is what the Rabbit's Foot High Tea consisted of: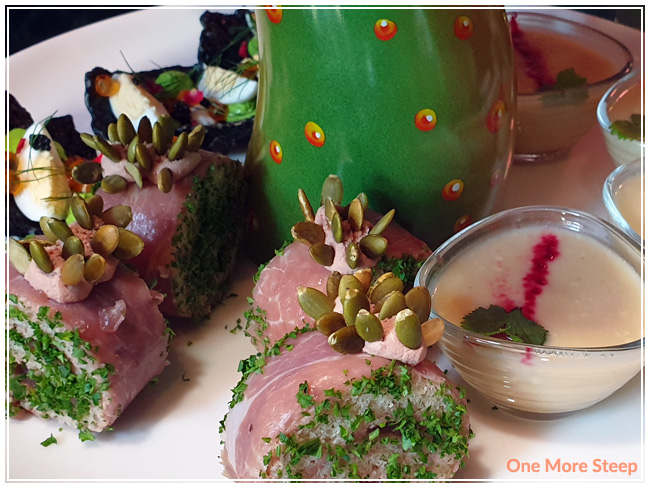 The bottom tier: Creamy Cauliflower Truffle Soup, Egg Salad Charcoal Cracker, and Italian Prosciutto Roll.
We all agreed that the Creamy Cauliflower Truffle Soup was "surprisingly really good". It was pureed really well, and the white truffle oil just added something earthy and savoury to it that was delicious. The Egg Salad Charcoal Cracker was a delight – I really enjoyed the caviar and the soft-boiled quail eggs. The cracker was described as a "crispy squid ink rice cracker", and it had a nice airy crunch to it (bonus – the toddler tea-goer enjoyed some of the cracker, perhaps forever ruined for the "regular" rice crackers in the world?). The Italian Prosciutto Roll had chicken liver and onion jam inside of the roll – and while it was quite tasty, it was too big to have in one bite, and the prosciutto made it difficult to cut into a smaller piece with the cutlery that we had (a teaspoon and a two-tine fork).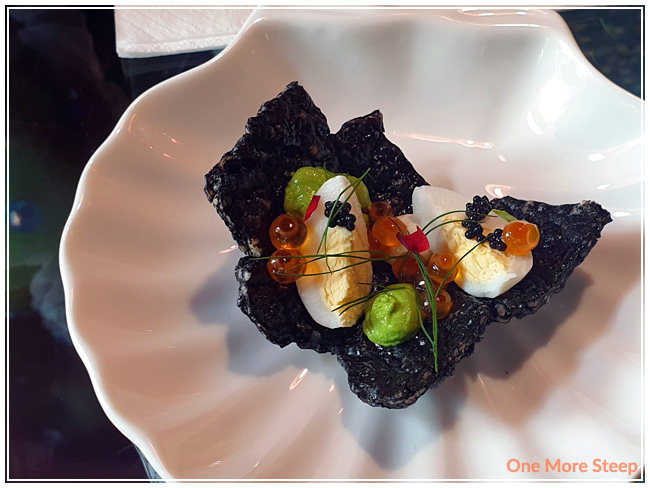 Egg Salad Charcoal Cracker
My favourite from the bottom tier would likely be a tie between the Creamy Cauliflower Truffle Soup and the Egg Salad Charcoal Cracker. There was just something about eating caviar with quail eggs off of a fancy rice cracker that just really spoke to me. I could have done without the Italian Prosciutto Roll since it was just such a clumsy thing to eat.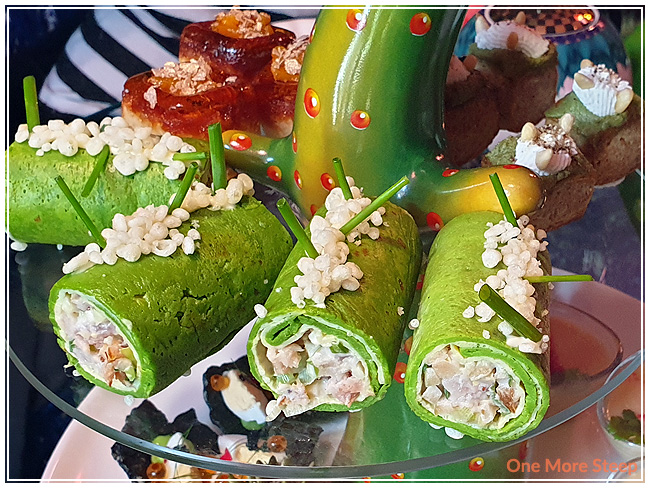 The second tier: Smoked Tuna Crêpe, Pesto Scone, and Parsnip Brown Butter Mochi Cake.
The Smoked Tuna Crêpe was almost an awkward thing to eat, but luckily it cut apart fairly easily with a fork. The crêpe itself is a spinach and herb crêpe, which was very light and easy to eat. There's smoked Albacore tuna inside, along with apples and pea shoots – and honestly it was lighter than I expected considering how dense and heavy it looked. It was tasty, but not too memorable for taste (although definitely made for some nice photos!). The Pesto Scone featured a whipped feta cheese with roasted pine nuts, and honestly the scone itself was just more dense than expected, so it wasn't a pleasant culinary experience. But the real star on this tier was the Parsnip Brown Butter Mochi Cake. I'm not saying that I'm ruined for desserts forever, but I'm saying that this little cake had a layer of hard caramel that was topped with saffron pears and golden Feuilletine flakes. And basically it was my favourite thing on this tier because I felt like a decadent little princess eating it.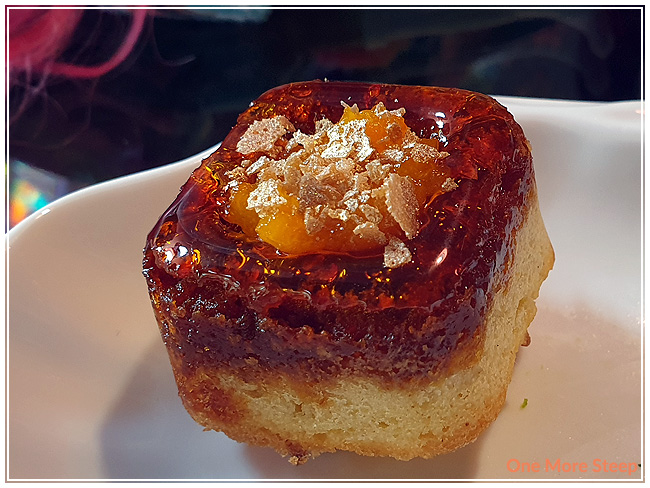 Parsnip Brown Butter Mochi Cake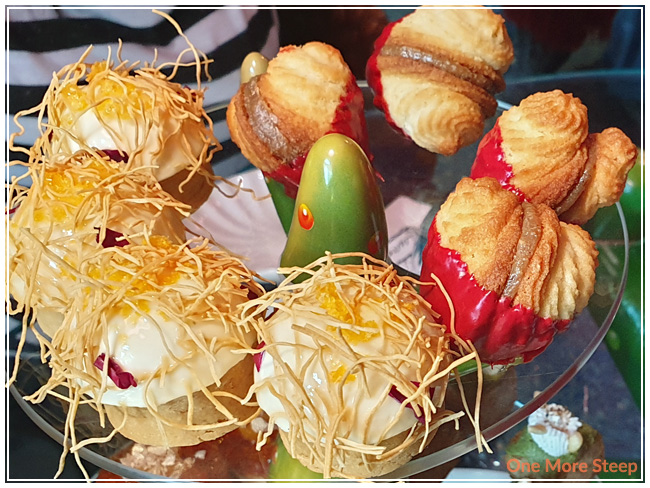 The top tier: Almond Cookie and Chocolate Ganache Tart.
First up was the Almond Cookie, which was quite tasty but harder than expected. The almond flavour was nice, but the description described it as having a coffee flavour in the almond praline and I didn't really get that too much (which is a good thing, considering coffee and me go together like oil and water). The Chocolate Ganache Tart was really fun – although, again, chocolate and coffee were mentioned in the description and I didn't really get that either (again, good thing!). This little tart featured a Lapsang Souchong tea mousse topped with crispy freeze-dried oranges. Now, for those aren't familiar with Lapsang Souchong, it's a traditional black tea that has a smokey flavour to it because of the way it was processed (literally, it's tea leaves that have been smoked), so that gave the mousse a really nice smokey flavour to it – and I found the freeze-dried oranges to be quite clever.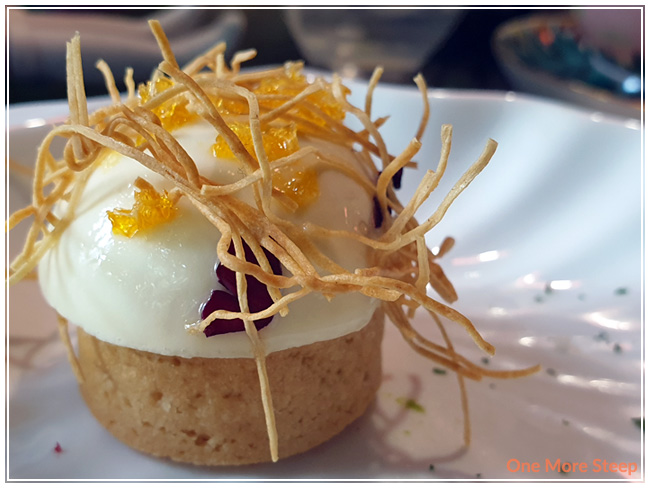 Chocolate Ganache Tart
My favourite of the two was the Chocolate Ganache Tart. It was just really clever and I loved the incorporated tea as an ingredient in the dessert. It was a great way to end off the tea.

I liked the menu from Laurence & Chico's Rabbit's Foot High Tea. The savouries were mostly well done, and I didn't find the sweets to be too sweet. It was quite decadent with the truffle, caviar, and golden Feuilletine flakes. It just felt like a really special tea and was a treat to eat with the eyes first, which was nice. I really appreciated the thought and care that went into the menu – I felt it was really generally well-balanced. I think that the tea menu was a nice length – just enough choices to give a tea lover some say in what they're having a cup of. As a bonus, the Laurence & Chico Cafe features restrooms are gender-neutral (one features mirrors and lights, the other rubber ducks!). As an aside, I would hesitate to recommend this location for anyone who wants to go to an afternoon tea with small children (due to the lack of high chairs/booster seats), and it may also be difficult for anyone with mobility issues, due to the immobility of the plush chairs. But those crazy chairs and whimsical decor is an excellent reflection of the Laurence & Chico brand, which was really fun to experience.