Raspberry Matcha by DavidsTea
Green Tea (Matcha) / Flavoured
$9.98 for 50g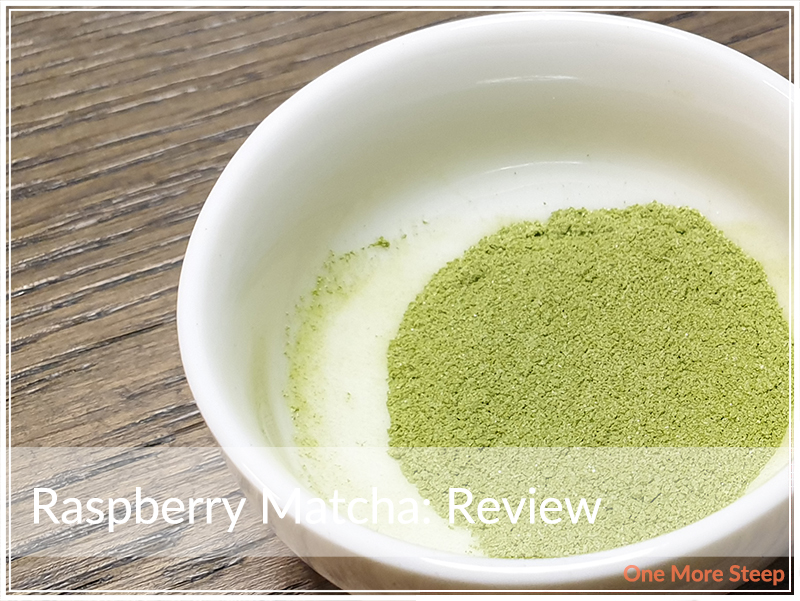 First Impressions
Another Monday, another matcha review! Raspberry Matcha comes in a sealed, resealable silver pouch. I just mentioned my opinions two reviews ago about the labelling colours and text, so I won't flog a dead horse here (but feel free to read my review on DavidsTea's Earl Grey Matcha for more opinions…). I love a good matcha blend, and the idea of a Raspberry Matcha intrigued me, so here we are!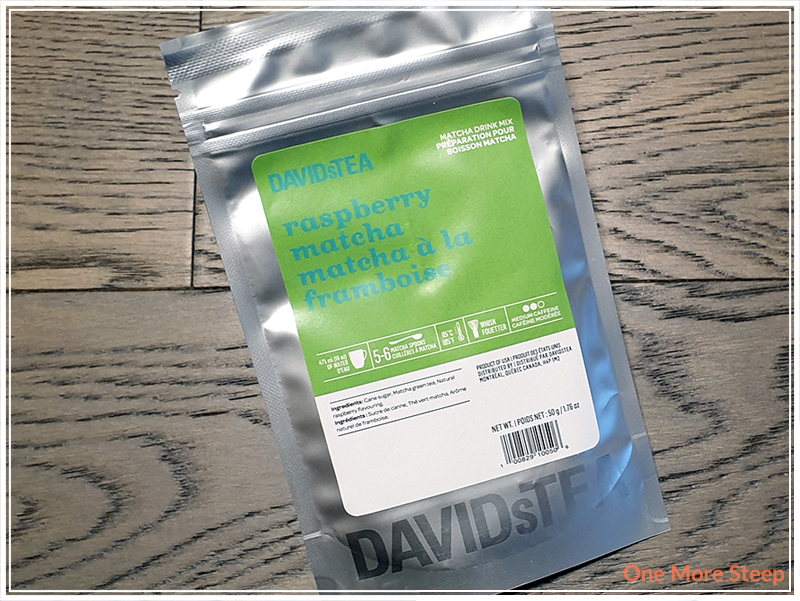 The aroma is very fruity and does remind me of berries, but not necessarily raspberry. If anything, it reminds me of blue raspberry candy (which is also pretty much acceptable in my eyes). The powder itself has a bit of a olive green colour to it, and I can see the sugar crystals from the cane sugar so I am expecting this one to be on the sweeter side. Raspberry Matcha consists of: cane sugar, matcha green tea, and natural raspberry flavouring.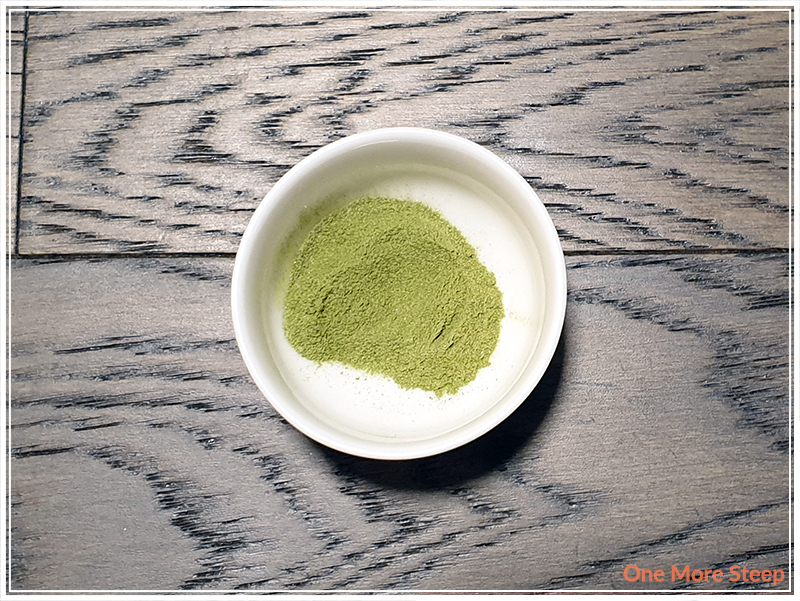 Preparation
DavidsTea recommends whisking Raspberry Matcha in 85°C (185°F) water. I followed the preparation instructions for this matcha drink mix.
First Taste
Raspberry Matcha mixes up to a dark green, easily forms a layer of bubbles on top when I whisked it up using a hand held frother. The aroma is very much a sweet, fruity/berry aroma, and it screams blue raspberry candy to it rather than a natural raspberry aroma. The flavour is (very) sweet and has that blue raspberry candy taste to it. I think it may almost be too sweet for me, which isn't necessarily a terrible thing as I can still turn it into a tea latte (which I did), but it's too sweet for me to drink straight.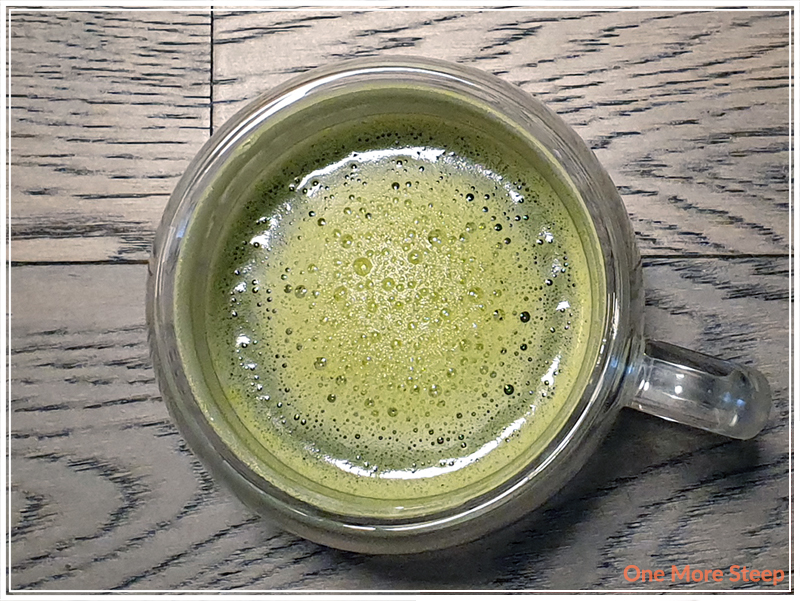 Raspberry Matcha takes to being turned into a tea latte pretty well. The addition of frothed milk helps temper down that cloying sweetness from all that cane sugar in the blend. It definitely reminds me of drinking candy when straight, but as a tea latte it reminds me of a dessert because it's not nearly as sweet.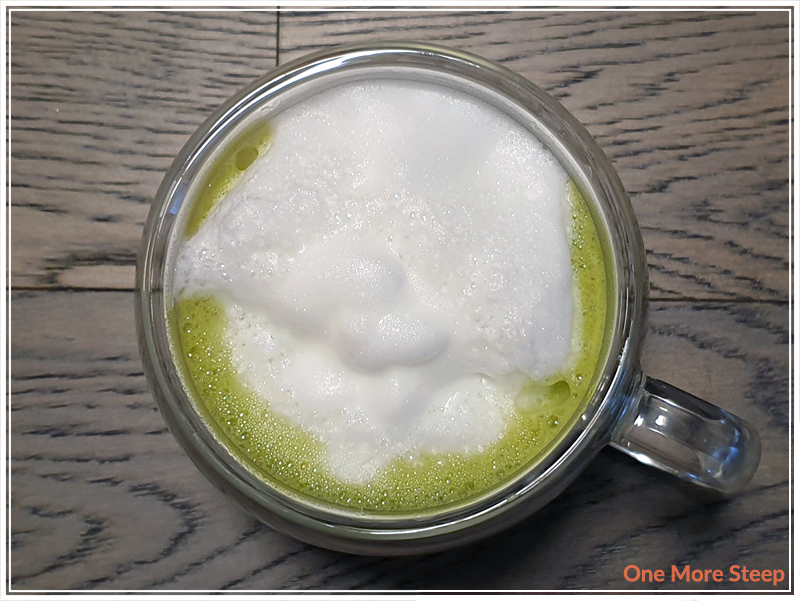 A Second Cup?
As it is a suspension, as all matcha are, there were no second steeps with the same Raspberry Matcha powder.
My Overall Impression

I liked DavidsTea's Raspberry Matcha. I did find it to be on the overly sweet side, which is why I think I just had to dock some points there. I love sweets of all sorts, but there's sometimes just too much and that's what I found here when I was drinking Raspberry Matcha straight. Once it was a tea latte, I found it delightful, like drinking liquid blue raspberry candy. I do wish that there was more of a natural raspberry flavour to it – more fruity, less candy-like, but it does make for a nice dessert-esque cup of tea.
Curious about the cup rating system? Click here to learn more.