Cha Le Tea
Vancouver, British Columbia
$3.50-4.75 for drinks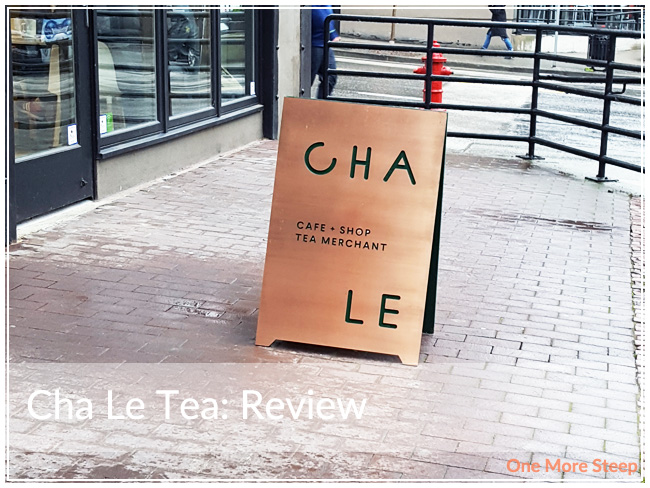 Cha Le Tea is a relatively new tea cafe and tea shop in Vancouver, BC that opened this year. It's located in the Yaletown area of Vancouver and is walking distance the Yaletown-Roundhouse Canadaline stop, if you're looking to get there via public transit. Parking is a bit of a pain on Hamilton Street (metered parking), but it is available if you luck into a spot.
Their space is charming, and the all-glass wall looking in lends itself to a lot of natural light. For this tea blogger, and other foodies, it's dream for taking photos. I went on a Thursday around noon with my friend as we wanted to meet up for lunch. When we got there, there was one other table that was occupied by a trio of men in business suits.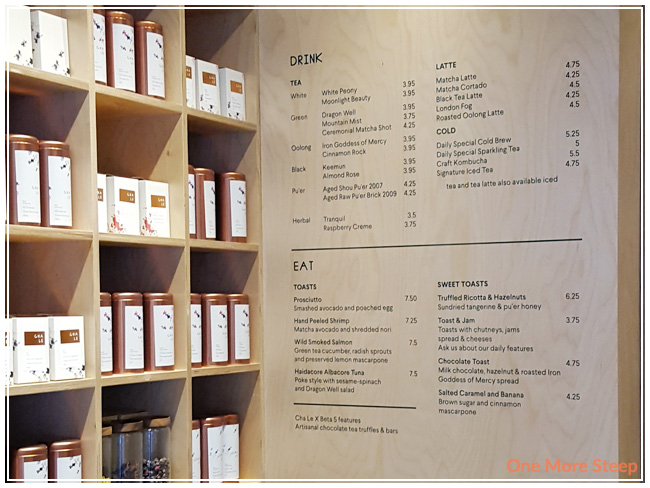 There was one wall covered with tea that was for sale, and a portion of another wall of tea that was used by the staff for steeping purposes. Drinks at this tea cafe range from $3.50-4.75. Most of their shop's tea selection is available prepared, and Cha Le uses glass vacuum brewing systems for steeping all their teas – optimizing water temperature and steeping times to ensure that the tea isn't oversteeped (nobody likes bitter tea!).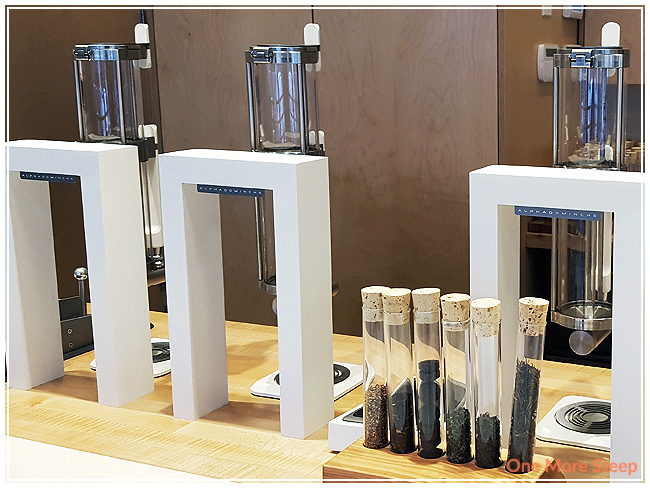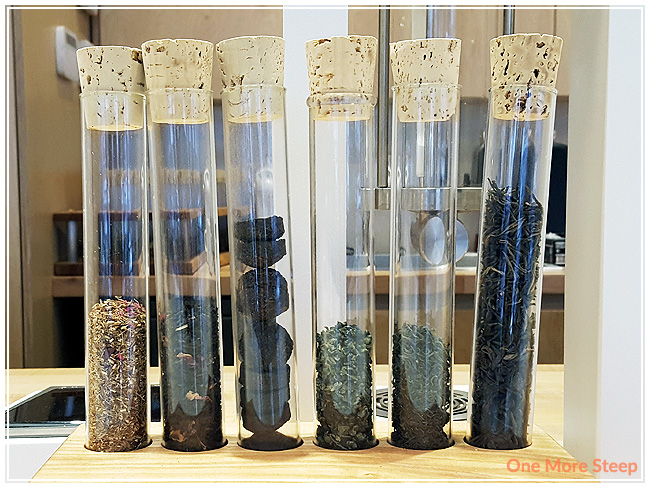 I got a matcha latte ($4.75) (my first ever matcha latte!) and my friend got a cup of Cha Le's Almond Rose ($3.95). Because we were also there for lunch, we did order some food. I got the Haidacore Albacore Tuna ($7.50) and my friend got the Truffled Ricotta & Hazenuts ($6.25). The Haidacore Albacore Tuna is Poke style tuna with sesame-spinach and Dragonwell salad. The Truffled Ricotta & Hazelnuts is just as it sounds, with the addition of sundried tangerine and pu'er honey. All of Cha Le's food options come with some kind of tea in it, which adds a really nice touch to the menu. Their menu ranges from $3.75 to $7.50.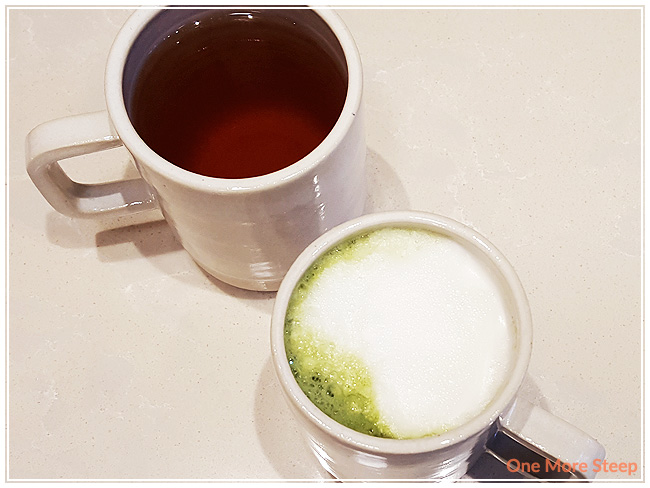 Almond Rose ($3.95) and Matcha Latte ($4.75)
My matcha latte had a very vegetal and seaweed-like taste to it. There was a dense foam on top, and the matcha latte itself had a very light sweetness to it. I'm not very familiar with matcha, but I do like green tea and it did remind me a lot of the qualities of green tea that I enjoy. Cha Le hand whisks their matcha and I did hear the whir of a machine when they were making the foam for my latte.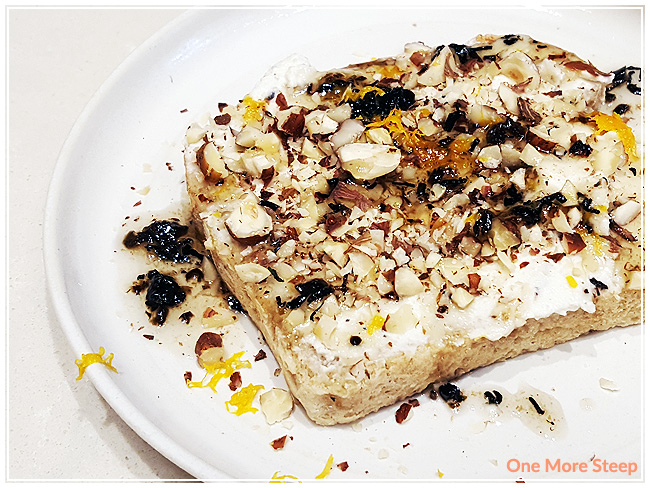 The Truffled Ricotta & Hazelnuts ($6.25)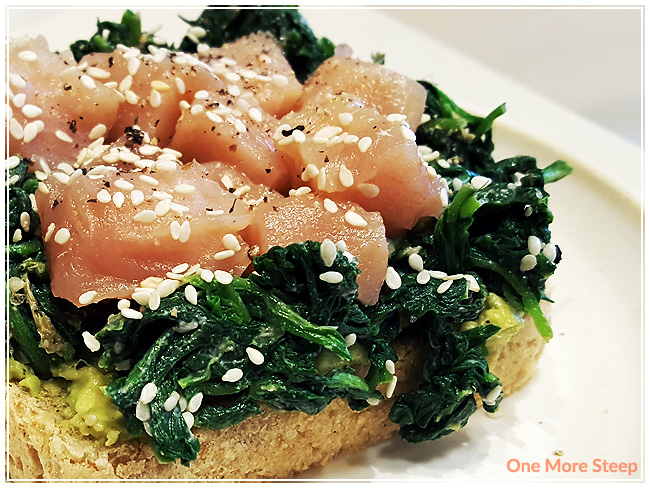 Haidacore Albacore Tuna ($7.50)
My Haidacore Albacore Tuna was delicious. The sesame-spinach definitely had some sesame oil involvement in it, and the avocado on the toast was ripe. The tuna was delicious. I'm a huge fan of sushi in general, so I was really happy with the tuna. I wasn't sure when I was looking at the menu how big the portion sizes would be, I found it to be a good size for the price (especially given the type of ingredients used!). It would definitely be a good portion size for a brunch or a light lunch.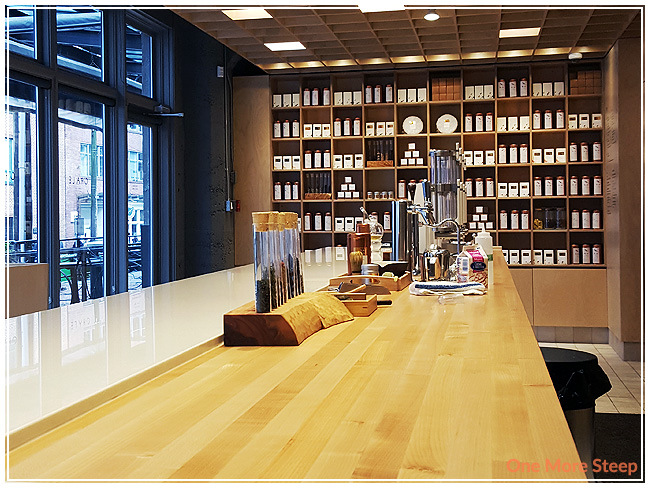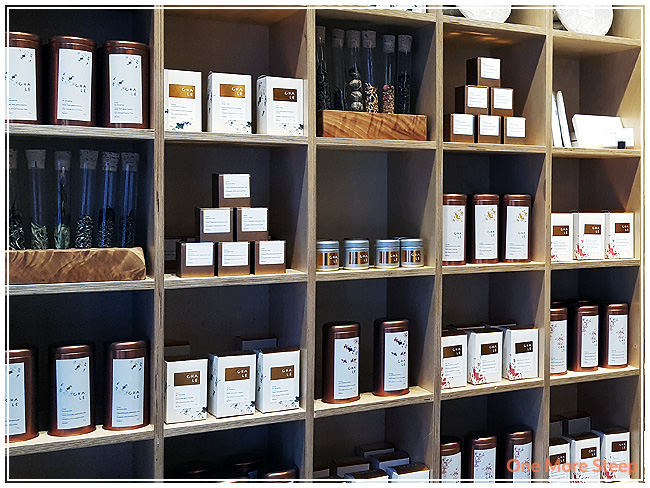 I did quickly browse through their shop section. I have a lot of tea at home right now (the perils of being a tea blogger?) and I really didn't need any new tea at the time. I will go back to do some shopping though, and it's a really nice atmosphere to be in. The steeping technology is fun and I wouldn't mind going back to try some different teas. It was a great first exposure to the matcha latte and I wouldn't mind having another one sometime.