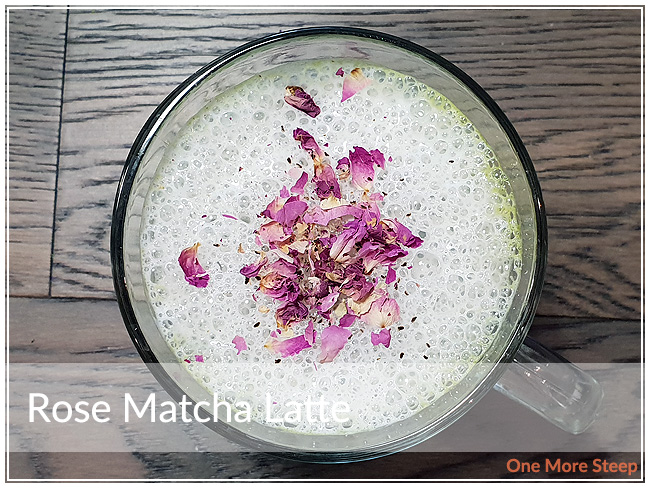 I recently tried a rose matcha latte at a cafe and it tasted like drinking perfume (and I don't like drinking perfume, or potpourri…). But I was really intrigued by the idea of a rose matcha latte that didn't taste like a dried bouquet so I set off on determining the right ratios of rose to everything else in order to get the flavour profile balanced, so I hope you enjoy trying out my Rose Matcha Recipe!
Bonus fun fact! Today (August 22nd) is One More Steep's birthday! I've been posting reviews and recipes since 2015. To date, I have written 336 reviews, and this is my fifth recipe!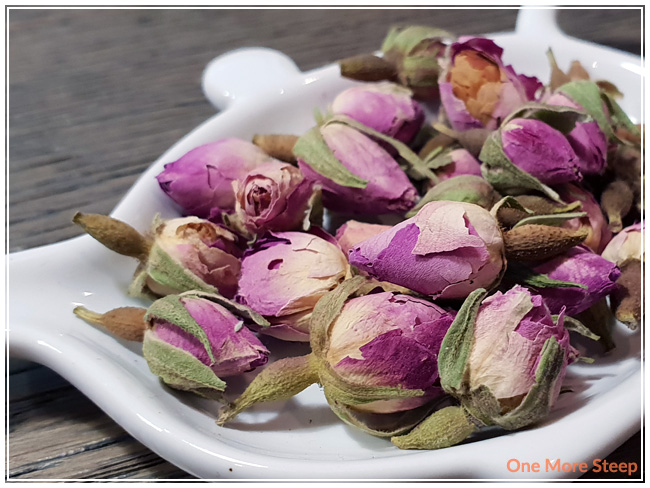 Rose Matcha Latte Recipe
1 tablespoon matcha
100mL water
1-2 tsp Rose Simple Syrup (see recipe below)
250-300mL milk (or dairy-free alternative), frothed
1-2 crushed petals from rose buds.
Sift the matcha into your bowl (or blender bottle if you're using that).
Whisk with the heated water, and then pour into a cup.
Stir in the Rose Simple Syrup.
Froth milk – use your milk frother or (my personal favourite method) shake up a mason jar.
Pour milk into the cup of tea, spoon foam over the top.
Sprinkle crushed rose petals over top.
And enjoy!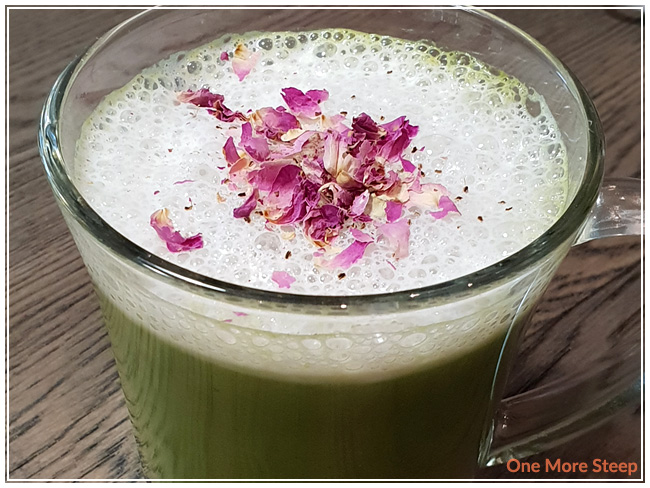 Rose Simple Syrup Recipe
1 cup sugar*
1 cup water*
1 Tbsp dried organic rose buds
* You can make more or less simple syrup depending on how often you want to have a Rose Matcha Latte, as long as you use equal parts water and sugar. You will want a clean jar/bottle on hand to store the Rose Simple Syrup.
Combine sugar and water into a saucepan and place over medium heat.
Stir until the sugar is fully dissolved.
Allow syrup to simmer for 1-2 minutes.
Add rose buds, stir, allow to simmer for an additional 2 minutes.
Remove from heat.
Once cooled, strain/remove rose buds
Pour Rose Simple Syrup into a jar or bottle and refrigerate.
The Rose Simple Syrup will keep for at least 2 weeks in the fridge – don't forget to label it with the date!

If you make this Rose Matcha Latte, I'd love to see your photos! Be sure to tag me on Instagram (@onemoresteep #onemoresteep) or comment below with a link to the photo!