Berry Blend by Chai Castle
Fruit Infusion / Flavoured
$8.00 for 50g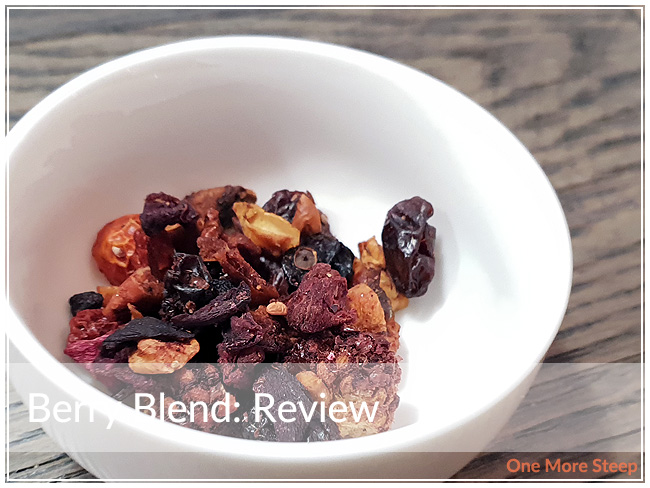 Chai Castle has provided me with Berry Blend for the purposes of providing an honest review.
First Impressions
When Chai Castle first approached me about reviewing some of their teas, I was asked which ones I wanted to try – and honestly that kind of question makes me feel like a little kid in a candy store because I just get heart eyes about the idea of choosing teas. Berry Blend spoke to me because I'm pretty sure it was in the mid 30s (… Celcius…) that day and all I wanted was iced tea, or an ice bath. The aroma of Berry Blend really speaks to its name – it smells very fruity, you can see all the different fruit ingredients in the blend, and the aroma really reminds me of a mixed field berry jam or yoghurt.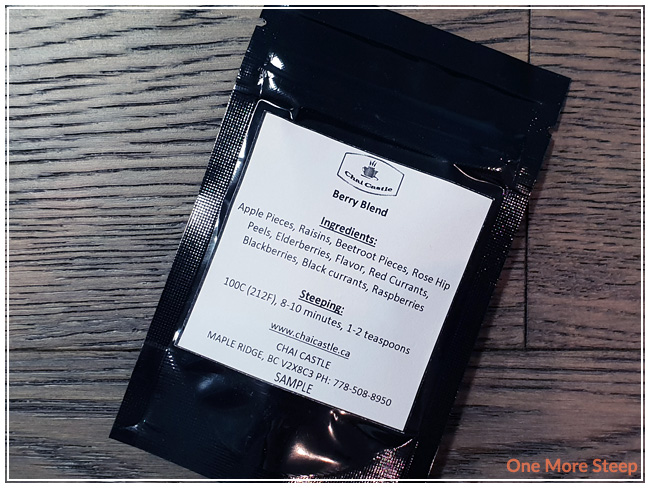 Berry Blend came to me in one of Chai Castle's sample baggies that are resealable. I really appreciate how clearly all the information is laid out about the teas on their labels. Berry Blend consists of: apple pieces, raisins, beetroot pieces, rose hip peels, elderberries, flavour, red currants, blackberries, black currants, and raspberries.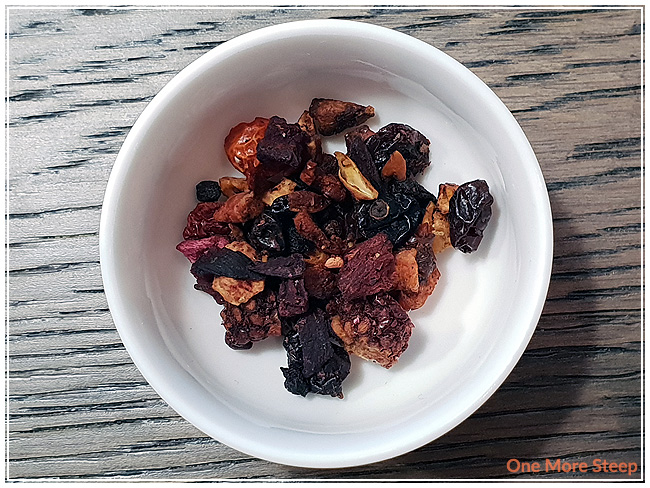 Preparation
Chai Castle recommends steeping Berry Blend in 100°C (212°F) water for 8 to 10 minutes. My initial steep of Berry Blend was for 10 minutes.
First Taste
Berry Blend steeps to a very bright reddish-pink, and I think we can all thank the beetroot for that amazing colour. The aroma is very fruity and still reminds me of mixed field berry jam like the dry leaf did. The flavour is sweet, fruity, with a touch of tartness that I believe can be attributed to the raspberries in the blend. The natural sweetness from the fruit is really pronounced, and I wouldn't dare add any additional sweetener because it does not need any – and that really speaks to the ripeness of all the fruits used prior to them being dried.
I had Berry Blend both hot and iced. While it is quite delicious hot, I think it's even better iced and that kind of mixed fruit flavour is just ideal for an iced tea.
A Second Cup?
I attempted to resteep Berry Blend, it didn't do very well. However, I wasn't particularly disappointed by it because most herbal or fruit infusions just don't do well with being resteeped, since the flavours get tapped out with the initial steep.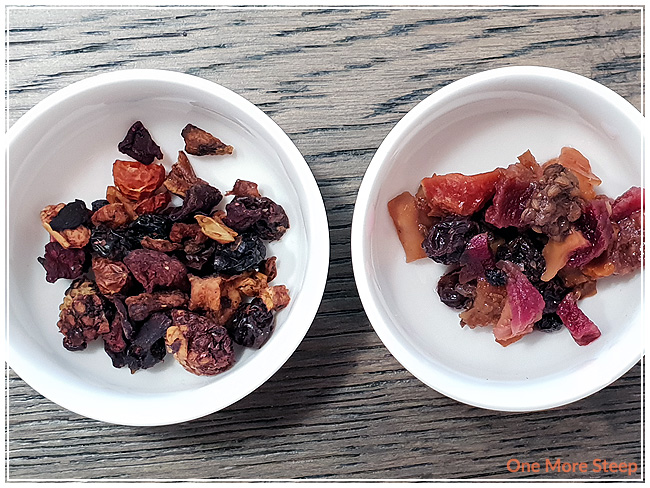 My Overall Impression

I loved Chai Castle's Berry Blend. Sometimes I find it rare that a fruit or herbal infusion smells the same from dry to steeped tea, and then tastes as what you'd expect it to. There's usually something missing or less pronounced than what I'd like, but Berry Blend definitely surpassed those expectations. I agree with the 10 minute steep time, and would really recommend having this one iced because it's so fruity and sweet. If you're a fan of mixed field berry anything, this fruit infusion is essentially mixed field berry jam in a cup.
Curious about the cup rating system? Click here to learn more.