Spicy Chai Tea Latte Mix by Trader Joe's
Black Tea / Flavoured
$3.99USD for 10oz (284g)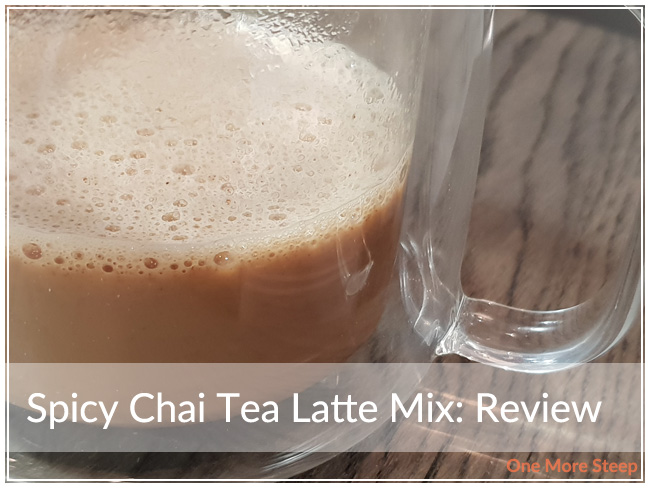 First Impressions
Big ol' tin of chai latte mix for $4USD? Don't mind if it I do! It work out to be about $5.25CAD, which isn't terrible, especially when I consider how much a comparable product might cost me in Canada! I picked up this tin of Spicy Chai Tea Latte Mix during my cross-border (mostly tea) shopping trip back in September. The tin has a plastic lid and a foil seal that I had to peel open to get to the powder inside. The powder itself is a light brown with a very mild chai spice aroma to it.
FUN FACT! Chai is another word for tea, so when someone says "chai tea", they're really saying "tea tea"! However, we've come to expect "chai" to describe spiced teas, usually like a masala chai.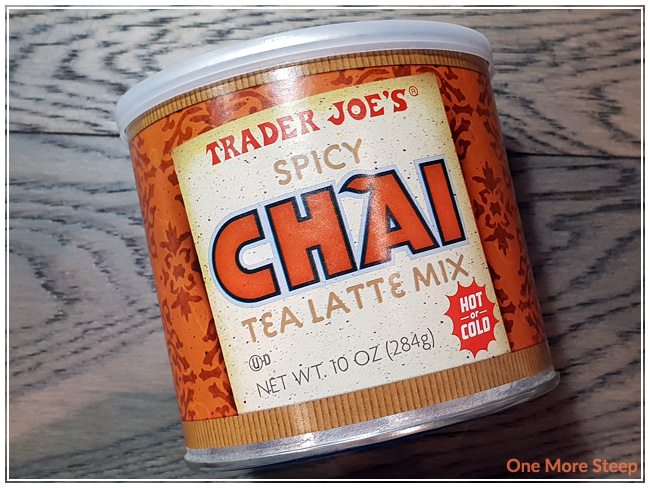 There is a scoop inside of the tin! I found it when I was using a tablespoon to scoop out the powder for my first drink. Spicy Chai Tea Latte Mix consists of: sugar, non-fat milk, non-dairy creamer, tea powder blend (with black tea), honey granules, spice blend (cinnamon, cloves, cardamom, anise, ginger), silicon dioxide, natural flavours, carrageenan and guar gum, and bourbon vanilla extract. Silicon dioxide is used to prevent clumping, carragenan is a thickening additive (from seaweed), and guar gum is another thickening agent (from beans).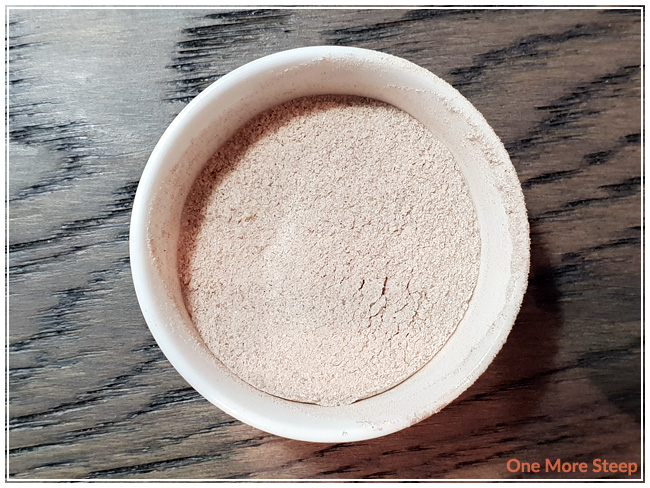 Preparation
Trader Joe's provides instructions for both making a hot or cold chai latte with the Spicy Chai Tea Latte Mix. For hot, it's 1 scoop (3 tablespoons) with 6oz hot water. For cold, it's 1 scoop (3 tablespoons) with 2 oz hot water, poured over 8oz of ice and topped with 2oz of cold water or milk. I followed the directions for a cup of hot chai latte.
Since each serving consists of 3 tablespoons (40g) of latte mix, it results in 27g of sugar per serving (if you're mixing with water). On a side note, you do get 15% of your daily intake of calcium, 2% of vitamin C and 2% of iron per serving. Given that it's 40g per serving, it is approximately 7 servings per tin.
First Taste
The aroma of the Spicy Chai Tea Latte Mix when made hot is really quite fragrant – I can smell the spicy mix, but it also does smell sweet. The colour is darker than the pale brown powder that I started off with. The flavour is primarily sweet, although I can also taste the blend of cinnamon, cardamom, ginger, and anise. It's not as spicy as I was expecting, considering the name, but it isn't bad either. I do think it is quite sweet (after all, it has sugar and honey granules in it!).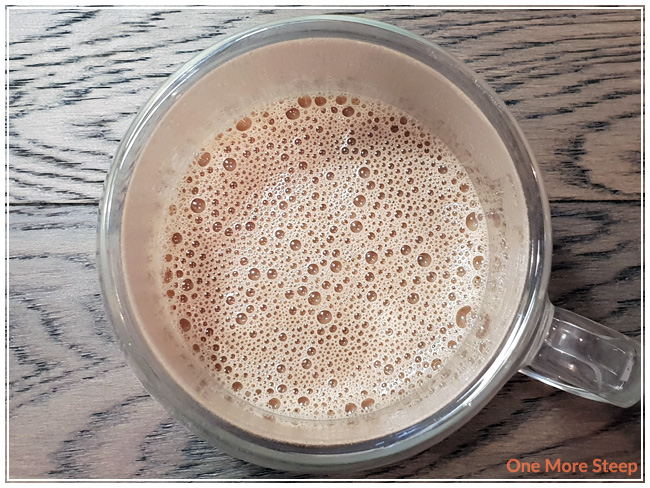 A Second Cup?
Since it is a drink mix, all of the powder dissolved with the initial drink so there were no resteeps!
My Overall Impression

I liked Trader Joe's Spicy Chai Tea Latte Mix. I did find it really sweet for me, which was a bit of a surprise since I'm usually quite fond of sweets. I think a full scoop is a bit much, considering how sugary the powdery mix is. I did try it again with double the recommended volume, but in milk (so 12oz milk plus the 1 scoop of powder) and it was quite delicious – a lot creamier, just a tad less sweet – it'll also help make the tin last a lot longer.
Curious about the cup rating system? Click here to learn more.