Pumpkin Spice by Gypsy Soul Tea Co
Black Tea / Flavoured
$7.35 for 40g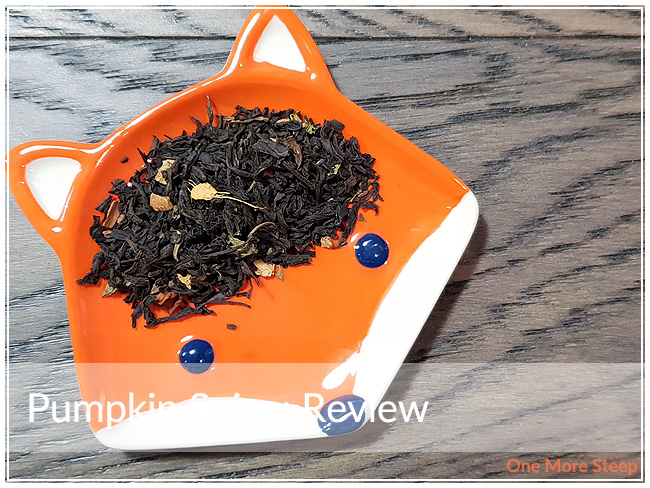 First Impressions
I stumbled across a little shop in Pitt Meadows, BC a few weeks ago called Tomes & Tales. The one thing that really drew me to it was the fact that there was a sign outside that said that there was luxury loose leaf tea inside – it's basically like a beacon to me whenever tea is mentioned! So of course I went inside and checked out the tea selection and bought a few to try. I figured it'd be seasonally appropriate to share my thoughts of Pumpkin Spice on October 31st, so here it is.
Pumpkin Spice came in a sealed (and resealable) foil bag. The other side of the bag is clear plastic so that you can see the tea itself, which is nice (but not always nice for storage if you're not keeping your tea somewhere dark). The label on the front tells me pretty much everything that I really need to do to make the tea – from ingredients to steeping instructions with a brief description about the tea.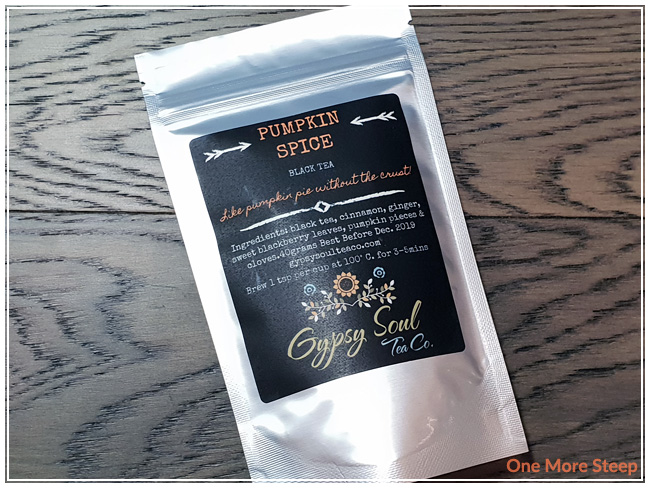 Pumpkin Spice consists of black tea, cinnamon, ginger, sweet blackberry leaves, pumpkin pieces, and cloves. The aroma of the tea is very strong from the spices, it does remind me of the smell of pumpkin pie/spice mixes. The ingredients are easily identifiable, which is nice.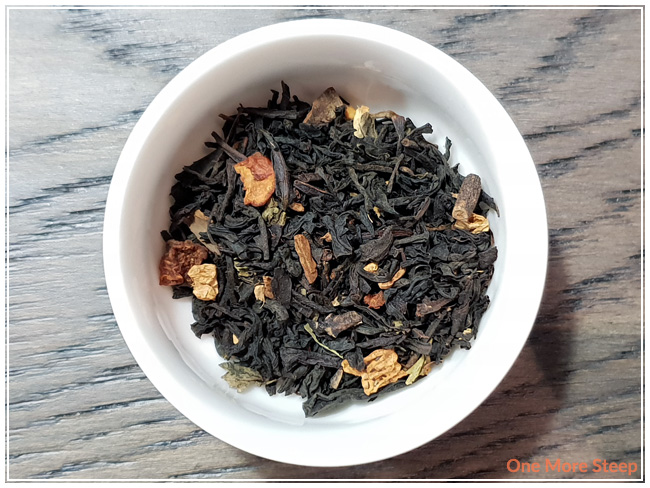 Preparation
Gypsy Soul Tea Co recommends steeping Pumpkin Spice in 100°C (212°F) water for 3 to 5 minutes. My initial steep of Pumpkin Spice was for 3 minutes.
First Taste
Pumpkin Spice steeps to a deep golden orange that is really quite fragrant. The aroma smells very strong of the spices that were present in the dry leaf as well. I can taste the black tea base, which is nice and smooth with no bitterness or astringency when steeped for the 3 minutes. I found that I could definitely taste the cinnamon, ginger, and cloves. I can't really taste the pumpkin, but pumpkin is a significantly milder flavour than the spices and it does smell and taste like a pumpkin spice mix – so it still evokes the memories of pumpkin pie.
I did add a bit of honey for a sweetener, and found it worked really well in bringing out some of the pumpkin flavour – although it really does linger in the background quite a bit.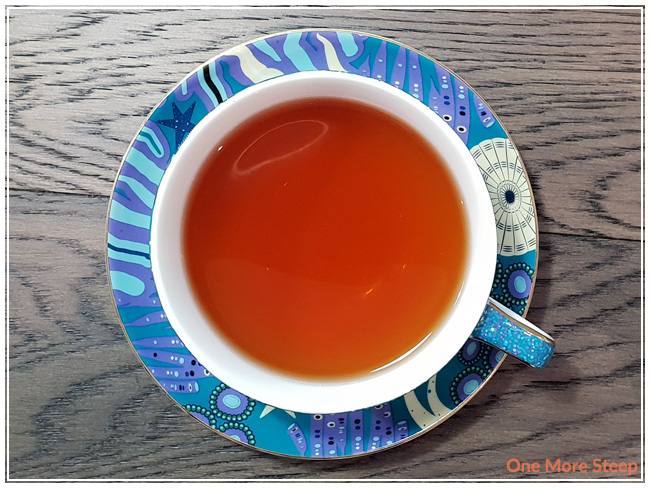 A Second Cup?
I resteeped Pumpkin Spice once, but found that the flavours were a little lacking. I felt like the spices just weren't as strong as they were in the initial steep. I would say that Pumpkin Spice is good for just one steep.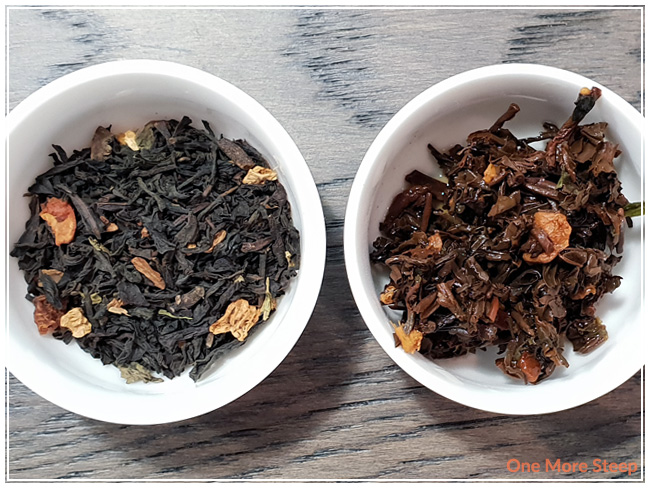 My Overall Impression

I loved Gypsy Soul Tea Co's Pumpkin Spice. I felt like the flavours did really well at representing pumpkin spice, and it had good warming qualities to it. While the pumpkin flavour wasn't very strong, it did make me think of pumpkin pie/pumpkin spice, so it certainly did a good job. If you're not a fan of plain black tea, I would recommend trying this one as a tea latte because it's the season for PSL and not everyone is a fan of coffee!
Curious about the cup rating system? Click here to learn more.