Caramel Apple & Honey by Lemon Lily
Black Tea / Flavoured
$10.00 for 50g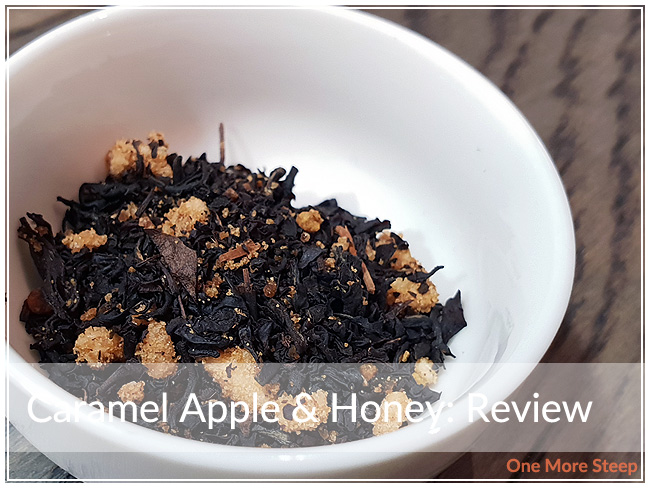 Lemon Lily's Caramel Apple & Honey came to me as part of The Sugared Teacup's October themed subscription box.
First Impressions
When I first saw the name Caramel Apple & Honey, I was intrigued. I love the idea of the classic carnival treat, but I never liked eating them because there's always way more apple than caramel – the ratio is just off! Give me more caramel, I say! Caramel Apple & Honey comes in a familiar white, matte resealable foil bag with the label on the front that tells me everything that I need to know about the tea. The tea itself is covered in palm sugar, it's super visible and pretty much everywhere (especially coating the apple pieces). The aroma of the tea is primarily that of the black tea base and the bee pollen, which gives it a honey fragrance. I feel like the bee pollen is stronger than the apple, so I can't really smell the apple pieces.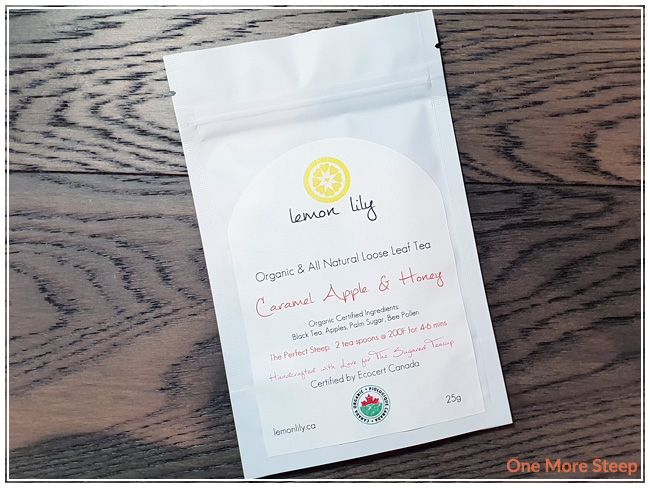 Caramel Apple & Honey consists of organic: black tea, apples, palm sugar, and bee pollen. All of the ingredients are fairly visible, the bee pollen is a different colour than I'm used to. I buy locally harvested bee pollen to take during allergy season for my seasonal allergies – if you buy bee pollen that is local to you, you'll find it comes in different colours as well because it's dependent on the type of pollen in your area.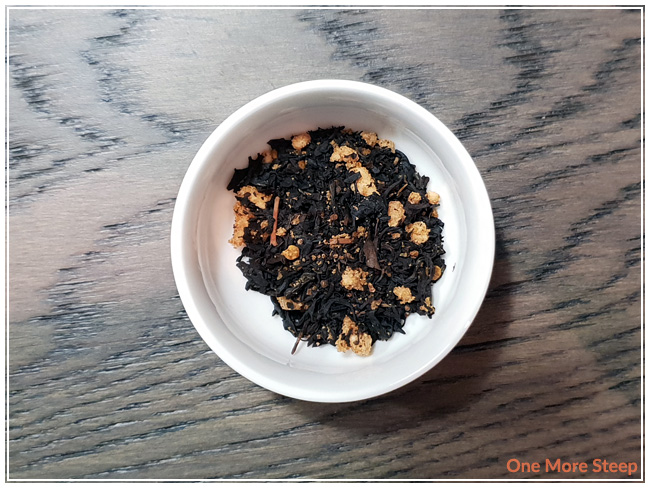 Preparation
Lemon Lily recommends steeping Caramel Apple & Honey in 200°F (93°C) water for 4 to 6 minutes. My initial steep was for 5 minutes.
First Taste
Caramel Apple & Honey steeps to a slightly cloudy brown colour. I believe part of the cloudiness is due to the addition of bee pollen, I'm pretty familiar with the other ingredients and most of them don't make tea cloudy. The aroma of Caramel Apple & Honey is primarily that of the bee pollen, honeyed sweetness. I don't really smell the apple, which is not too surprising considering I couldn't smell it in the dry leaf either. The flavour of Caramel Apple & Honey does have more honey/bee pollen flavour in comparison to the apple, but I do get a hint of the fruity apple goodness in my cup. I do wish that the apple was stronger though, to better remind me of a caramel apple.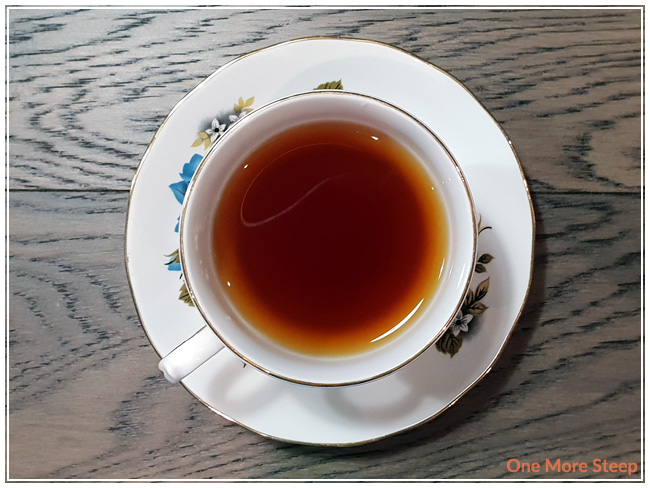 A Second Cup?
I attempted to resteep Caramel Apple & Honey and found that it didn't resteep well, I couldn't really taste the bee pollen/honey flavour. I would say that Caramel Apple & Honey is good for just one steep.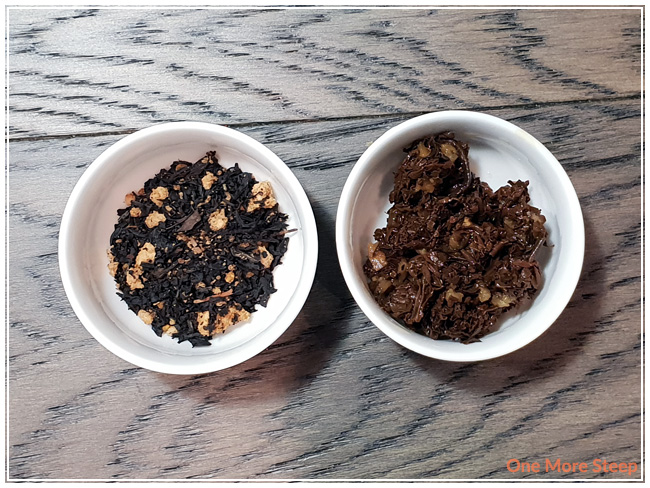 My Overall Impression

I thought that Lemon Lily's Caramel Apple & Honey was just okay. I found it almost ironic that the tea is the polar opposite of an actual caramel apple – one has more apple than caramel! That said, I really like the idea of drinking teas with bee pollen in it, and as we get closer to allergy season, I'm going to have to put this idea into the back of my mind. I want to get a bit more creative with my bee pollen intake since I don't really enjoy the dry, powdery texture of it when it's not mixed in with something (I sprinkled it into my yoghurt last year!) and dissolving it into my tea sounds perfectly doable! The one thing that I think would improve Caramel Apple & Honey would be more apple pieces to boost up the apple flavour – just a little somethin' somethin' to make it live up to its name and expectations.
Curious about the cup rating system? Click here to learn more.