Kashmiri Golden Saffron Cardamom Chai by Trudy Ann's
Black Tea / Flavoured
$21.95 for 60g (40 cups)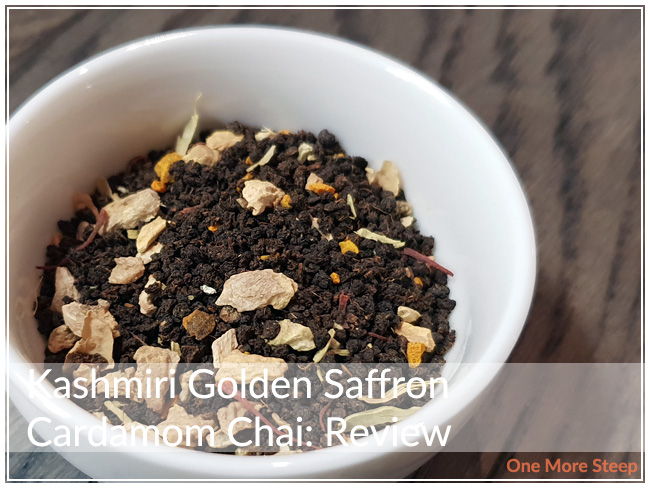 First Impressions
I first got to try Trudy Ann's Kashmiri Golden Saffron Cardamom Chai at the 2018 Vancouver Tea Festival. It was one of the teas on sample and just oh-so-good. I kept going back to the booth to sample some more before I finally broke down and bought some. Kashmiri Golden Saffron Cardamom Chai comes in a kraft paper pouch that is plastic lined and resealable. When I opened up the packaging, I did wind up giving it a little bit of a shake to redistribute the ingredients, I did have it sitting for a little bit after November so some of the smaller ingredients did settle a bit. If you ever run into that issue with any of your tea blends, I recommend closing it back up and then just giving it a few gentle shakes. This helps to redistribute the ingredients and results in tea that tastes a lot closer to what the company intended!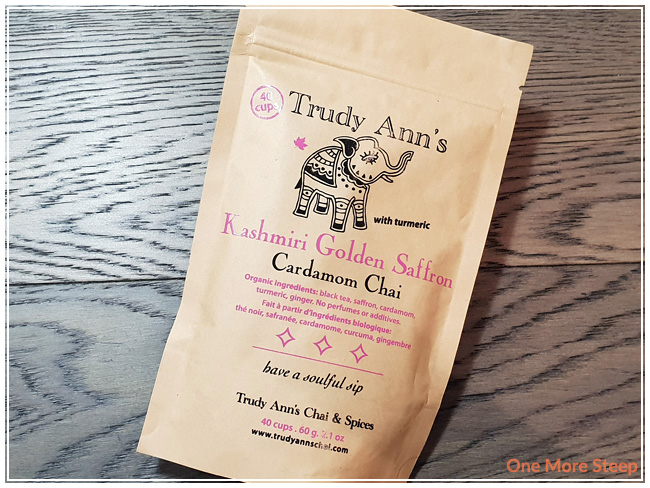 The aroma of cardamom, tumeric, and ginger are the strongest in the dry leaf of this tea – the ingredients are well represented and easily identifiable. Kashmiri Golden Saffron Cardamom Chai consists of organic: black tea, saffron, cardamom, tumeric, and ginger.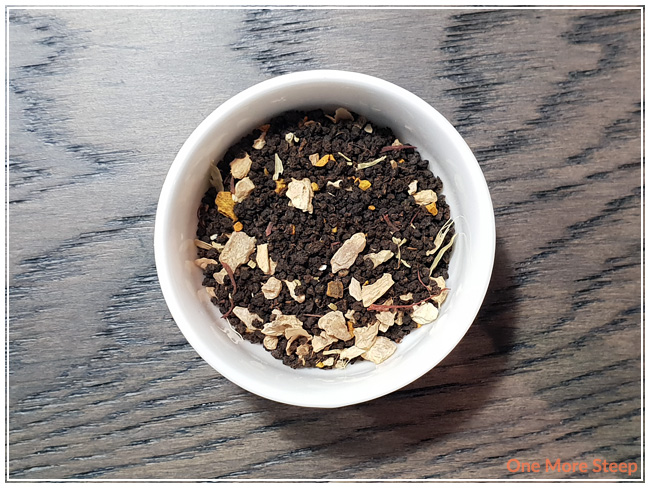 Preparation
Trudy Ann's gives multiple directions of steeping – ranging from steeping in a cup, stove top, or iced. I opted to follow the instructions for a cup, which was to steep in hot water for 5 to 10 minutes and then strain out the tea leaves. I opted to use 100°C (212°F) water and steeped for 7 minutes.
For the iced chai instructions, it is to steep 1tsp of tea in ½ cup of hot water for 5 to 10 minutes and then add a ½ cup of ice cubes and then pour the whole thing over vanilla ice cream. This sounds like a most excellent idea for the summer time!
First Taste
Kashmiri Golden Saffron Cardamom Chai steeps to a beautiful deep red with a bit of a yellow glow to it. The aroma is primarily that of the cardamon and tumeric, with a hint of the ginger in the background. The flavour of the tea is sweet, I can taste the cardamom, ginger and tumeric with just a hint of the saffron in the background. Kashmiri Golden Saffron Cardamom Chai has a surprisingly thick mouthfeel to it, it's very pleasant and I found it to be quite smooth.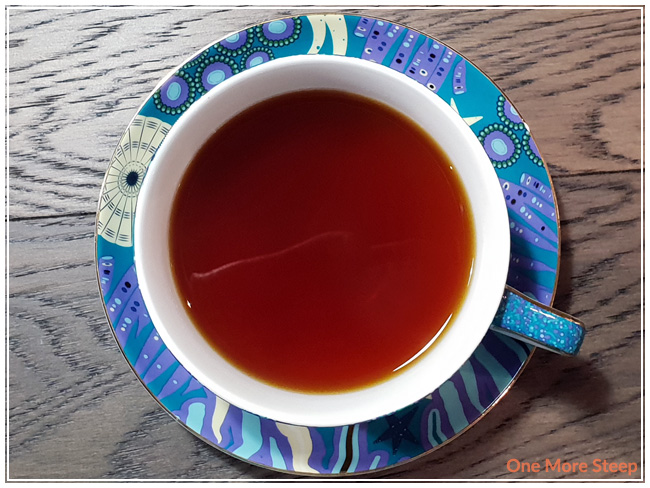 I honestly think this would be so good as a tea latte, it'd be a pleasant mix of golden milk (tumeric + milk) and a chai latte.
A Second Cup?
The packaging of Kashmiri Golden Saffron Cardamom Chai includes instructions for a second steep, which is to steep for 10 to 15 minutes. I opted to steep for 12 minutes and found that the resteep was very tasty. It lacked that thick mouthfeel that I found in the initial steep, but the flavour profile was still very similar to the initial steep.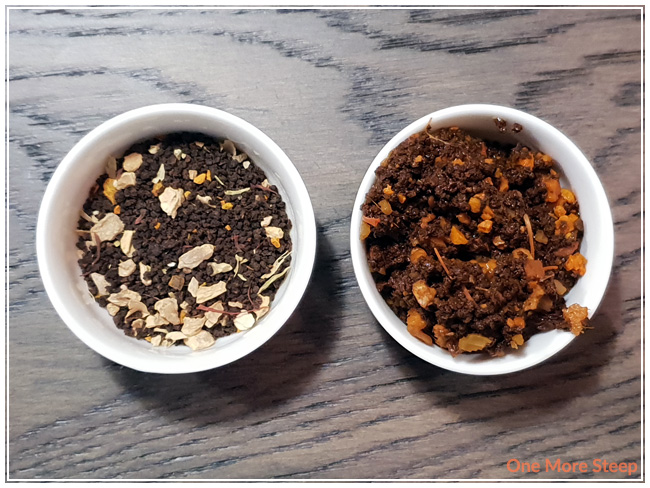 My Overall Impression

I loved Trudy Ann's Kashmiri Golden Saffron Cardamom Chai. I found the balance of flavour between the cardamom, ginger, and tumeric to be so well balanced, it made for just such an enjoyable cup of tea. The hint of saffron, which played quite nicely with the heavier flavours of the spices, just made this tea feel a little bit luxurious to smell, steep, and drink. And for anyone who's frowning heavily at the cost of a bag, which I honestly did when I first thought about buying it until I realized I drank a dozen small cups worth of samples – it works out to be $0.55/cup which is so much cheaper than a tea to go at a local coffee shop and with more expensive & delicious ingredients!
Curious about the cup rating system? Click here to learn more.