Grand Cru Matcha by DavidsTea
Green Tea (Matcha) / Straight
$24.98 for 50g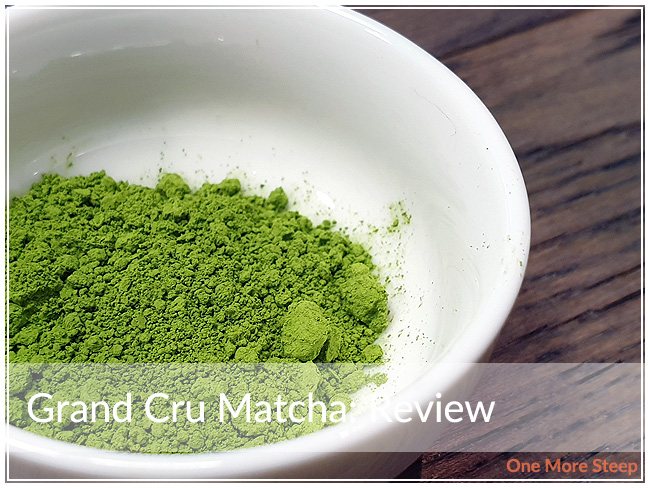 First Impressions
Sometimes I like to pat myself on the back for actually remembering to post about matcha on a Monday for #matchamonday – although I am aware that I may be the only one who cares about this. Grand Cru Matcha from DavidsTea is one of the pricier matcha options from this Canadian tea company, I actually got mine through the Frequent Steeper program ($100 in purchases → 100 points → 50g of any one tea, with some exceptions).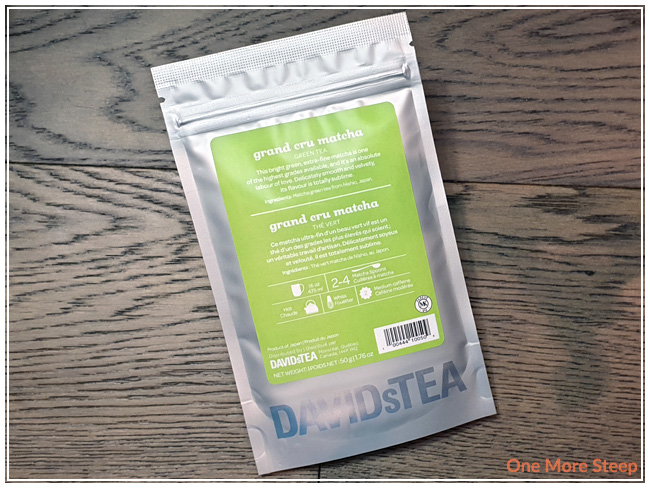 Grand Cru Matcha comes in a sealed, resealable foil bag. Because it came with an online order, instead of me going out to the closest local retail location, it came with a coloured printed label. Grand Cru Matcha is a lovely bright green powder, it has a strong grassy aroma to it. This straight matcha consists only of matcha green tea from Nishio, Japan. A little internet search tells me that Nishio is the largest producer of matcha in Japan.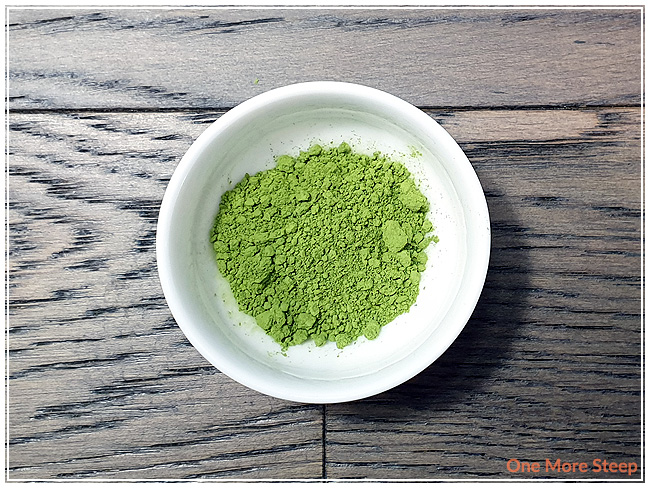 Preparation
The packaging for Grand Cru Matcha recommends steeping tin hot water, and preparing with a whisk. On the product page of DavidsTea's website, the recommendation is to whisk the matcha with 75°C (170°F) water. The lowest temperature my Breville IQ Kettle goes to is 175ºF, so I allowed the water to cool for approximately 5 minutes before whisking.
First Taste
How I typically prepare matcha is to sift the powder, and then whisk with a small amount of water. After it's well whisked with a frothy top, I add water to thin it out since I don't like my matcha too thick tasting. When photographing for this review, I forgot to take a photo of the matcha when it still had to froth, so instead I have a photo of after adding water to thin it out.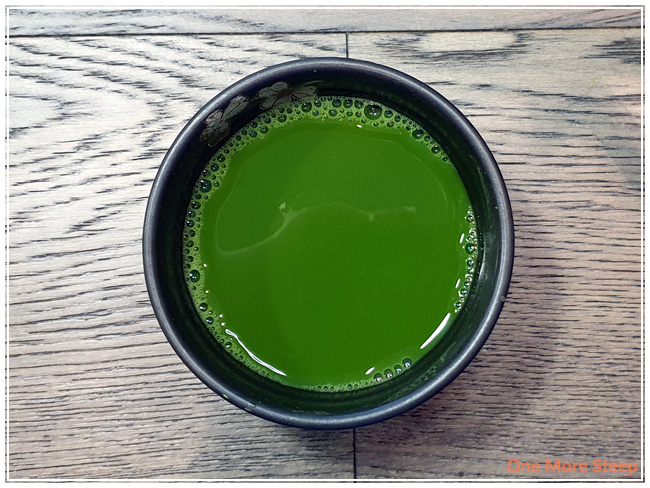 Grand Cru Matcha is a darker green once whisked. The aroma from the matcha is mostly grass with some vegetal notes. The flavour of Grand Cru Matcha is a mix of salty, grassy, vegetal flavours (reminds of me spinach, to be honest!), with some umami notes. There's a pleasant smoothness to this matcha that makes it goes down easy.
If you're not a fan of the umami/salty notes, you can always add a bit of sweetener when turning this into a matcha latte. I've also seen some posts online about mixing Grand Cru Matcha with some lemonade for a bit of a summery drink!
A Second Cup?
Grand Cru Matcha, like other matcha, is a suspension, so there are no repeat steeps!
My Overall Impression

I loved DavidsTea's Grand Cru Matcha. There was something zen-like about the process of me preparing this matcha, and then drinking it was a little adventure in itself. I love the act of sifting and whisking matcha, it's just a lot more involved than simply steeping a cup of tea – although there's nothing wrong with that either. Grand Cru Matcha has a lovely flavour balance of grassy, umami, and vegetal notes that I think a lot of people who enjoy matcha would like. It is on the pricier end of DavidsTea's tea selection, so it may be a good idea to get to a store to get a smaller amount or use a redemption reward on it!
Curious about the cup rating system? Click here to learn more.