Organic Matcha Latte by Naked Teas Galore
Green Tea (Matcha) / Flavoured
$3.25 for 25g sampler or $14.95 for 227g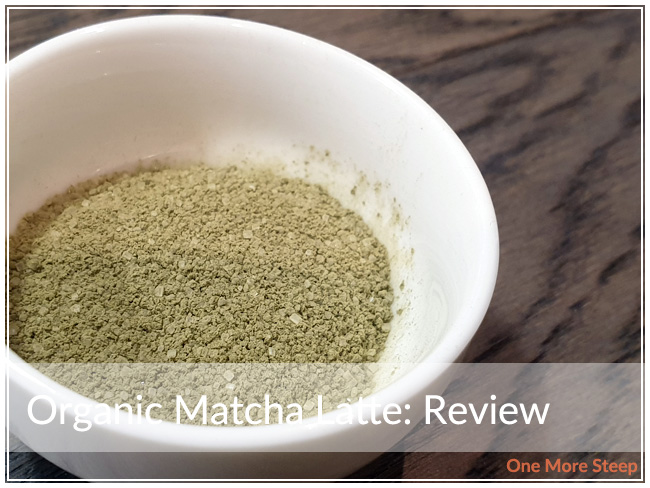 First Impressions
Organic Matcha Latte was a little packet I picked up when I was at the Naked Teas Galore retail location in Langley, BC some time ago. I really appreciated that their flavoured matcha selection was available in both sample packets as well as much larger bags (25g vs 227g!). I opted for a few 25g packets so I could get a couple cups to try before committing to a larger bag or tin. Organic Matcha Latte comes in a sealed, resealable foiled bag. The front label tells me the name and ingredients, the back provides preparation instructions.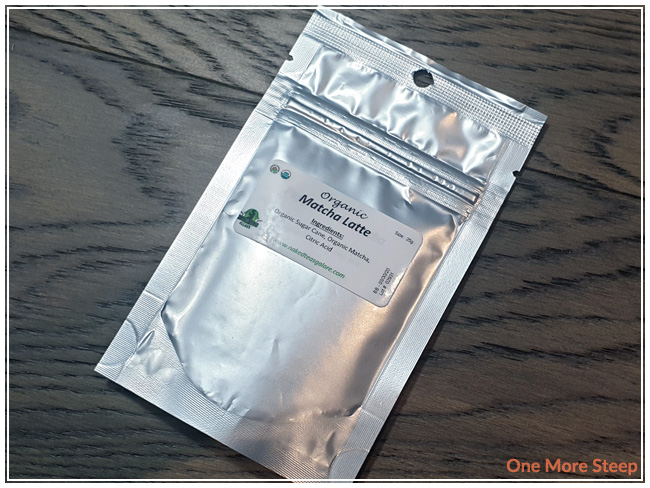 Organic Matcha Latte isn't as green as I expected, nor bright. The colour reminds me of a shade of green I might find in some moss or something like that. There is a considerable amount of cane sugar granules, so I really wasn't able to sift the powder when preparing it. Organic Matcha Latte consists of: organic cane sugar, organic matcha, and citric acid. The powder blend smells a bit sweet, I can't really smell the matcha.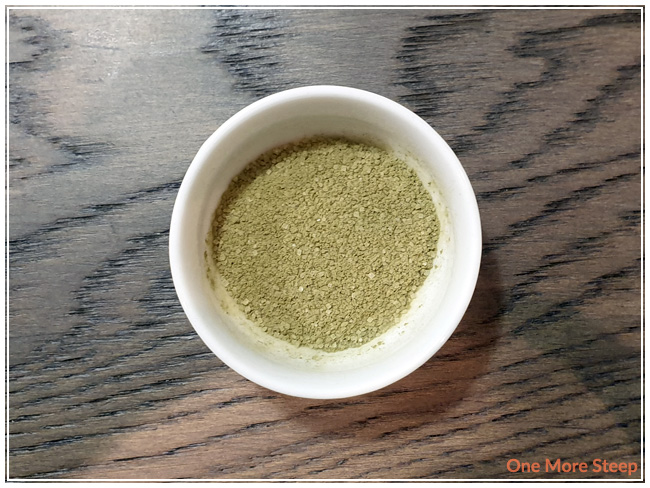 Preparation
Naked Teas Galore provides preparation instructions for making this either hot or cold. For hot, it's mix with a hot milk of your choice. For cold, it's to add the powder blend to a shaker cup, and then add ice and milk. I didn't sift the powder, because the cane sugar granules are so large, and I mixed this with heated unsweetened organic soy milk directly in the cup.
First Taste
Organic Matcha Latte doesn't really colour the soy milk too much – soy milk is naturally a bit of a cream colour, and the Organic Matcha Latte just gives it a slightly dull green colour. Organic Matcha Latte does taste sweet – I can taste all that cane sugar! I found that the matcha flavour was very mild – I didn't note any grassy or umami flavour notes in the profile of the drink, with just a hint of matcha flavour at the tail end of each sip.
A Second Cup?
As always, matcha cannot be 'resteeped' because you drink everything all up.
My Overall Impression

I didn't like Naked Teas Galore's Organic Matcha Latte. I think this blend was just disappointing to me from the get-go. From the lack of green in the powder, to the colour of the drink after mixing it – it just wasn't what I was expecting it to smell, look, or taste like because it lacked the flavour profile of matcha for me.
Curious about the cup rating system? Click here to learn more.