Blue Lagoon by DavidsTea
Fruit Infusion / Flavoured
$7.98 for 50g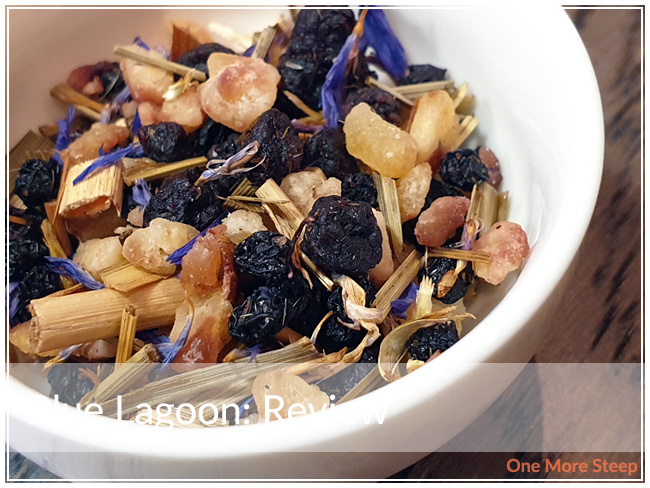 First Impressions
I picked up Blue Lagoon on a whim during the Semi-Annual Sale on the DavidsTea website. It was on sale as the blend was being retired – and at the time of writing no longer available on the website, but I know there are a lot of Facebook groups where people resell bags of sealed tea… Blue Lagoon comes in the familiar sealed, resealable silver foil bag with a yellow label that gives me all the information about this tea.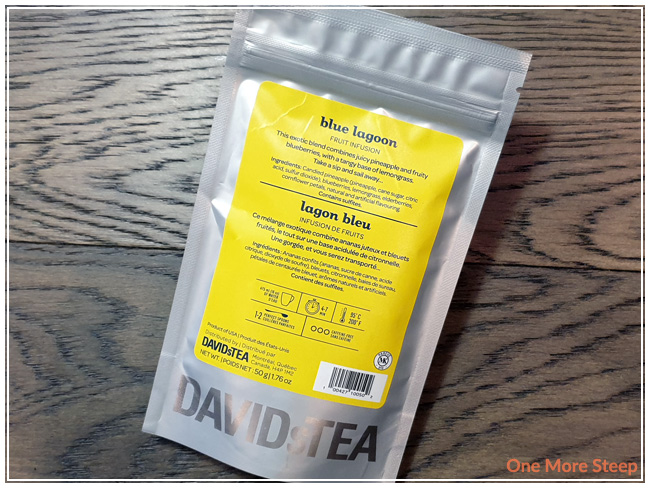 On first sniff of this fruity blend, the first thing I think is that there is a lot of fruit in the mix. The aroma is very fruity, and the majority of what I can make out is the berries – blueberries specifically. Blue Lagoon consist of: candied pineapple, blueberries, lemongrass, elderberries, cornflower petals, natural and artificial flavourings. This fruit blend also consists of sulphites, which is used to help maintain shelf longevity in food.
Preparation
DavidsTea recommends steeping at 200°F (95°C) for 4 to 7 minutes. I opted to do an initial steep for 7 minutes.
First Taste
Blue Lagoon steeps to an interesting colour that I wasn't quite expecting from a fruity infusion – a reddish brown. Honestly, it was a bit off-putting when I first came back to it after the long steep time. The aroma is very sweet and and fruity, which does match the taste of the blend. I can taste berries and pineapple, and a large amount of sweetness – it's almost too sweet for me.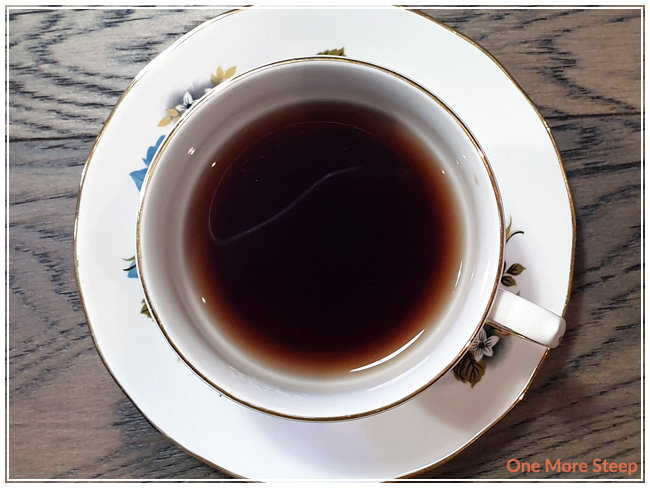 A Second Cup?
I attempted to resteep Blue Lagoon but found the second steep of the same leaves to be very watery and tasteless in comparison the initial steep. I would recommend Blue Lagoon for just one steep.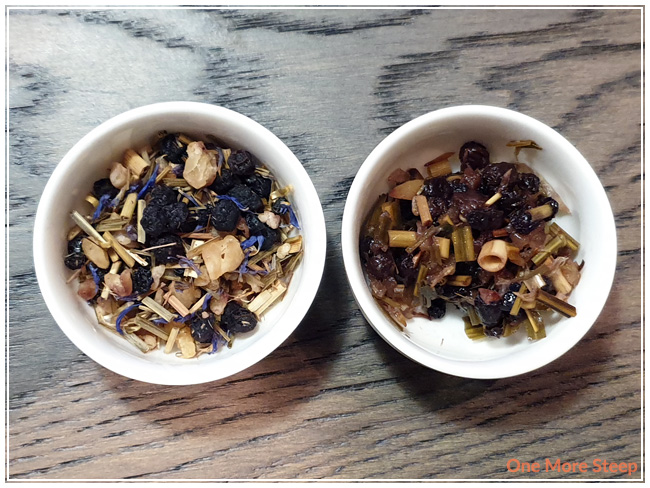 My Overall Impression

I thought that DavidsTea's Blue Lagoon was just okay. Blue Lagoon stays consistent throughout for me – smelling and tasting fruity and sweet. I think it was just too sweet for me, even though I am a self-proclaimed sweet tooth. The colour was a bit off-putting, but it's the sweetness that really killed it for me. I think this would be a great candidate to cold steep or mix with minimally sweetened lemonade, because the acidity would help balance against the sweetness from the candied pineapple and berries.
Curious about the cup rating system? Click here to learn more.