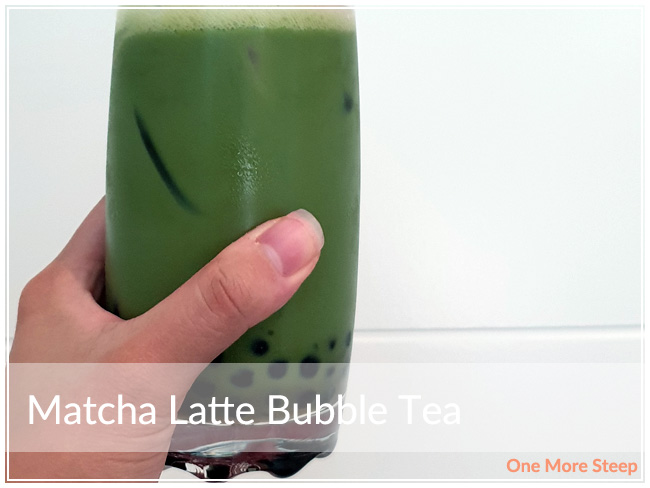 Less than a week since publishing my London Fog Bubble Tea recipe and here I am with another bubble tea! While matcha has a long history, it has enjoyed a surge in popularity in recent years as it's been deemed a superfood. Matcha provides you with caffeine without the crash and is the basis for this bubble tea recipe.
There are different grades of matcha and each one has their own use. A lower quality matcha is a great option for baking, while a higher quality matcha should be reserved for drinking straight. While price isn't the only thing to consider, the quality is typically reflected in a higher price point (usually at least $1 per gram). The colour is brighter, the aroma is stronger, and it creates a brighter green cup of matcha. The first tip is to look for a matcha that only contains matcha – no sugar, no other additives of flavouring.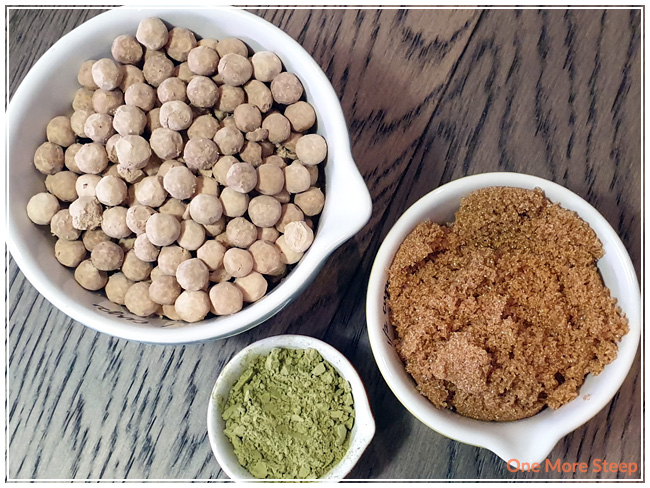 Matcha Latte Bubble Tea Recipe – Serves 2
Tea
2 cups water (79°C/175°F)
4 teaspoons of matcha
½ teaspoon vanilla extract
Tapioca Pearls
½ cup black tapioca pearls
4 cups water
Simple Syrup
1 cup brown sugar
1 cup water
½ cup milk (dairy or non-dairy alternative)
Ice cubes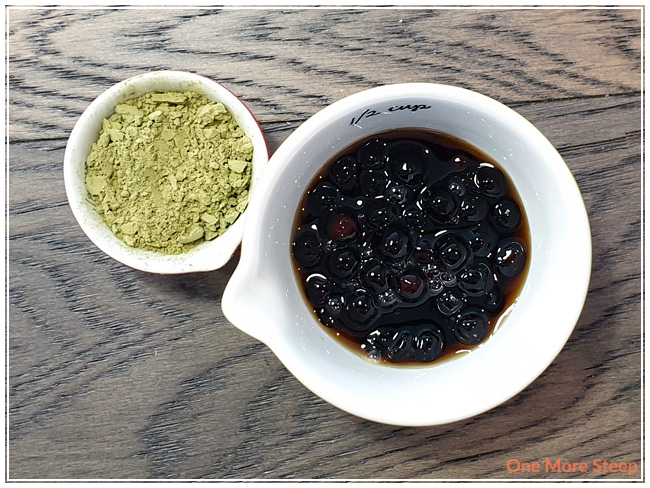 Prepare Simple Syrup
Mix 1 cup brown sugar and 1 cup water together in a small pot.
Heat until the sugar is fully dissolved and allow Simple Syrup to simmer for 5-10 minutes.
Remove from heat and set aside.
Prepare Tapioca Pearls
Heat 4 cups of water in a small pot until boiling.
Add tapioca pearls.
Stir to prevent the pearls from sticking together.
Follow cooking time on the packaging – you'll know that the pearls are cooked when they're dark and translucent. Most black tapioca pearls need to be cooked for a minimum of 30 minutes, so check the package directions!
Strain out the pearls, and rinse under cool running water to wash off the extra starch.
Add pearls to Simple Syrup.
Set aside until ready to use.
Do not prepare tapioca pearls too far in advance, if left for more than 4-6 hours after cooking, they get very tough/chewy. Leaving the pearls to 'swim' in a Simple Syrup bath will help prevent them from sticking, and also make them sweeter.
Prepare Matcha
Sift the matcha powder into a bowl (do each portion separately if using a small bowl).
Whisk together matcha with warm water.
Add vanilla extract.
Set aside to cool.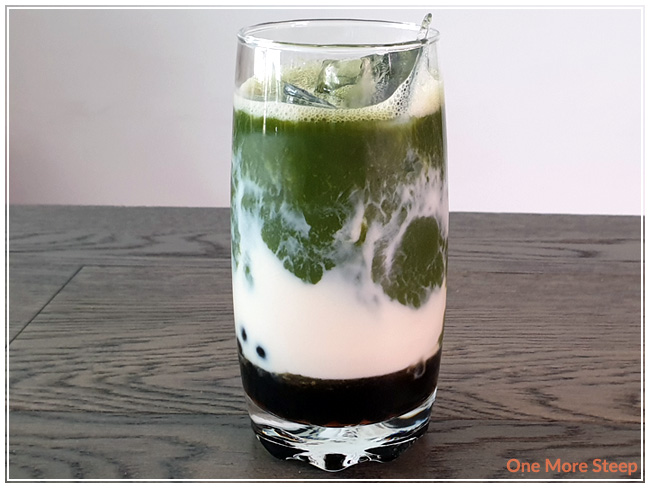 Now to just put all the components together! In each tall glass, layer the following:
¼ cup cooked tapioca pearls in Simple Syrup
Ice, to fill glass
¼ cup milk
1 cup matcha (with added vanilla extract)
Serve with wide bubble tea or smoothie straw to make it easier to drink the bubble tea and to mix the layers together.
Excess Simple Syrup can be kept in the fridge in an air-tight container for up to 2 weeks in the fridge – don't forget to label it with the date!

Tea Tip! Get all of your matcha mixed in one go by sifting the matcha into a measuring glass, and using a handheld milk frother to mix the matcha and water together.
If you make this Matcha Latte Bubble Tea, I'd love to see your photos! Be sure to tag me on Instagram (@onemoresteep #onemoresteep) or comment below with a link to the photo!