Chocolate, Berries & Cream by Dessert by Deb
Black Tea / Flavoured
$9.00 for 50g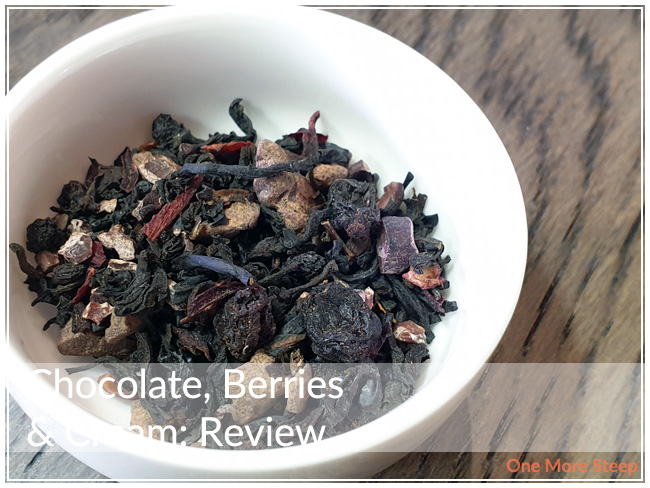 First Impressions
By now, the matte white bags from Dessert by Deb feel familiar. They're heat sealed and resealable, once you've opened it. The first thing that I noticed when I opened by the bag of Chocolate, Berries & Cream is the aroma. It honestly smells the way I'd expect a tea with this name to smell. It really reminds me of the aroma of a strawberry creme chocolate – and I don't say that too lightly since I'm a fan of chocolate.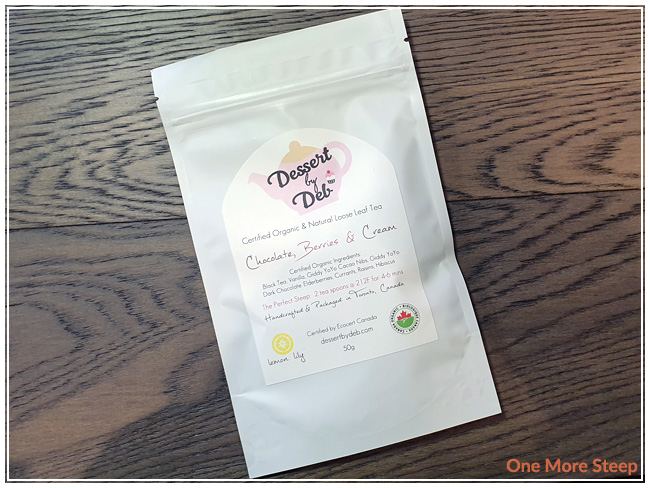 Chocolate, Berries & Cream consists of organic: black tea, vanilla, Giddy YoYo cacao nibs, Giddy YoYo dark chocolate, elderberries, currants, raisins, and hibiscus. The aroma of the ingredients is really well reflected in the name, I'm honestly a bit surprised that strawberries isn't an ingredient because it reminds me so much of strawberries.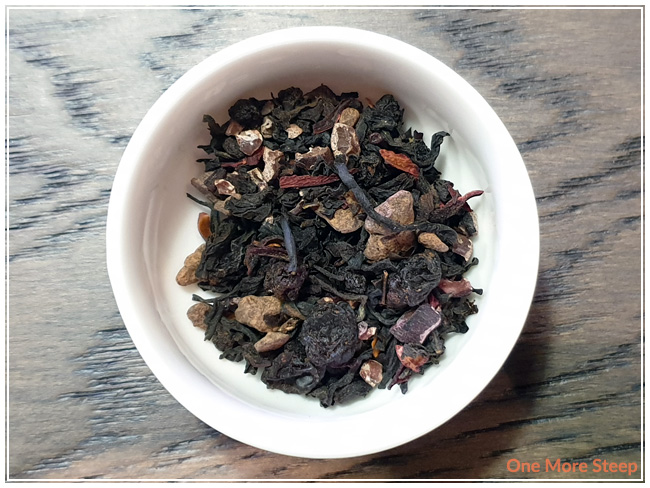 Preparation
Dessert by Deb recommends steeping Chocolate, Berries & Cream in 212°F (100°C) water for 4 to 6 minutes. My initial steep of Chocolate, Berries & Cream was 5 minutes.
First Taste
Chocolate, Berries & Cream steeps to a dark reddish brown, a colour I'd attribute to the chocolate, the hibiscus, and the black tea in the blend. There is a bit of an oil slick on the surface of the tea, which I think is from the natural oils from the dark chocolate. The steeped tea smells like berries and chocolate. I found that it had a light, sweet fruity flavour, and there was a slight bitterness from the dark chocolate. I can't really pick out the black tea base, but I think that's because some of the flavours are mingling there and are just overpowering the black tea – which isn't a bad thing.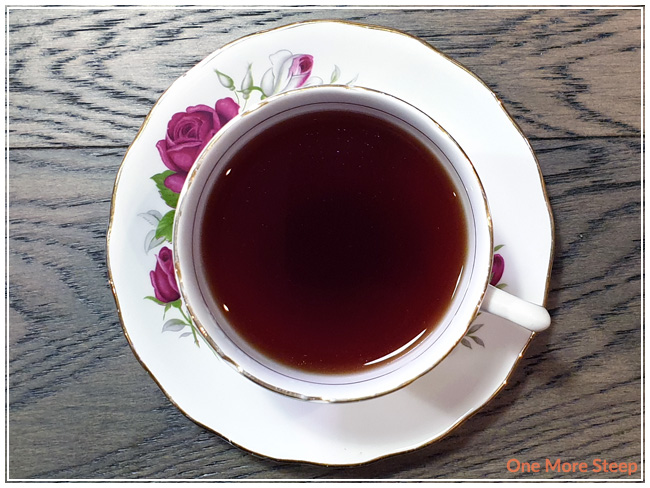 I did try Chocolate, Berries & Cream with a touch of evaporated milk and organic cane sugar, and found that it helped to temper the bitterness from the dark chocolate and helped brighten up the berry flavour in the initial steep.
A Second Cup?
I resteeped Chocolate, Berries & Cream once. I found that it lacked in the chocolate and berry flavour, which is what really drew me to this tea initially. I would recommend steeping Chocolate, Berries & Cream just the one time.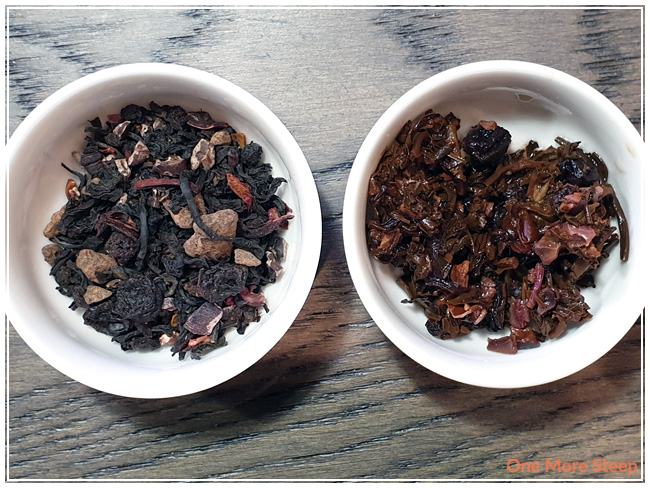 My Overall Impression

I liked Dessert by Deb's Chocolate, Berries & Cream. I found that the name of the tea is well represented in the dry leaf and the steeped tea. It made for an enjoyable experience, and did quite well being doctored with some sweetener and cream. I can see this being a fun tea to introduce to friends and family are new to tea and want a caffeinated tea to help bring them over from the dark (coffee) side. It also just makes for a fun fruity black tea blend that really reads as a dessert tea, which couples well with the Dessert by Deb name.
Curious about the cup rating system? Click here to learn more.