Coconut Maple Custard by Dessert by Deb
Black Tea / Flavoured
$9.00 for 50g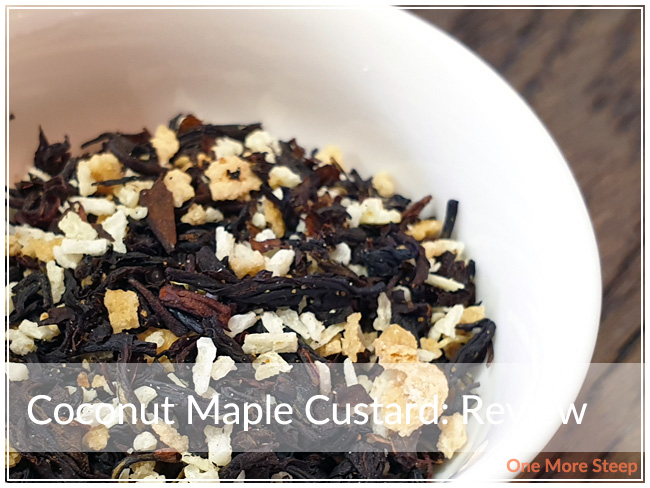 First Impressions
Coconut Maple Custard came in a now-familiar packaging – a matte white foil bag that's heat-sealed and resealable (so important for tea storage!). The colourful label on the front gives me information about the all organic ingredients and how to steep it. Simple and the point, which is always nice.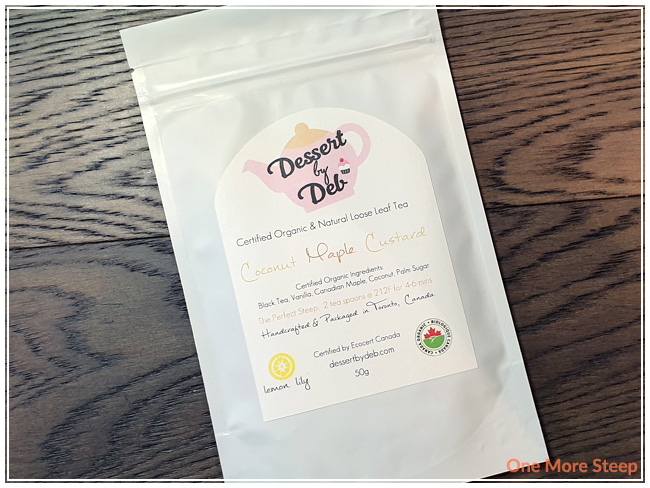 Coconut Maple Custard smells like cake and coconut – there's some strong vanilla notes in this blend! I don't really smell maple, but there is something in there that smells sweet. Coconut Maple Custard consists of certified organic: black tea, vanilla, Canadian maple, coconut and palm sugar. I love how visible the ingredients are in this blend (and how much it smells like cake!).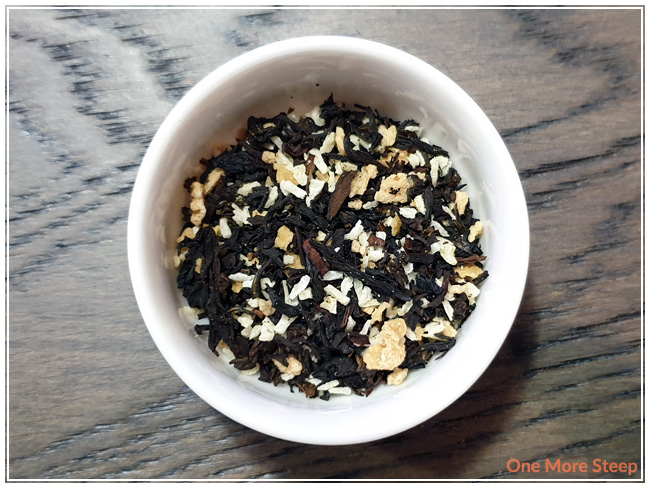 Preparation
Dessert by Deb recommends steeping Coconut Maple Custard in 212°F (100°C) water for 4 to 6 minutes. I opted to do an initial steep for 5 minutes.
First Taste
Coconut Maple Custard steeps to a golden red colour. There's some mild amounts of oil floating on the surface, which I attribute to the coconut. The aroma of the steeped tea is mostly the vanilla and coconut, which is pleasant. The flavour of this black tea blend is a mix of coconut, vanilla, sweetness, with light maple syrup notes in the background. It's quite pleasant and there's a bit of robustness in the black tea base that reminds me of a breakfast tea.
I did try it with a bit of evaporated milk, just to make it taste even more like a dessert. I think maple syrup would be a good sweetener option for this tea to help amplify the maple flavour.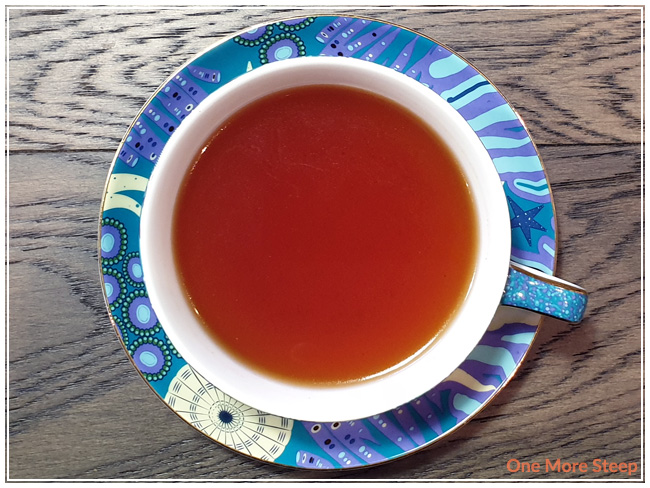 A Second Cup?
I attempted to resteep Coconut Maple Custard once and found that the flavour wasn't that great compared to the initial steep.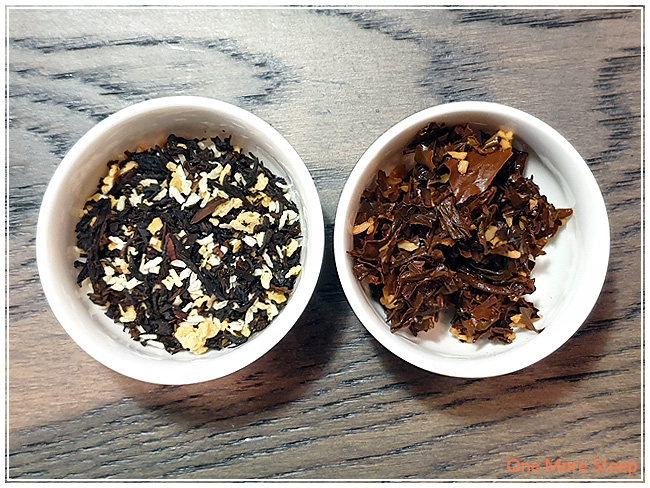 My Overall Impression

I liked Dessert by Deb's Coconut Maple Custard. I thought that the flavour profile was really forward with the coconut and vanilla, and it did make me think of a dessert (more cake than custard, but I attribute that to the vanilla notes). I liked the sweetness in the blend, and found that the maple was hiding on me in the dry leaf but I was able to taste it in the steeped tea. I would recommend adding a touch of evaporated milk or cream, and perhaps some maple syrup to sweeten it – it helps amplify the flavours and also make it even more dessert-like! But you can always opt to omit the maple syrup if you're trying to be good.
Curious about the cup rating system? Click here to learn more.