Dragonwell Green by Tea By C
Green Tea / Straight
$10.00USD for 1oz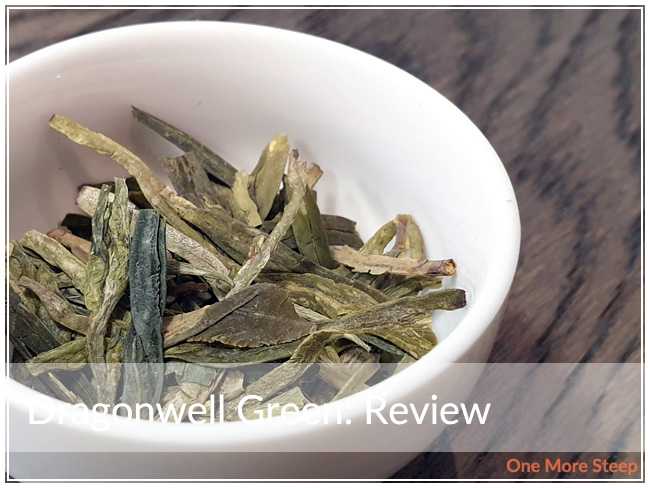 Tea By C has provided me with Dragonwell Green for the purposes of writing an honest review.

If you head over to my Instagram page (@onemoresteep), I've partnered up with Claire from Tea By C for a giveaway! The winner will receive a Starter Kit, which is the first box of a tea membership. Giveaway is open until October 9th 2019, winner announced October 10th 2019.
First Impressions
This is the first of a trio of tea reviews featuring products from Tea By C – C being Claire. Tea By C is a California based tea company and she first reached out to me to see if I would be interested in trying out her product (of course, the answer was yes!). She sent me a trio of customer favourites/best sellers and I'm so excited to be sharing the first review. This is Dragonwell Green, which is a loose leaf tea that came in a kraft paper pouch that's resealable. The label on the front provides information regarding ingredients, steeping instructions, as well as caffeine level. The bag includes the URL for the product page (as well as a handy QR to scan), the weight of the package, as well as the mailing information for Tea By C.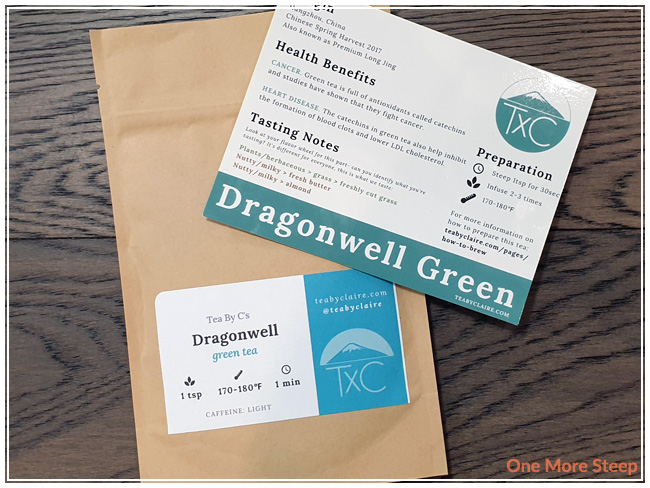 Dragonwell Green also came with an info card which includes information of the harvest (location, time, and year), health benefits, tasting notes, steeping recommendations, how the tea was prepared/roasted, as well as the Dragonwell mythology. The leaves themselves are beautiful, long, and flat. They consist of varying shades of green from a yellow green, to bright green, to olive. The aroma is very light – I would say it reminds me primarily of freshly cut grass.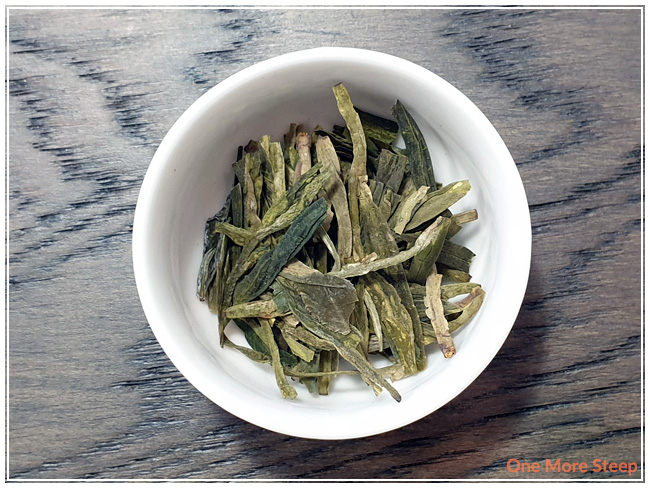 Preparation
Tea By C recommends steeping Dragonwell Green in 170-180°F (77-82°C) water for 30 seconds to 1 minute. I opted to steep at 175°F (79°C) for 1 minute.
First Taste
Dragonwell Green steeps to a very pale yellow. I found it to have a grassy, buttery aroma to it. The flavour of the tea is pleasant – I found it to have a nice sweetness that isn't too overwhelming, as well as some grassy flavours and there is a buttery creaminess to it. I didn't taste any almonds though, which was mentioned on the info card, but I did enjoy the flavours that I did taste. There's a nice crispness to the tea that I think would lend itself nicely to being had as an iced tea.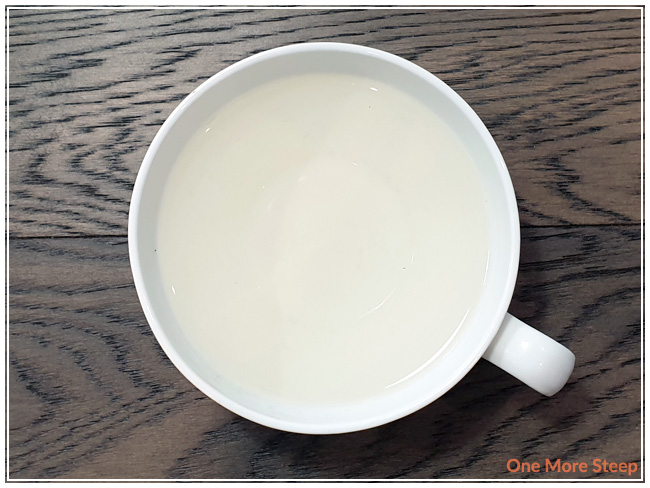 A Second Cup?
I resteeped Dragonwell Green three times (four steeps total with the same leaves), adding an additional 30 seconds for each subsequent steep. Tea By C suggests that the leaves can been steeped 2 to 3 times. I found that the colour got more golden yellow with the first two resteeps, and got lighter with the third. The flavour remained very similar to the initial steep, I found that the grassy notes got a bit lighter and the creaminess from the buttery quality of the flavour got stronger. It stayed quite pleasant throughout.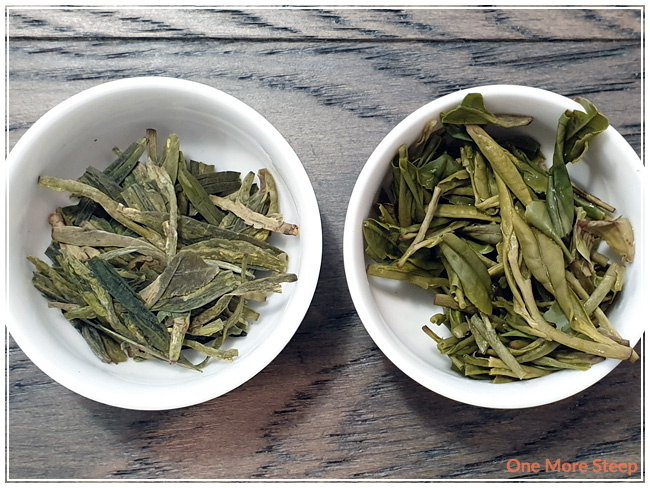 My Overall Impression

I loved Tea By C's Dragonwell Green. I've been a sucker for a good Dragonwell for a while now, and this one just really ticked off all the boxes for me from the beautiful dry leaf, to the first cup, to the multiple steeps of the same leaves (successfully, might I add!). I really enjoyed the whole experience from reading the informational card and having some tasting notes to look for while making this tea, and I just really enjoyed the flavours that I got out of this green tea. It was really nice to be able to get the information about this tea (location & harvest month and year), it was an added bonus to get that much information about the tea.
Curious about the cup rating system? Click here to learn more.