Tea Tasting Triad by Tea by C
$52.00 USD for 3 Teas (6oz) & Accessories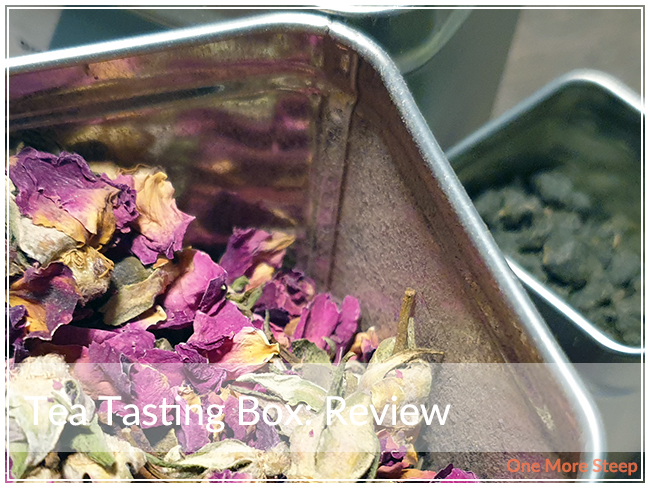 Tea By C has provided me with the Tea Tasting Triad for the purposes of writing an honest review.
Tea by C's Tea Tasting Triad is ready for the holidays and I was quite pleased when Claire asked me if I would be interested to take a look at it. This box consists of three teas (more on that soon!), a tea tasting guide and flavour wheel (the rolled up poster at the top), and a tea infuser for any cup of teapot that you might be using. It all fits quite neatly into a sturdy mailing box and makes for a good presentation if you're going to be having this mailed to someone as a gift – I would be happy to open this up!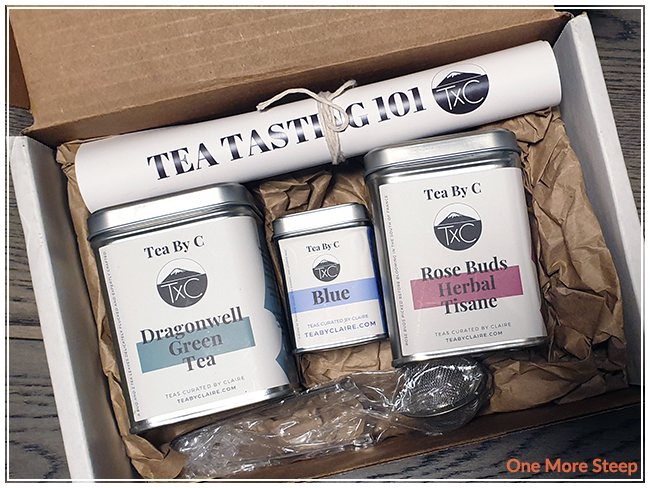 Also included with the box are three tasting cards about each tea: Dragonwell Green (green tea), Blue People Oolong (oolong tea), and Rose Buds (herbal tisane). They're quite nice quality – sturdy cardstock, lots of information about each one, and there's a bonus card about tea in general – a nice touch for those who are receiving this kit as a gift who are new to tea or don't know a lot about it yet.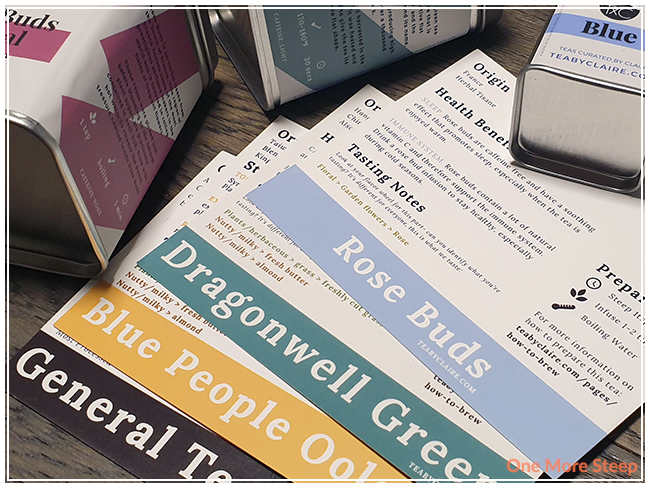 The tins are lovely, and the lids are quite tight on, which is great for maintaining freshness of the tea and preventing the leaves from going stale. I actually had the opportunity to review all three of these teas last year, and wrote full reviews for each Dragonwell Green, Blue People Oolong and Rose Buds. I enjoyed all of them, and I had a nice cup of Blue People Oolong while working on this post.
I used the metal tea strainer that was included in the kit – it's easy to use and similar to one that I used when I first started exploring tea. The thing about these strainers is to not overfill! Tea leaves need room to expand, so you don't want to overfill half of the ball because the leaves won't have room to move and open up their leaves. I would fill the half sphere about half full in order to give it space.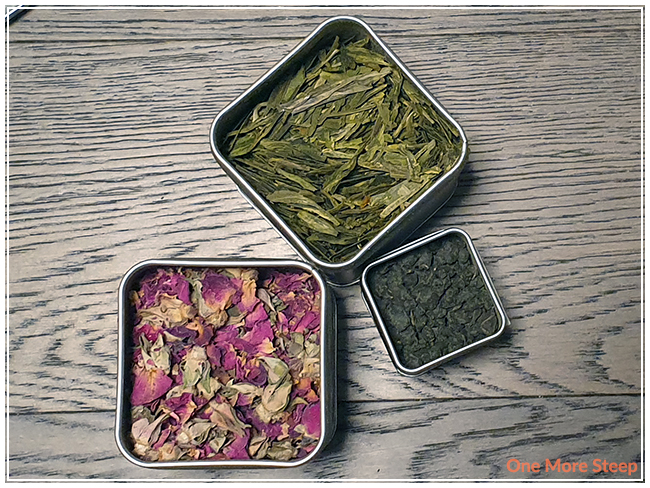 The loveliest part of this kit for a beginner to tea is the Flavour Wheel. A flavour wheel is incredibly useful for those new to trying to decipher how to describe tea. I didn't want to share the whole wheel, but it's quite lovely and a full 360° of descriptions for you to consider. For example, for vegetable flavours, it includes things like spinach, bean sprouts, peas, green beans – all with their own distinctive flavours, but also provides you with a reference because if you're unsure of what your tea tastes like but know it reminds you of something vegetal, the wheel can help you pinpoint a word.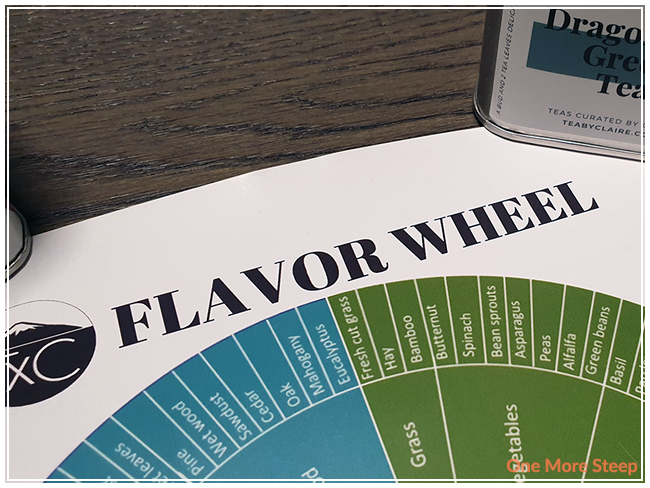 I loved Tea By C's Tea Tasting Triad. It has a nice combination of teas to start off (green, oolong, tisane), the inclusion of a flavour wheel and an infuser really make this a great starter kit, beginners gift box. The tasting cards are a really nice touch to help someone really learn about each tea thoroughly. I think the flavour wheel and the tasting cards really make this box a wonderful idea, because it helps someone to immerse themselves into the teas, the language, and learn how to think about tea has having the ability to have a myriad of flavours. This would be a wonderful gift for a friend or a gift to yourself if you're new to tea. All it needs is a cute seasonal or holiday themed mug or cup and saucer set and you'll be good to go!