Blue People Oolong by Tea By C
Oolong Tea / Flavoured
$10.00USD for 1oz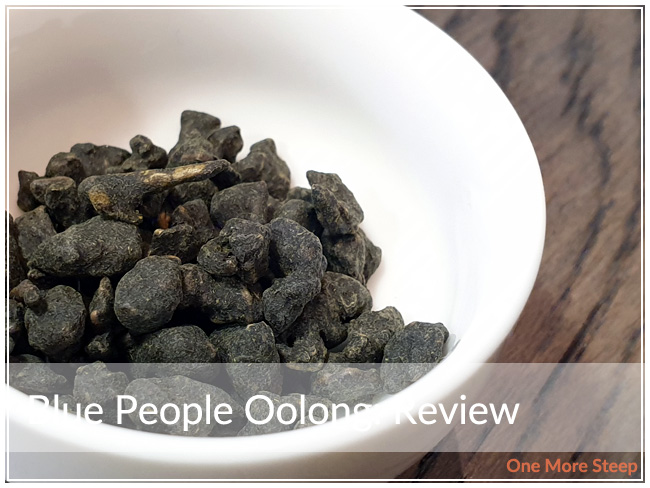 Tea By C has provided me with Blue People Oolong for the purposes of writing an honest review.
First Impressions
Blue People Oolong came in a kraft paper pouch that's resealable. The steeping instructions, ingredients list, and caffeine level were featured on the front while the back includes the product URL, a QR code, the weight of the package, as well as the location of Tea By C. I am not going to lie, I was a bit perplexed when I first opened the package because it honestly looks like no other oolong that I've ever had before. Blue People Oolong looks (and kind of feels…) like little pebbles. Smooth, dark brown rocks. When I shook the package and then poured some out, I did think it sounded like rocks too!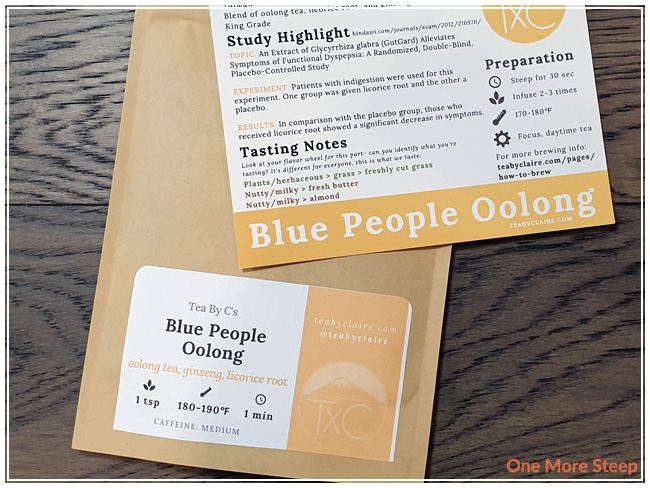 The aroma is surprisingly sweet, despite its appearance. I almost expected the tea to have a heavy mineral aroma to match the appearance. Blue People Oolong consists of oolong, licorice root, and ginseng. The sweet aroma reminds me a lot of stone fruits, it just has that almost syrupy sweetness from ripe fruit.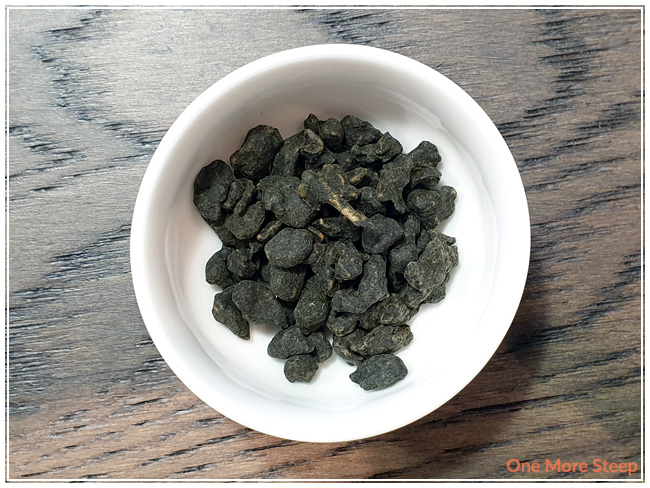 Preparation
Tea By C recommends steeping Blue People Oolong in 180-190°F (82-88°C) water for 1 minute. I opted to steep in 185°F (85°C) for 1 minute.
First Taste
Blue People Oolong steeps to a very bright yellow colour (I'm a touch disappointed that it didn't steep blue!). The aroma is sweet, with strong stone fruit aromas. I found the tea itself to be quite sweet with equally bright, fruity flavours. There's some pleasant buttery notes, but overall the fruity sweetness is the strongest part of this tea.
The tea leaves did not appear to open up at all after the initial steep of 1 minute.
A Second Cup?
I steeped Blue People Oolong a total of seven times (eight steeps total!), adding an additional 30 seconds for each subsequent steep. The leaves didn't really visible begin to open until until the second resteep and continued to open up further after that. I found the flavour and colour to remain fairly consistent for each steep. The flavour began to weaken by the third resteep (fourth overall steep), but the flavour was still quite strong at the end.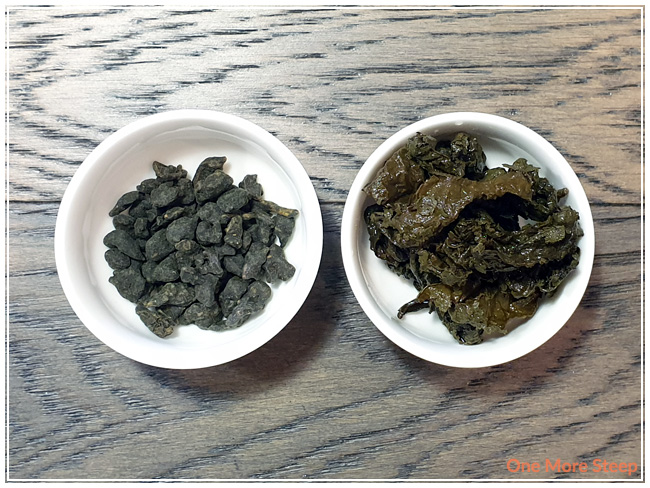 My Overall Impression

I loved Tea By C's Blue People Oolong. While I was initial confused and surprised by the appearance of the dry leaf, I had a wonderful time drinking this oolong and resteeping it over and over and over again. The flavour was great – with plenty of sweetness for this tea reviewer who has a sweet tooth – and I loved the stone fruit flavours that were in there with the honeyed sweetness. I think this tea would be fantastic both hot and iced and I would highly recommend resteeping the leaves because there's just so much flavour in there.
Curious about the cup rating system? Click here to learn more.