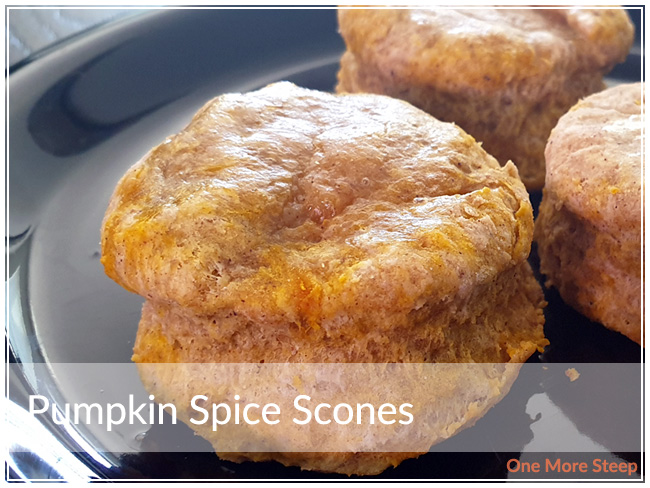 My love of the #PSL knows no boundaries, because of the season and all that. Autumn is one of my favourite seasons because of the leaves changing colour, the crispness in the air – and my birthday that's coming up! This recipe not only fills that millennial need to put pumpkin spice in literally everything, it's also a scone recipe and who doesn't need a nice warm scone to go with a Pumpkin Spice Chai Latte?
Bonus – this recipe uses the same Pumpkin Spice Mix that I had featured in my Pumpkin Spice Chai Latte recipe, so you might as well make both!

Pumpkin Spice Scones – Makes 18-24
3½ cups all-purpose flour
3 teaspoon baking powder
Pinch of salt¹
½ cup butter (cold, diced)
⅓ cup brown sugar (packed)
2 tablespoons Pumpkin Spice Mix
½ cup pumpkin puree
2 egg yolks
1 cup milk (plus extra for glaze)
1 tsp lemon juice
¹ Optional, so if you're watching your salt intake, feel free to omit!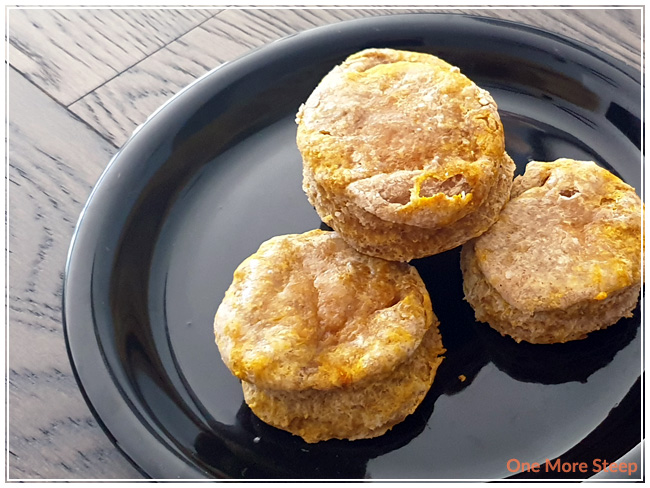 Preheat oven to 425°F.
Sift together flour, baking powder, and salt.
When will mixed, add in butter. Use 2 butter knives or a pastry cutter to incorporate the butter with the flour.
Add brown sugar and Pumpkin Spice Mix – mix in. You should still see butter not fully mixed in.
Add pumpkin puree, 1 egg yolk, milk, and lemon juice – mix some more.
Dump dough out onto a floured surface (e.g. your kitchen counter).
Pat the dough down or roll out until approximately 1¼" (~3cm) thick.
Using a floured round cookie cutter (or a smooth glass or jar), cut out scones.
Mix remaining egg yolk with ~1 tablespoon of milk, brush onto tops of scones as a glaze.
Place onto a lined cookie sheet and into the oven they go!
Bake for 15mins or until the tops are golden brown.
Recipe adapted from Will Torrent's Afternoon tea at home, "Classic scones"

Tips for Pumpkin Spice Scones Success:
Use canned pumpkin puree, not canned pumpkin pie filling as the latter often comes pre-mixed with spices and you'll be blending your own Pumpkin Spice Mix.
Use cold butter because it'll help give the scones that flakey texture.
Help the environment and get yourself a silicone baking sheet – that way you won't be using parchment paper that gets thrown out or into food waste each time (why not get a reusable option?).

If you make these Pumpkin Spice Scones, I'd love to see your photos! Be sure to tag me on Instagram (@onemoresteep #onemoresteep) or comment below with a link to the photo!