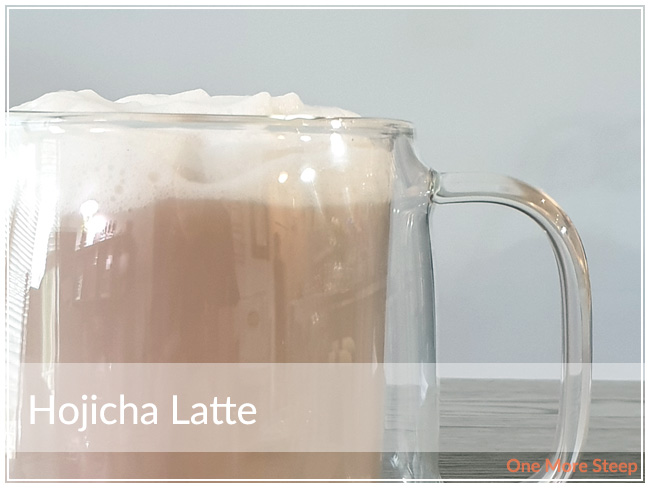 Hojicha is a roasted Japanese green tea so it tastes very different from other Japanese green teas that you may be more familiar with, like sencha, genmaicha, or even matcha. Other Japanese green teas are steamed, so the roasting gives it a different flavour profile. Hojicha is often made with bancha, sencha, or kukicha (twigs and stems from the tea plant itself) and the roasting method provides a less astringent steeped tea, which makes it more favoured by children.
This recipe is fairly similar to my Iced Hojicha Latte recipe that I shared back in August of this year, but the seasons have changed and so have my desire to drink an iced latte drink when it's cold and grey outside. Hojicha Latte does use the same vanilla simple syrup recipe – mostly because a simple syrup is my favourite way of getting a nice liquid sweetener into my lattes.

Hojicha Latte – serves 1
1 tablespoon Vanilla Simple Syrup (see recipe below)
3 teaspoons Hojicha (I used this one)
450ml cup hot water (175°F/79°C)
125ml frothed, heated milk (dairy or dairy-free alternative)
I am using a 600ml double-walled latte mug for this drink! If you're using a different sized cup, aim for two-thirds of the cup of tea and one-third for the frothed milk.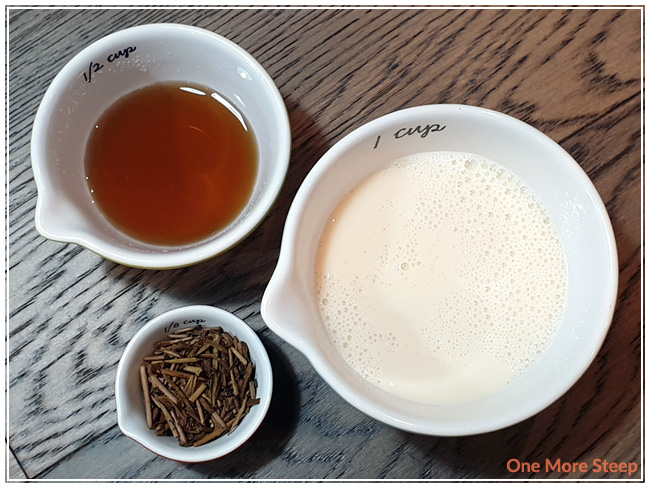 Steep the Hojicha in your cup using hot water (175°F/79°C) water for 2 minutes, then remove tea leaves.
Stir in Vanilla Simple Syrup
Froth milk in a microwave-safe container (use a handheld milk frother or the mason jar method)
Heat milk in microwave in 30s increments, or until milk is to the temperature of your liking
Pour milk into your cup, spoon the froth over the top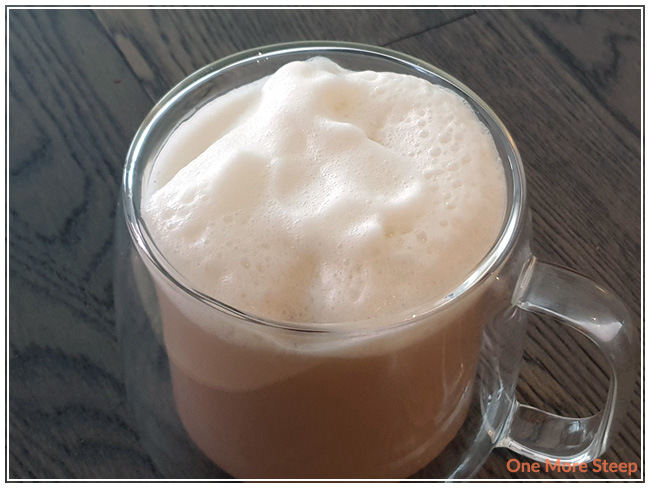 Vanilla Simple Syrup Recipe
1 cup water*
1 cup sugar*
2 tsp vanilla extract
* You can make more or less Vanilla Simple Syrup depending on your Hojicha Latte needs. I used pure vanilla extract and organic cane sugar for my Vanilla Simple Syrup in this recipe. The basis of a Simple Syrup is to use a 1:1 ratio of sugar to water.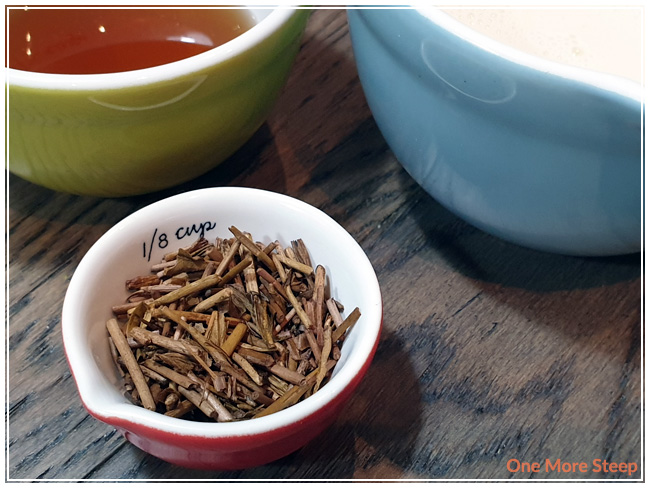 Combine sugar and water in a saucepan, and place over medium heat.
Stir until the sugar is fully dissolved.
Allow syrup to simmer for 1-2 minutes.
Add vanilla extract.
Remove from heat and allow to cool.
Pour Vanilla Simple Syrup into a jar or bottle and refrigerate.
The Vanilla Simple Syrup will keep for at least 2 weeks in the fridge – don't forget to label with the date!
If you make this Hojicha Latte, I'd love to see your photos! Be sure to tag me on Instagram (@onemoresteep #onemoresteep) or comment below with a link to the photo!