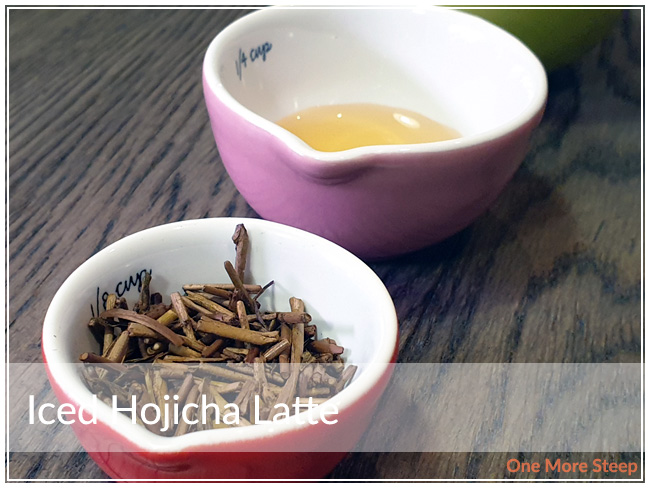 Hojicha is a roasted Japanese green tea – which makes it quite a bit different from other traditional Japanese green teas that aren't roasted. Hojicha can be purchased as either leaves or twigs. The roasting process gives the tea a sweet, nutty and earthy aroma and flavour. Hojicha typically has lower levels of caffeine compared to other teas, which is one of the reasons why it is often had as an after-dinner drink. As a latte, Hojicha is had both iced and hot and I've been enjoying this drink iced lately – which prompted me to want to share a recipe with you all! I've been making this at home and the vanilla in the Vanilla Simple Syrup adds a nice level of creaminess to the latte so don't skimp on that!

Iced Hojicha Latte Recipe – Serves 1
1 tablespoon Vanilla Simple Syrup (see recipe below)
2 teaspoons Hojicha
¾ cup hot water
⅓ cup milk (dairy or dairy-free alternative)
Ice cubes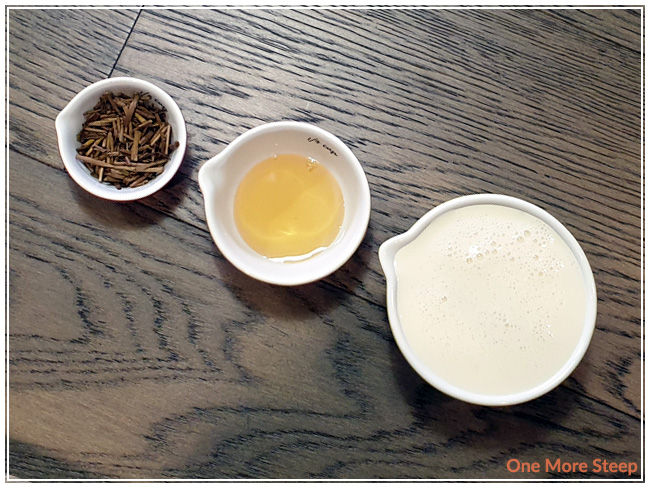 Steep your Hojicha in hot water (I use 80°C/175°F) for 2 minutes.
Add in Vanilla Simple Syrup.
Allow tea to cool.
Fill glass with ice.
Pour in milk, and then tea.
If using a straw, don't forget to use a reusable stainless steel, paper, or silicone straw.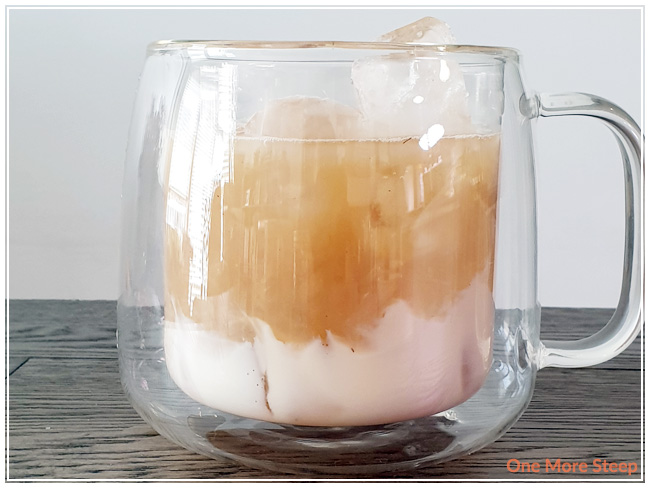 Vanilla Simple Syrup Recipe
1 cup water*
1 cup sugar*
2 tsp vanilla extract
* You can make more or less Vanilla Simple Syrup depending on your Hojicha Latte needs. I used pure vanilla extract and organic cane sugar for my Vanilla Simple Syrup in this recipe. The basis of a Simple Syrup is to use a 1:1 ratio of sugar to water.


Super Simple Vanilla Simple Syrup Method
Using boiled water from a kettle, combine all ingredients in a bowl.
Mix until the sugar is fully dissolved.
Set aside to cool.
Less Simple Vanilla Simple Syrup Method

Combine sugar and water in a saucepan, and place over medium heat.
Stir until the sugar is fully dissolved.
Allow syrup to simmer for 1-2 minutes.
Add vanilla extract.
Remove from heat and allow to cool.
Pour Vanilla Simple Syrup into a jar or bottle and refrigerate.
The Vanilla Simple Syrup will keep for at least 2 weeks in the fridge – don't forget to label with the date!
If you make this Iced Hojicha Latte, I'd love to see your photos! Be sure to tag me on Instagram (@onemoresteep #onemoresteep) or comment below with a link to the photo!